Trout remains out, but MRI on back clean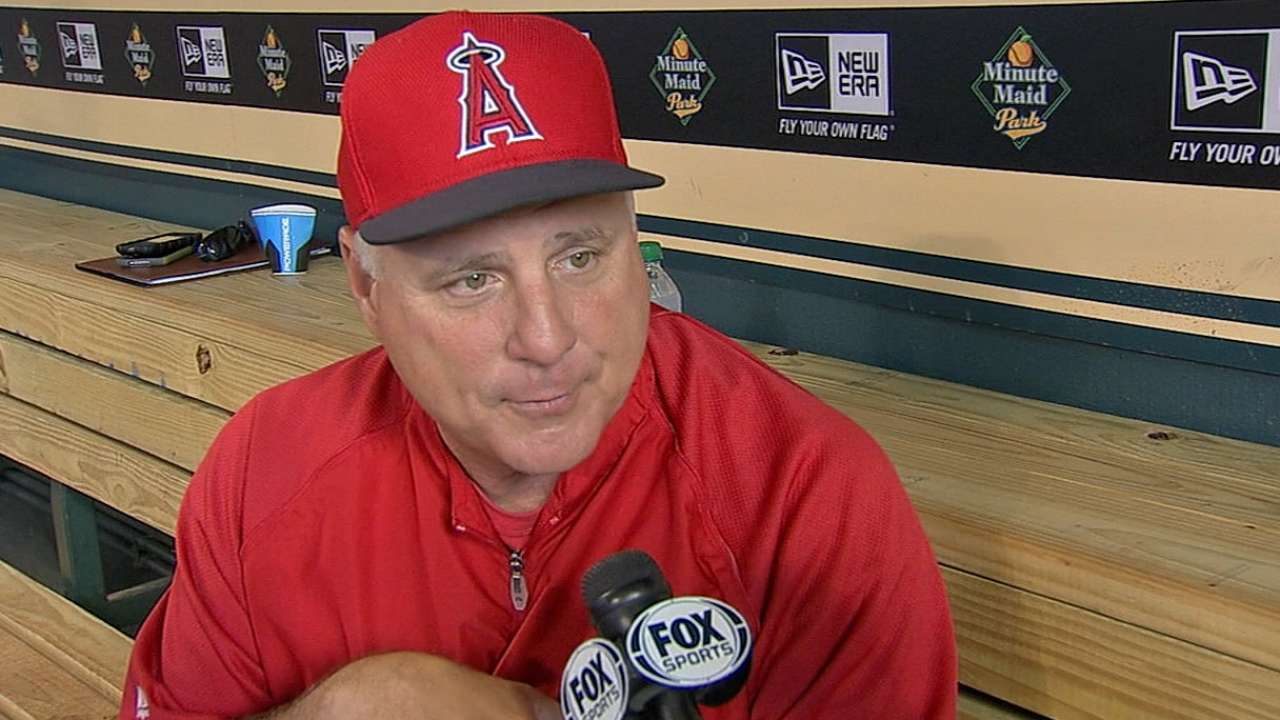 HOUSTON -- The genesis of Mike Trout's back ailment is still a mystery, but a serious injury can now be ruled out.
Prior to Wednesday's game, Trout got a clean MRI on his back, which forced him to miss games on Saturday and Sunday and then get removed from the lineup after just one inning on Tuesday. The Angels' center fielder was told he merely has inflammation in his mid-left back, an ailment that isn't expected to land him on the disabled list.
Said Trout: "It's definitely good news."
"We're not anticipating a DL with Mike at all," Angels manager Mike Scioscia added. "In fact, the opposite. I think he's made enough progress where hopefully he'll be back in a couple of days."
Trout was out of the starting lineup for Wednesday's contest against the Astros, as anticipated, and said he's "not going to do much today, probably just go throw and see if I can hit in the cage." In his place, the Angels had Josh Hamilton in center field and Erick Aybar in the No. 2 spot.
The Angels currently have a six-man bullpen, giving them plenty of coverage as Trout recovers while on the active roster.
"Maybe I'll go tomorrow," Trout said, though the Angels will likely wait until at least Friday's home game against the White Sox.
"It's weird," Trout said of the back pain. "Little movements, left and right, that's when it bothers me. It's just uncomfortable sometimes."
Trout was scratched from the lineup on Saturday, after initially being listed as the designated hitter, then missed the Sunday afternoon game, got treatment during the team's off-day on Monday and felt good during pregame batting practice on Tuesday, prompting him to be inserted in the lineup -- only to be removed after a first-inning strikeout and a half inning on defense.
The 22-year-old admitted that "yesterday, before the game, I still felt it."
Now, he won't play until he knows for sure that the back is 100 percent healthy.
"If I don't feel it at all, I'll play, but I just have to be smart about it," said Trout, who's batting .293/.379/.546 on the season.
"Mike is a young player," Scioscia added. "It's that experience that you need to understand exactly when you need a day and when you can go out there and play. He'll be fine."
Alden Gonzalez is a reporter for MLB.com. Read his blog, Gonzo and "The Show", and follow him on Twitter @Alden_Gonzalez. This story was not subject to the approval of Major League Baseball or its clubs.