Halos go with high school arm Gatto in Round 2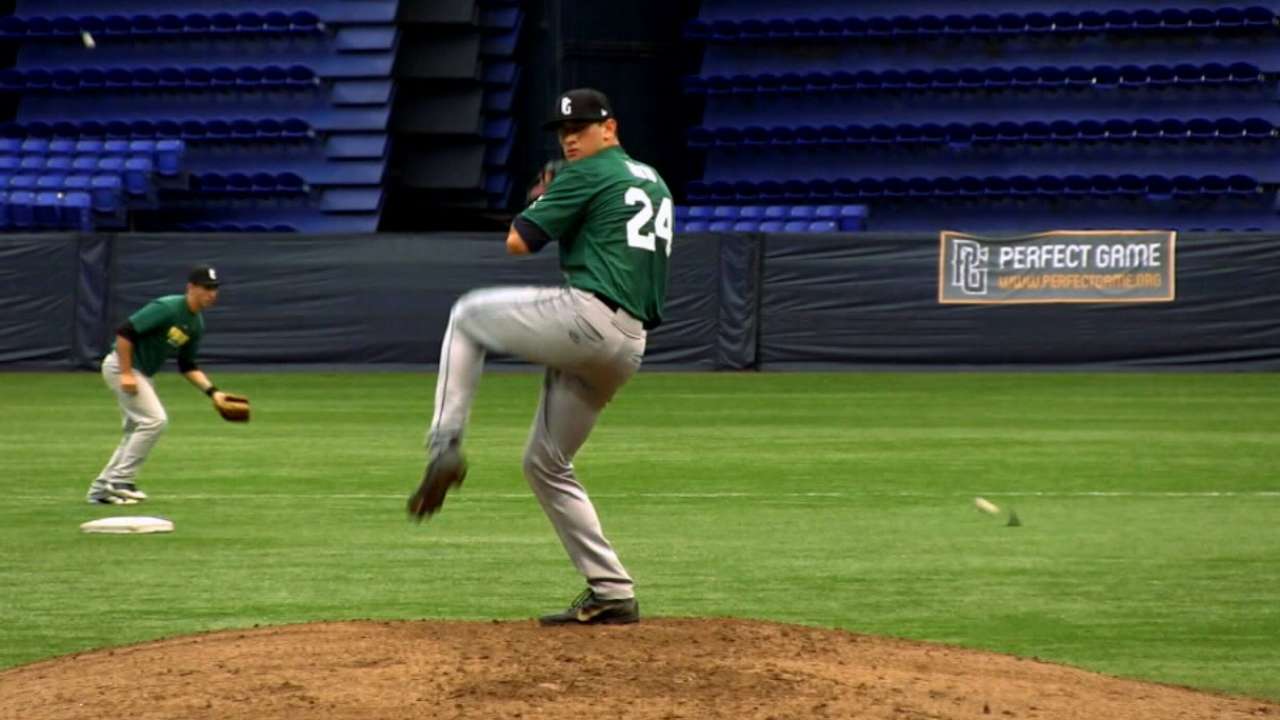 HOUSTON -- The Angels had so much success drafting a player out of high school in South New Jersey five years ago that they decided to take a shot on another.
With their second-round pick in the 2014 First-Year Player Draft on Thursday night, they selected right-hander Joe Gatto out of St. Augustine Prep in Richland, N.J. -- located less than 15 miles from Millville, hometown of superstar center fielder and 2009 first-round Draft pick Mike Trout.
Gatto, who turns 19 next week, is listed at 6-foot-4 and 215 pounds, can already touch 95 mph with his fastball and has a scholarship to the University of North Carolina that he may not take. Shortly after being selected, Gatto (@JGatt33) tweeted "South Jersey reunion" to Trout (@Trouty20). Trout's response: Congrats man that's sick! #RepresentSJ
Gatto's selection came after the Angels took left-hander Sean Newcomb, a junior out of the University of Hartford in Connecticut.
"Another high-ceiling pitcher," Angels scouting director Ric Wilson said of Gatto, whom Wilson described as having "really long length and a powerful body."
Added Wilson: "He's a little bit unpolished, but he's got a little tight spinning breaking ball with high velocity, he's a three-sport athlete, throws the ball downhill, he's a quarterback in football. Just everything you're looking for."
The Draft continues on Friday with Rounds 3-10. The MLB.com pregame show begins at 9:30 a.m. PT, with exclusive coverage of Rounds 3-10 beginning at 10 a.m.
The assigned signing bonus for the No. 53 pick is $1,050,600 and, according to The Press of Atlantic City, Gatto's advisor is agent Jeff Randazzo of MVP Sports Group -- a firm that represents Albert Pujols, among several other high-profile Major Leaguers.
Gatto finished his senior year going 7-1 with a 0.94 ERA, striking out 65 batters in 52 1/3 innings and closing out the season with three shutouts. He also played quarterback as a freshman and sophomore, and starred on the basketball team as a junior.
"He's from New Jersey and hasn't had the exposure or the time on the mound, just because he plays so many sports," Wilson said. "But, man, we're really, really excited to have him, too. We've had a good day, for sure."
Gatto, considered the Cape-Atlantic League's highest-profile Draft pick since Trout, is the second straight high school pitcher taken by the Angels in the second round, joining 2013 59th overall pick Hunter Green from Kentucky.
The Angels, their farm system ranked last in the Majors by Baseball America the last two years, had a first-round pick for the first time in three years and entered the Draft with a glaring need for high-upside starting pitching.
Last year, 10 of their first 11 picks were pitchers.
Will they take a similar route this year?
"A lot of it comes down to what happens on the board as you're moving down it," Wilson said. "There are some position players that it's a little bit deeper with, too, so let's just see how it all plays out. But we gave ourselves some leeway to do some things with these first two picks that opened us up to be a little bit more creative and do some things."
Alden Gonzalez is a reporter for MLB.com. Read his blog, Gonzo and "The Show", and follow him on Twitter @Alden_Gonzalez. This story was not subject to the approval of Major League Baseball or its clubs.