Trout drops to No. 2 in AL All-Star voting update
Star outfielder surpassed by Toronto's Bautista as league's top vote-getter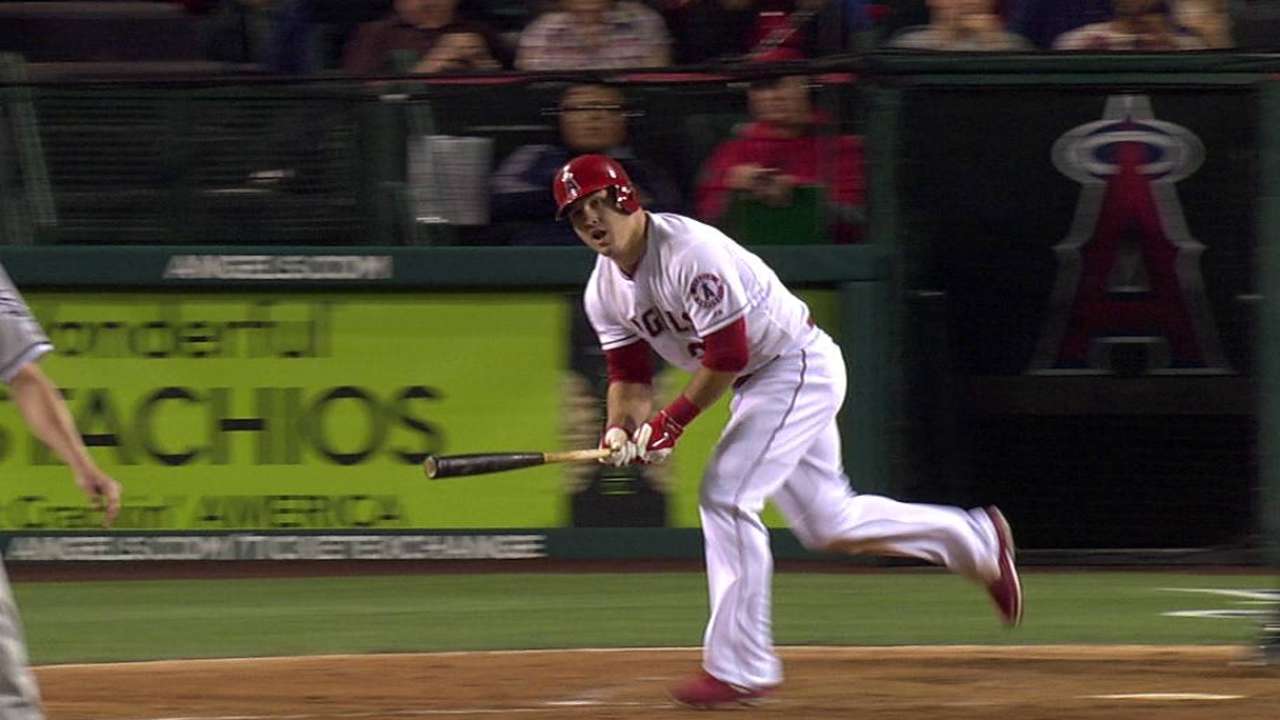 ANAHEIM -- Mike Trout dropped out of the lead in fan voting for the upcoming All-Star Game, but the Angels' superstar center fielder still looks primed to start his second straight Midsummer Classic.
Trout, whose eighth-inning grand slam tied the game and led to a thrilling victory on Saturday night, was second among outfielders, and second overall in the Junior Circuit, when the latest voting results for the American League All-Star team were unveiled Sunday. The 22-year-old had compiled 1,945,170, sandwiching him between Blue Jays outfielders Jose Bautista (2,135,223) and Melky Cabrera (1,096,784).
The only other Angels player listed within the leaders at his position is Albert Pujols, who remained third among first basemen -- trailing Tigers slugger Miguel Cabrera by more than 700,000 votes and White Sox rookie Jose Abreu by nearly 140,000.
Angels middle infielders Erick Aybar (.283/.321/.435 slash line heading into Sunday) and Howie Kendrick (.283/.349/.388) are worthy of consideration, but are not currently among the leaders.
On pace to join Trout in the AL starting lineup so far are Orioles catcher Matt Wieters, Mariners second baseman Robinson Cano, A's third baseman Josh Donaldson, Yankees shortstop Derek Jeter, Orioles designated hitter Nelson Cruz, Miguel Cabrera, Melky Cabrera and Bautista.
Fans can cast their votes for starters at MLB.com and all 30 club sites -- online or on a mobile device -- using the 2014 All-Star Game MLB.com Ballot Sponsored by Experian until Thursday, July 3, at 11:59 p.m. ET. The 2014 All-Star Game will be played at Target Field on Tuesday, July 15.
Fans may submit up to 25 online ballots, but they can also earn a one-time bonus of 10 additional online ballots. To access these additional online ballots, you must be logged into your MLB.com account when you submit any online ballot. If you do not have an MLB.com account, register on the site in accordance with the enrollment instructions for a free MLB.com account.
Fans this year once again can participate in the Home Run Derby Fan Poll. Fans will have the opportunity to select three players in each league who they would most like to see participate in the Home Run Derby. The 2014 Home Run Derby will be broadcast live on ESPN, ESPN HD, ESPN Deportes and ESPN Radio in the United States beginning at 8 p.m. ET on Monday, July 14.
The 2014 American League and National League All-Star teams will be unveiled on the 2014 MLB All-Star Game Selection Show during the weekend of July 5-6, with further details to follow on MLB.com. Immediately following the announcement of the AL and NL All-Star rosters, fans can begin voting to select the final player for each league's 34-man roster via the 2014 All-Star Game MLB.com Final Vote Sponsored by Experian. Fans will cast their votes from a list of five players from each league over the balloting period.
The final phase of All-Star Game voting will again have fans participating in the voting for the Ted Williams All-Star Game Most Valuable Player Award presented by Chevrolet. During the Midsummer Classic, fans will vote exclusively online at MLB.com via the 2014 All-Star Game MLB.com MVP Vote Sponsored by Pepsi, and their voice will represent 20 percent of the overall vote that determines the recipient of the Arch Ward Trophy.
MLB.com will provide extensive online coverage of the All-Star Week festivities.
The 85th All-Star Game will be televised nationally by FOX, in Canada by Rogers Sportsnet and RDS, and worldwide by partners in more than 200 countries via MLB International's independent feed. ESPN Radio and ESPN Radio Deportes will provide national radio coverage of the All-Star Game. MLB Network and SiriusXM will also provide comprehensive All-Star Week coverage. For more information, please visit allstargame.com.
AMERICAN LEAGUE ALL-STAR VOTE LEADERS
CATCHER
1. Matt Wieters, Orioles: 1,235,369
2. Brian McCann, Yankees: 827,200
3. Derek Norris, A's: 813,053
4. A.J. Pierzynski, Red Sox: 491,709
5. Kurt Suzuki, Twins: 465,202
FIRST BASE
1. Miguel Cabrera, Tigers: 1,477,420
2. Jose Abreu, White Sox: 845,059
3. Albert Pujols, Angels: 707,924
4. Chris Davis, Orioles: 659,800
5. Mark Teixeira, Yankees: 436,504
SECOND BASE
1. Robinson Cano, Mariners: 1,111,880
2. Ian Kinsler, Tigers: 887,544
3. Dustin Pedroia, Red Sox: 778,700
4. Brian Dozier, Twins: 488,524
5. Jose Altuve, Astros: 392,416
SHORTSTOP
1. Derek Jeter, Yankees: 1,376,054
2. Alexei Ramirez, White Sox: 1,212,362
3. J.J. Hardy, Orioles: 754,764
4. Jose Reyes, Blue Jays: 536,525
5. Jed Lowrie, A's: 401,798
THIRD BASE
1. Josh Donaldson, A's: 1,470,544
2. Evan Longoria, Rays: 729,092
3. Manny Machado, Orioles: 720,761
4. Adrian Beltre, Rangers: 707,952
5. Brett Lawrie, Blue Jays: 469,855
DESIGNATED HITTER
1. Nelson Cruz, Orioles: 1,404,275
2. David Ortiz, Red Sox: 1,036,055
3. Victor Martinez, Tigers: 843,215
4. Edwin Encarnacion, Blue Jays: 738,107
5. Brandon Moss, A's: 480,597
OUTFIELD
1. Jose Bautista, Blue Jays: 2,135,223
2. Mike Trout, Angels: 1,945,170
3. Melky Cabrera, Blue Jays: 1,096,784
4. Adam Jones, Orioles: 820,336
5. Jacoby Ellsbury, Yankees: 813,357
6. Yoenis Cespedes, A's: 799,123
7. Michael Brantley, Indians: 720,961
8. Carlos Beltran, Yankees: 712,154
9. Nick Markakis, Orioles: 691,023
10. Torii Hunter, Tigers: 666,116
11. Shin-Soo Choo, Rangers: 532,267
12. Alex Rios, Rangers: 483,151
13. Brett Gardner, Yankees: 453,169
14. Coco Crisp, A's: 444,433
15. David Lough, Orioles: 396,085
Alden Gonzalez is a reporter for MLB.com. Read his blog, Gonzo and "The Show", and follow him on Twitter @Alden_Gonzalez. This story was not subject to the approval of Major League Baseball or its clubs.