Freese: Angels' focus should be simple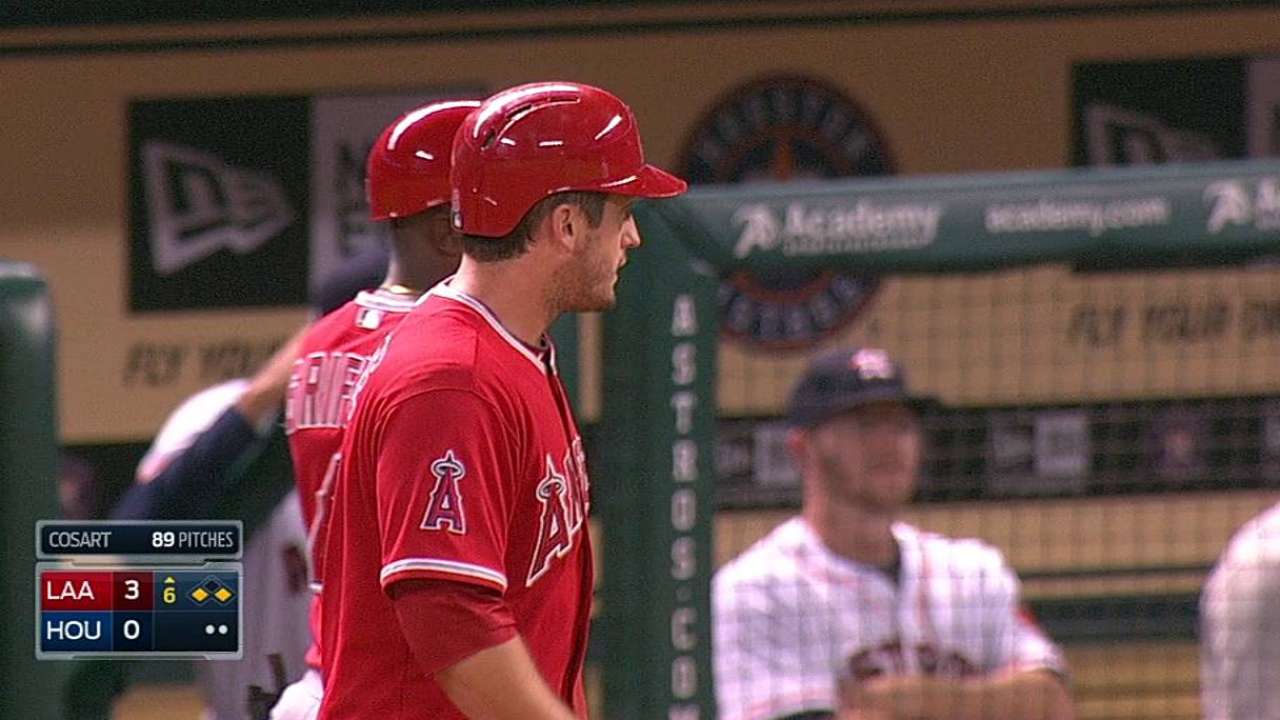 ANAHEIM -- The Angels are trying their best to not make this week about the A's, regardless of closer Ernesto Frieri's colorful quote on Sunday.
They were 1-5 against the A's heading into the start of a three-game series at Angel Stadium, and trailed them by 4 1/2 games in the American League West. But third baseman David Freese, who was in his fair share of division races during his days in St. Louis, doesn't believe their fate will ultimately rest on their success or failure against the team that currently sports the best record in the AL.
"I think we feel that we just need to go out and win," Freese said. "This game's set up to play out on how many wins and losses you have to get in the postseason. It doesn't matter who you beat. Sure, it helps to take care of your division, but in the end, it matters how many wins you have at the end of the season, not who you beat."
Freese's philosophy comes a day after Frieri laid down the gauntlet, in regard to the division leaders.
"We're going to beat 'em," Frieri said of the A's after picking up his 10th save in Sunday's 4-2 win over the White Sox. "I hate to say this, but they've had a little bit of extra luck. If you pay attention to every play, it's stupid how the games go their way. But it's going to turn."
The A's entered Monday leading the AL in winning percentage (.619) and easily leading the Majors in run-differential (plus-128), while ranking second in starting-pitcher ERA (3.06), third in relief-pitcher WHIP (1.09), first in runs per game (5.19), third in OPS (.757), tied for third in defensive runs saved (22) and second in wins above replacement (13.8).
In other words, they're good.
"All three aspects, they do it well, and it shows," Freese said. "It's the reason why right now they're one of the best teams in the game."
But Freese believes the Angels -- sixth in the Majors in winning percentage, fifth in run-differential, 11th in starters' ERA, tied for 20th in reliever WHIP, fourth in runs per game, fifth in OPS, 11th in DRS and first in WAR -- are better-served keeping their focus internal.
Cliche as that may sound.
"You try to make it that simple," Freese said. "Everybody else is going to escalate it, but I think Oakland over there and the Angels over here, you just see it as a game that you want to go out and win. The goal during these six months is to win every series.
"The schedule is set up in September that you basically play your division and that's how it escalates a little bit more."
Alden Gonzalez is a reporter for MLB.com. Read his blog, Gonzo and "The Show", and follow him on Twitter @Alden_Gonzalez. This story was not subject to the approval of Major League Baseball or its clubs.