Aybar has bounced back defensively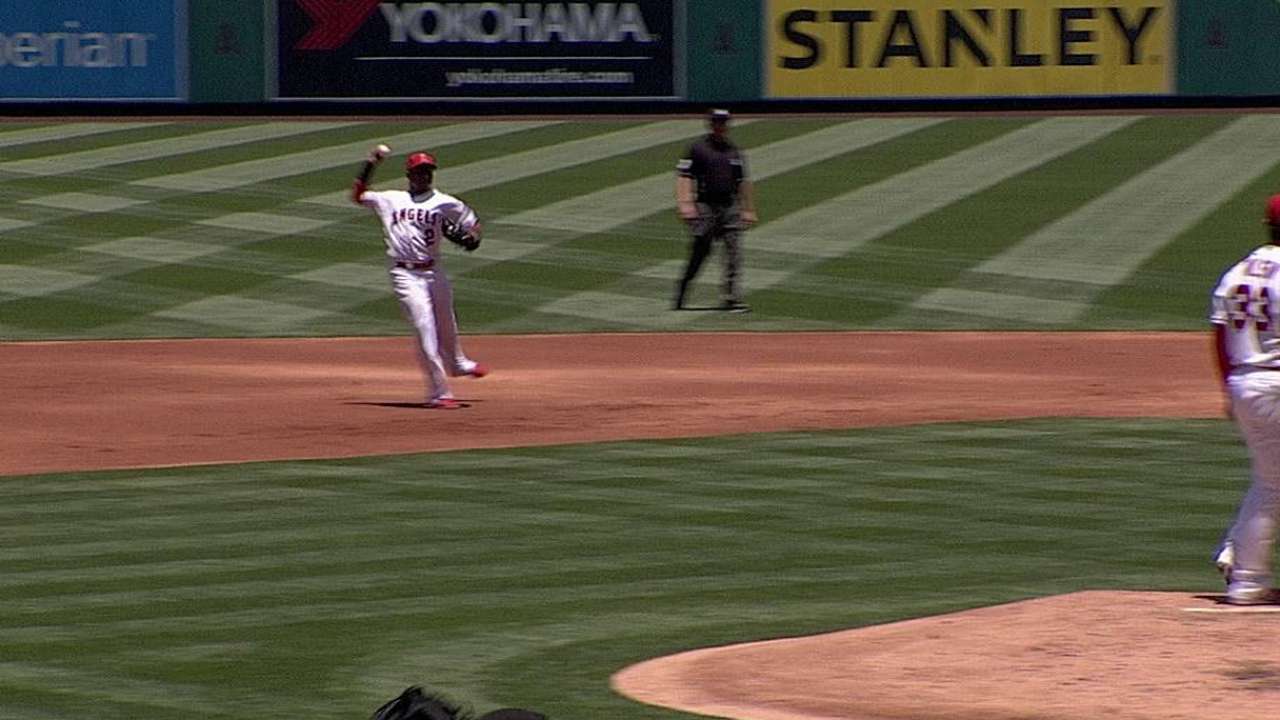 ANAHEIM -- Erick Aybar is playing in his first season since turning 30, which isn't historically a time when players see their defensive ratings spike. But the Angels' long-time shortstop has made tremendous strides from 2013 to '14.
Last year, Aybar's ultimate zone rating -- a statistic that attempts to quantify how many runs a player saved or gave up through his defense -- plummeted to a career-low -6.6, as calculated by FanGraphs.com.
This year, his UZR is up to 3.5, which is a lot closer to his career rate at shortstop (6.6) and is on pace to be his highest mark since he recorded a 5.1 in 2009.
Aybar doesn't pay any attention to advanced defensive metrics, but he has noticed a difference.
"I feel more confident," Aybar said in Spanish. "More comfortable."
The reason, Aybar added, is twofold.
The veteran switch-hitter put in a lot of extra work over the offseason, training at a Dominican baseball academy in his native Bani for five hours per day, virtually every day, from the start of November until the end of January.
And Aybar's left heel, the one that sent him to the disabled list for three weeks last April, is finally healthy. Aybar returned on April 30 last season, but revealed on Monday that the heel bothered him throughout the 2013 campaign -- and didn't go away until he took the month of October off.
"I couldn't put pressure on it, or have that quick burst with my first step to go get to balls," Aybar said. "I was scared of getting hurt again. But this year, thankfully, my legs are healthy, my arm feels good. Everything's good so far."
Alden Gonzalez is a reporter for MLB.com. Read his blog, Gonzo and "The Show", and follow him on Twitter @Alden_Gonzalez. This story was not subject to the approval of Major League Baseball or its clubs.