Ebel's call for Wilson to pinch-hit helps build big inning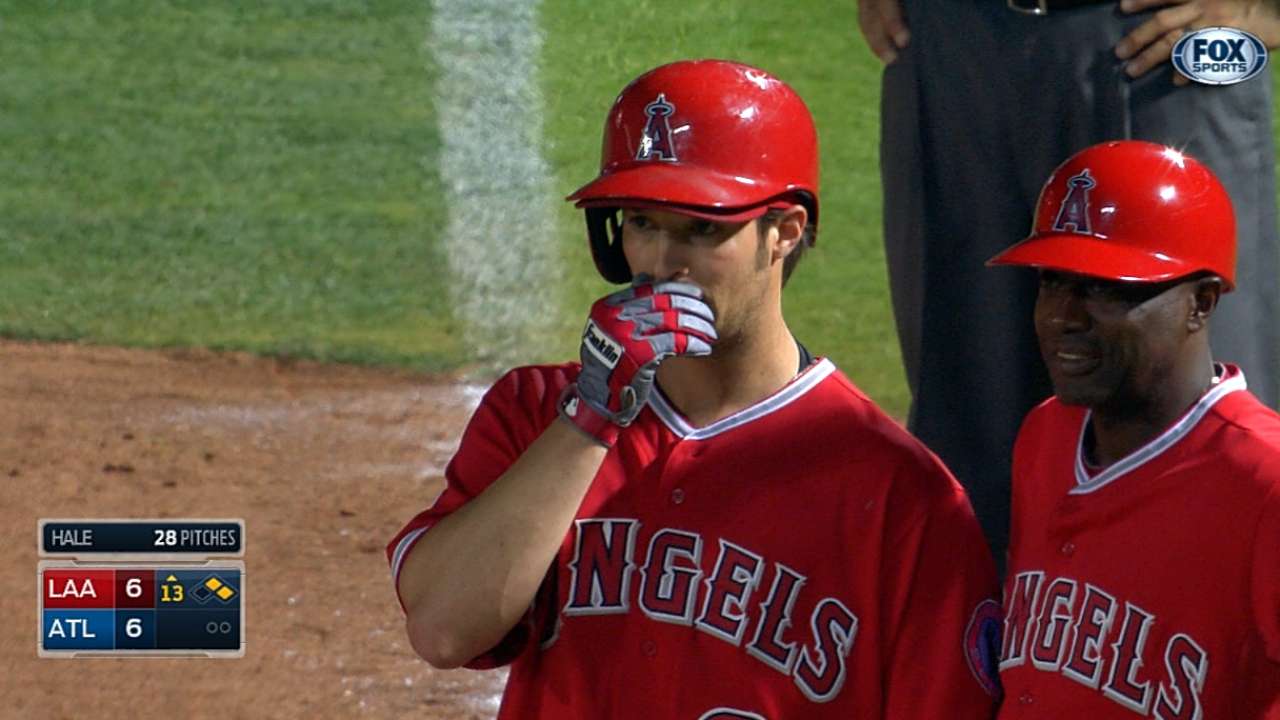 ATLANTA -- Following a leadoff single by Erick Aybar on Saturday, the Angels' acting manager Dino Ebel called on southpaw starter C.J. Wilson to make his 23rd career plate appearance and bunt Aybar over to second base.
"He's a great bunter," Ebel said. "He knows how to bunt. He wanted to bunt, so we gave him that chance."
The experiment had seemingly failed when Wilson bunted the first two offerings from Braves reliever David Hale foul to fall behind 0-2, but the lefty battled back by taking four straight balls to end up on first base. It was his third career base on balls.
"Fouling off two bunts is kind of frustrating," Wilson said. "We've practiced bunting the past couple of weeks. Some of the coaches have pretty sick movement [on their pitches], so I just tried to make sure I got a strike."
Ebel added: "C.J. taking, looking for the strike. Even with two strikes, he was going to bunt and he didn't get the strike, and he took his walk, which is nice."
The walk was part of a five-run inning for the Halos as Wilson crossed home plate for his third career run on a two-run double by Mike Trout. Wilson applauded Ebel's decision to use him in that situation, even with Collin Cowgill and Hank Conger still available to come off the bench.
Most of all, Wilson was happy to achieve some redemption as the four runs he allowed in the first inning of his last start proved costly in the Angels' 4-3 loss to the Braves the previous night.
"You've got to do that if you can because it preserves the bench," Wilson said. "It gives our guys a chance, if it didn't work out, it gives them the chance to pinch-hit later in the game, so whatever I could do to help the team. I lost the game singlehandedly [the] last night, so it was nice to score a run tonight and be part of the effort."
Joe Morgan is an associate reporter for MLB.com. This story was not subject to the approval of Major League Baseball or its clubs.