Aybar turns tables on Braves Gold Glover Simmons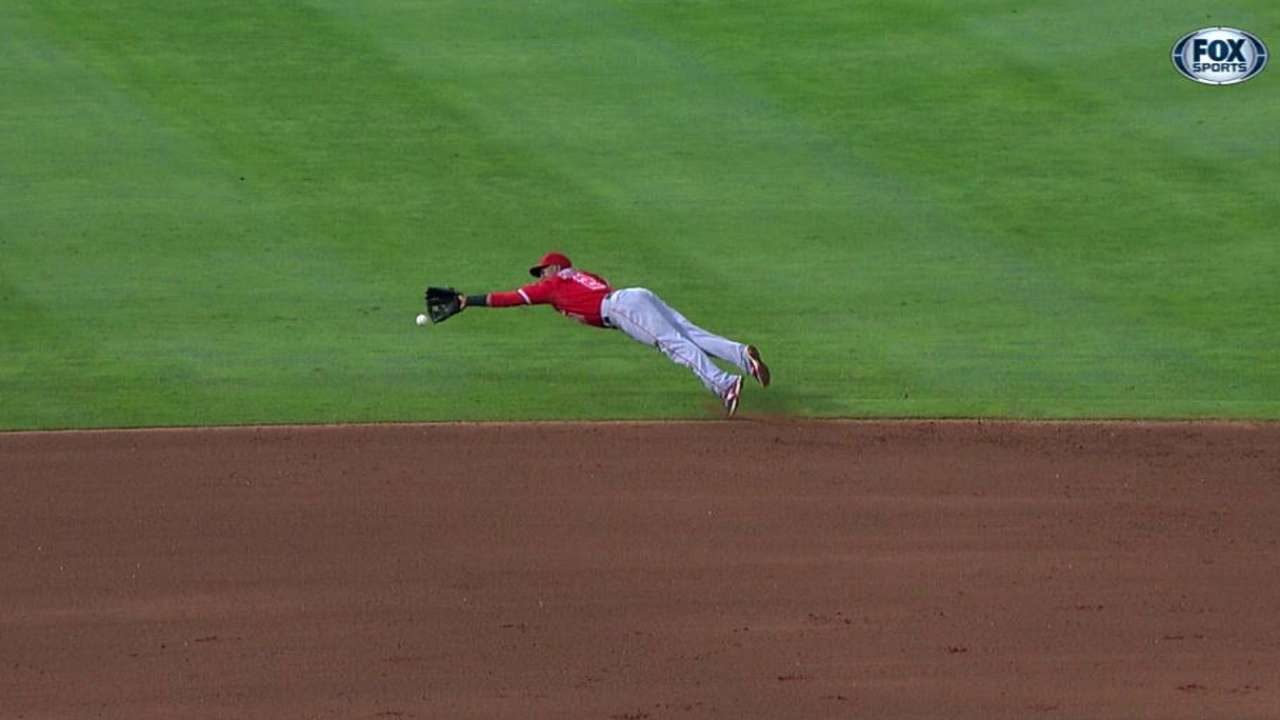 ATLANTA -- Angels shortstop Erick Aybar was able to live the revenge fantasy that countless Major Leaguers dream about on Saturday night. Aybar turned the tables by making two spectacular plays to rob Braves shortstop and Gold Glove winner Andrelton Simmons of base hits in an 11-6 win.
"With Andrelton making a lot of great plays and Aybar making plays against him, that's the funniest thing," left-hander C.J. Wilson. "I walked up to him in the dugout and I was like, 'Hey, even better making a play on him.'"
With a man on first and two outs in the bottom of the fourth, Simmons found himself on the other side of a defensive highlight as he smacked a sharp grounder that seemed destined to end up in the left-field grass. Instead, Aybar made a full leap to snag the ball and popped up quickly to get the forceout at second.
Two innings earlier, Aybar robbed Simmons by leaping to snatch a liner out of the air for the third out in the bottom of the second. Both plays impressed starter Garrett Richards, who struck out a career-high 10 batters in six scoreless innings.
"That guy's a Gold Glover and he showed it tonight," Richards said. "In my opinion, he's one of the best in the game at that position."
Simmons had a shot at revenge in the top of 13th inning when Aybar slapped a bunt to shallow short, but his barehanded effort to nab him at first was not quick enough. Aybar scored the winning run later that inning on a Kole Calhoun RBI single.
"When he put that bunt down, I wanted to get him so bad," Simmons said.
Joe Morgan is an associate reporter for MLB.com. This story was not subject to the approval of Major League Baseball or its clubs.