MLB.com Columnist
Lyle Spencer
Navarro, Carpenter return to Angels clubhouse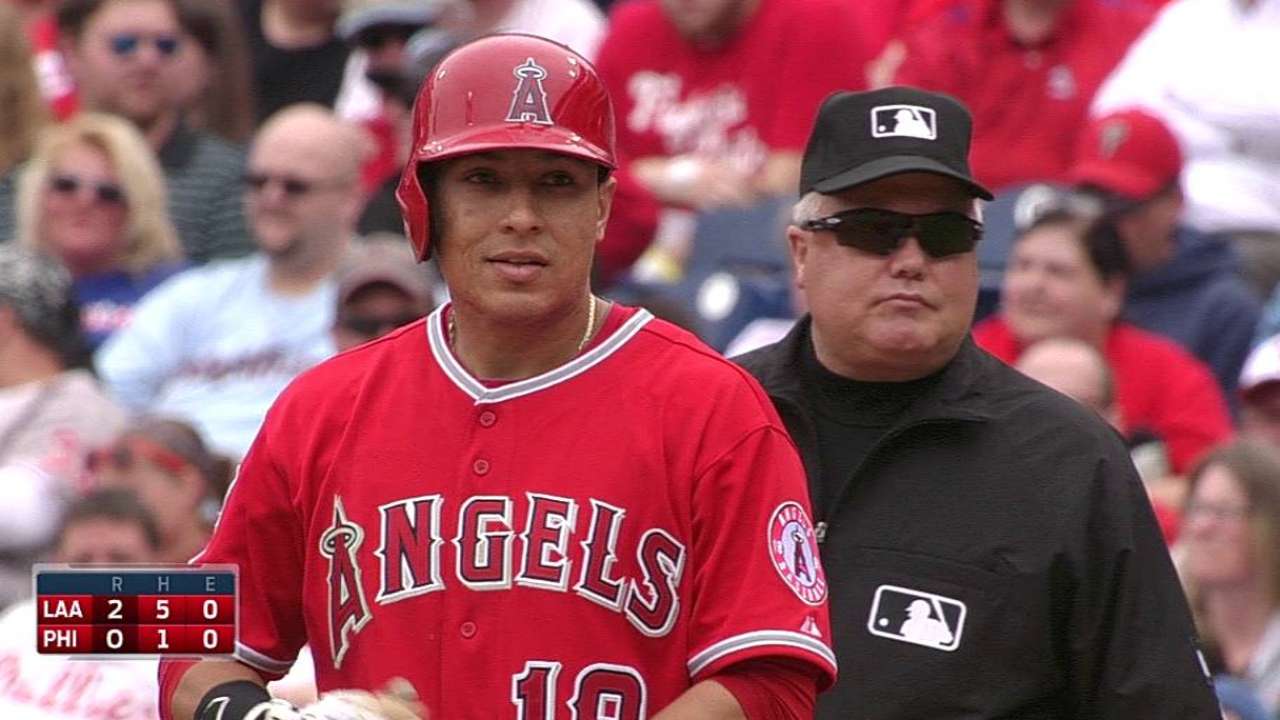 ANAHEIM -- The Angels welcomed a couple of familiar faces to the clubhouse on Saturday. First baseman/outfielder Efren Navarro was recalled from Triple-A Salt Lake, and the contract of reliever David Carpenter, who has pitched for Salt Lake and Double-A Arkansas this season, was purchased.
Cam Bedrosian was optioned to Arkansas. Navarro takes the roster spot created with the release of Raul Ibanez.
Navarro, who got the start at first base on Saturday night against the Rangers, with Albert Pujols nursing a stiff back, was batting .310 for the Angels with several clutch hits when he was sent down. He played exceptionally well in left and right field, new positions, as well as first base, his natural position.
"Efren is a Gold Glove-caliber first baseman," Angels manager Mike Scioscia said of the 28-year-old native of Lynwood, Calif., who attended the University of Nevada-Las Vegas when he was taken in the 50th round of the 2007 First-Year Player Draft. "He got some key hits for us in Toronto."
Navarro made the decision to expand his versatility by learning to play the outfield in winter ball in Mexico after the 2013 season. He took to it more quickly than he had imagined.
"My agent and I talked about it," Navarro said. "Knowing the situation I'm in -- the Angels are stacked at first base and in the outfield -- it was the right thing to do. I amazed myself with how athletic I really am. I can improve in the outfield every day, learning the stadiums and lighting and how different the ball looks coming at you in left and right. It just goes back to work ethic."
Carpenter, 26, is a Texas native, taken in the ninth round of the 2009 First-Year Player Draft. He is 1-2 with a 5.63 ERA in 29 Major League appearances, all but one of those in 2012 for the Angels when he was 1-2 with a 4.76 ERA.
Carpenter was 2-0 with a 0.95 ERA and six saves in 21 appearances for Arkansas and 1-1 with a 7.36 ERA in four games for Salt Lake.
"Carp will fit in," Scioscia said when asked about his role. "Everybody down there [in the bullpen], young or veterans, we're going to need you to get outs."
Lyle Spencer is a columnist for MLB.com This story was not subject to the approval of Major League Baseball or its clubs.