MLB.com Columnist
Lyle Spencer
Rare feat of the cycle brings interesting facts
Accomplishment has escaped some all-time greats, two clubs altogether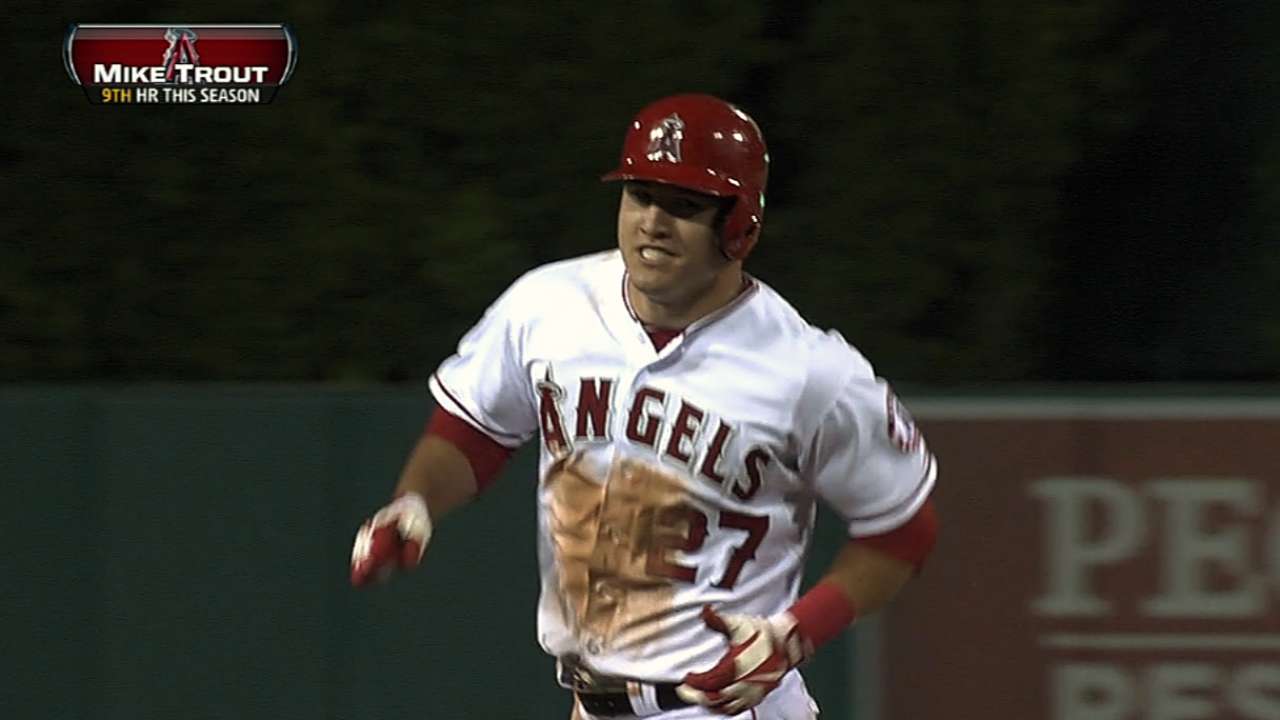 Unlike no-hitters and their sense of order with Nolan Ryan as the all-time leader with seven and Sandy Koufax next with four, Major League cycles seem almost random, with precious little rhyme or reason involved.
They are wonderful, rare and, well, strangely inexplicable.
For reasons known only to the baseball gods, hitting a single, double, triple and home run in the same game is an act that has escaped many of the game's greatest hitters while being accomplished by an array of surprising names.
Bengie Molina has one, but not Babe Ruth. George Kottaras and Mike Cubbage own cycles, but Willie Mays does not. Chone Figgins boasts one, but Pete Rose can't say the same thing.
Father and son Gary and Daryle Ward each have cycles, but neither Bobby Bonds nor son Barry managed to pull one off. Gus Bell and grandson David Bell hit cycles 54 years apart (1951 and 2004). Neither Ken Griffey, dad nor Kid, cycled.
Aaron Hill had two cycles in the space of 11 days in 2012. Hank Aaron didn't feel the exhilaration of a cycle in 23 seasons.
Go figure. Please. We can't.
Here are some cycle facts, believe them or not:
All-time leaders
John Reilly, Bob Meusel and Babe Herman have each hit for three cycles. Reilly, playing for the Cincinnati Reds, had two cycles in 1883, a third in 1890. Meusel, overshadowed by Ruth and Lou Gehrig of the Murderers' Row New York Yankees, hit for cycles in 1921, '22 and '28. Herman produced two in 1931 for the Brooklyn Robins and one in '33 for the Chicago Cubs.
Most cycles by franchise
Giants 25, Pirates 23, Cardinals 20, Red Sox 19, Athletics 17, Yankees 15, Twins 14, Tigers and Mets 10
Multiple cycles by franchise
Angels: Jim Fregosi (1964, '68)
Astros: Cesar Cedeno (1972, '76)
A's: Mickey Cochrane (1932, '33)
Cardinals: Ken Boyer (1961, '64), Tip O'Neill (twice in 1887)
Cubs: Jimmy Ryan (1888, '91)
D-backs: Hill (twice in 2012)
Dodgers: Herman (twice in 1931)
Giants: Dave Orr (1885, '87), Mike Tiernen (1888, '90)
Nationals/Expos: Brad Wilkerson (2003, '05)
Orioles/Browns: George Sisler (1920, '21)
Phillies: Chuck Klein (1931, '33)
Pirates: Fred Clarke (1901, '03), Arky Vaughan (1933, '39), Wally Westlake (1948, '49)
Reds: Reilly
Red Sox: Bobby Doerr (1944, '47)
Royals: George Brett (1979, '90), Frank White (1977, '82)
Yankees: Meusel, Gehrig (1934, '37), Joe DiMaggio (1937, '48).
Most cycles in a season (9)
1933, 2009
Most recent cycles by franchise
Angels: Mike Trout, 5/21/2013
Astros: Brandon Barnes, 7/19/2013
A's: Mark Ellis, 6/4/2007
Blue Jays: Jeff Frye, 8/17/2001
Braves: Mark Kotsay, 8/14/2008
Brewers: Kottaras, 9/3/2011
Cardinals: Mark Grudzielanek, 4/27/2005
Cubs: Mark Grace, 5/9/1993
D-backs: Hill, 6/29/2012
Dodgers: Orlando Hudson, 4/13/2009
Giants: Pablo Sandoval, 9/15/2011
Indians: Travis Hafner, 8/14/2003
Mariners: Adrian Beltre, 9/1/2008
Mets: Scott Hairston, 4/27/2012
Nationals: Cristian Guzman, 8/28/2008
Orioles: Felix Pie, 8/14/2009
Phillies: David Bell, 6/28/2004
Pirates: Daryle Ward, 5/27/2004
Rangers: Alex Rios, 9/23/2013
Rays: B.J. Upton, 10/2/2009
Red Sox: John Valentin, 6/6/1996
Reds: Eric Davis, 6/2/1989
Rockies: Carlos Gonzalez, 7/31/2010
Royals: George Brett, 7/25/1990
Tigers: Carlos Guillen, 8/012006
Twins: Michael Cuddyer, 5/22/2009
White Sox: Jose Valentin, 4/27/2000
Yankees: Melky Cabrera, 8/2/2009
Natural cycles: single, double, triple, homer in order
Bill Collins, 1910
Bob Fothergill, 1926
Tony Lazzeri, 1932
Charlie Gehringer, 1939
Leon Culberson, 1943
Jim Hickman, 1963
Ken Boyer, 1964
Billy Williams, 1966
Tim Foli, 1976
Bob Watson, 1979
John Mabry, 1996
Jose Valentin, 2000
Brad Wilkerson, 2003
Gary Matthews Jr., 2006
No cycles
San Diego Padres, Miami/Florida Marlins
Active players most likely to break record for cycles
Hill has the knack. Beltre also has two in the satchel, one each with the Mariners and Rangers. Carlos Gonzalez has one and the tools to get three more. Trout owns one at 22. You really have to like the kid's chances.
Lyle Spencer is a columnist for MLB.com. This story was not subject to the approval of Major League Baseball or its clubs.