Green not supplanting Freese at third base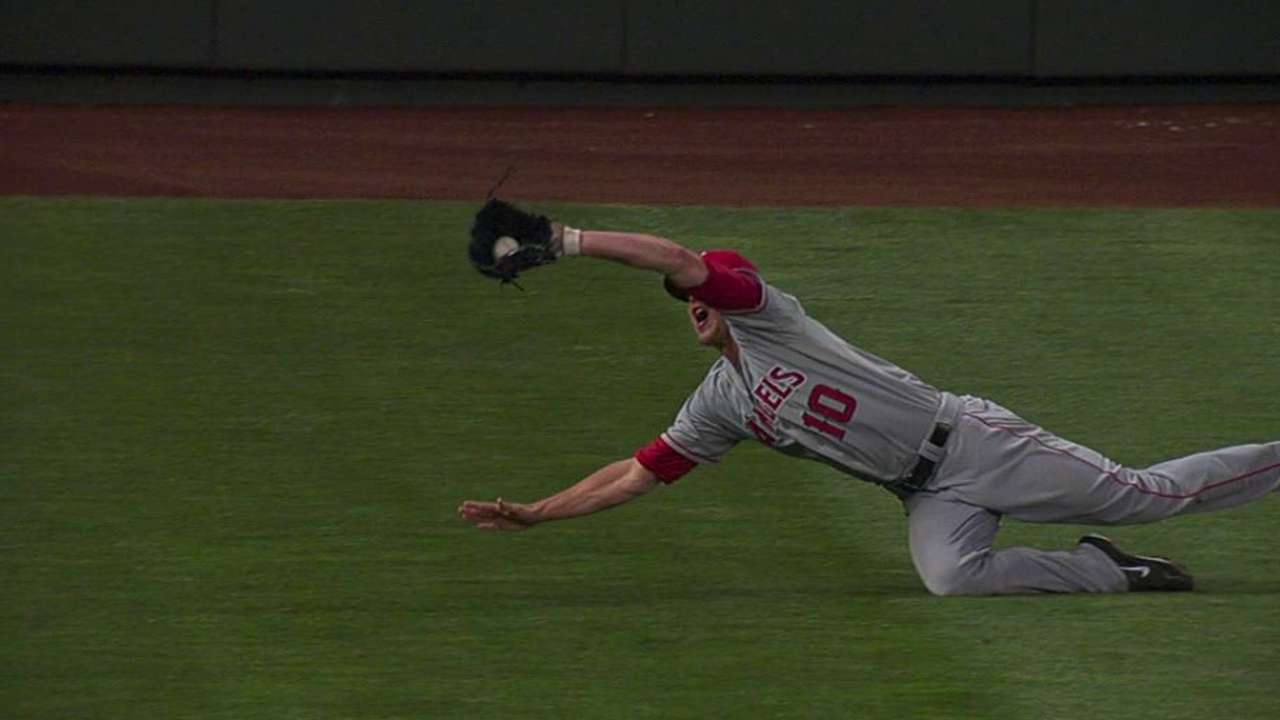 ANAHEIM -- Grant Green made his first Major League start at third base on Wednesday, but that wasn't an indication he has supplanted David Freese as the everyday guy at the hot corner, or even that he'll cut into his playing time.
Green started simply because Freese's left elbow is "a little sore" after a hit by pitch in Tuesday's eighth inning, Angels manager Mike Scioscia said, adding that Freese will "still get the lion's share of the third-base starts."
"He's hit the ball much better than some of his numbers show," Scioscia said of Freese. "He's hit a lot of hard outs. Really what David does is give you that great at-bat with guys in scoring position. We're starting to see a little bit more of that.
"That being said, I don't think he's hit stride, or there's a comfort level of what he did a couple years ago. That just hasn't materialized. But he's giving us good at-bats, and if he can get close to where we project him to be, he's going to be a huge boost to the depth of our lineup."
So far, that hasn't happened.
Freese sports a .226/.305/.282 slash line overall and a .170/.270/.170 mark with runners in scoring position, and he's basically been treading water recently, with a .256 average, 14 strikeouts and one walk in his last 11 games.
Green, meanwhile, enters hitting .333/.347/.435 in an interrupted 25-game stint in the big leagues, but is still getting acclimated to third base -- one of five positions he currently plays.
The 26-year-old -- a natural shortstop who's most comfortable at second base, received the majority of his starts in left field earlier this season and has most recently been experimenting with first base -- hadn't spent much time at third base when the Angels acquired him from the A's for Alberto Callaspo last July. But Green got some time there in the Minors down the stretch last year, spent a lot of time at the hot corner during Spring Training and played third in four of his last six Triple-A games.
"I felt good there when I first came up [to the Angels on May 2]," Green said. "When I first came up, I played a lot of third. When I went back down, I didn't feel rusty. It was just getting back into it, getting back into taking grounders game speed."
Alden Gonzalez is a reporter for MLB.com. Read his blog, Gonzo and "The Show", and follow him on Twitter @Alden_Gonzalez.Matthew DeFranks is an associate reporter for MLB.com. Follow him on Twitter @MDeFranks. This story was not subject to the approval of Major League Baseball or its clubs.