Richards putting himself in All-Star conversation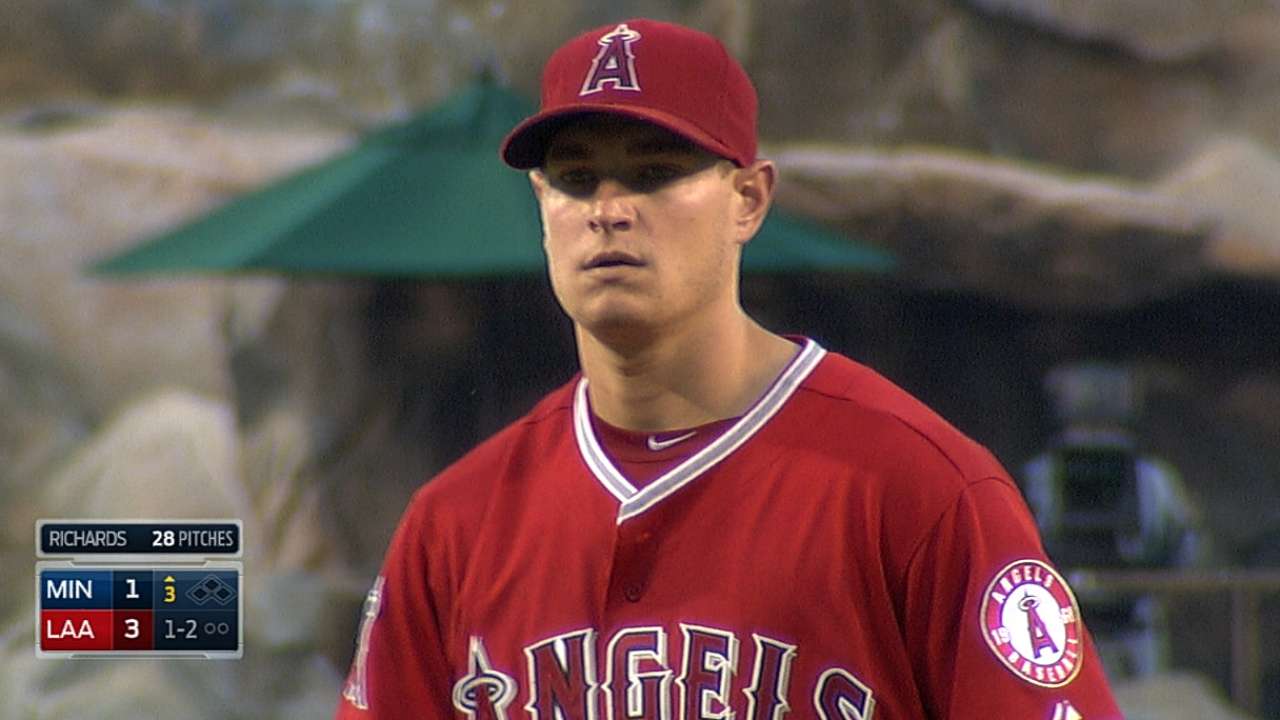 ANAHEIM -- As the calendar flipped to June, so did Garrett Richards' season.
Richards has been nearly untouchable this month, posting a 4-0 record to go along with a 1.05 ERA while holding opponents to a .178 batting average. Richards (8-2, 2.76) puzzled the Twins on Wednesday night, holding them to two runs on five hits in 7 1/3 innings while picking up the win.
Richards' dominant month of June has him in the conversation for the American League All-Star team. After Wednesday's performance, Richards now ranks in the top 10 in the AL in ERA (eighth, 2.76), WHIP (seventh, 1.12), strikeouts (eighth, 99) and opponents' batting average (second, .203).
Only six AL pitchers have more wins that Richards' eight.
"He's been pitching really well," catcher Chris Iannetta said. "He has a sub-three ERA, got some wins under his belt. His stuff speaks for itself. He has some of the best stuff in the game. Yeah, I think he meets the criteria."
He has only given up three home runs all year, including one Wednesday. By comparison, the Yankees' Masahiro Tanaka, a favorite to start the All-Star Game, has served up 11 homers.
Even the Sabermetrics seem to love Richards. He is eighth in the AL in wins above replacement (2.4) and seventh in defense-independent ERA (2.92).
Manager Mike Scioscia said Richards deserves to be in the All-Star conversation but that he should not focus on it.
"I think he's going to get it, he deserves it but I think that's the last thing that Garrett is going to focus on or think about," Scioscia said. "I think a goal for the All-Star team is always good for a player, it gives you something to shoot for and it's nice to be recognized for your performance but you need to focus on the process. That's where Garrett needs to keep his attention."
Pitchers will be determined through a combination of "Player Ballot" choices and American League manager John Farrell's picks.
Fans can cast their votes for starters at MLB.com and all 30 club sites -- online or on a mobile device -- using the 2014 All-Star Game MLB.com Ballot Sponsored by Experian until Thursday, July 3, at 8:59 p.m. PT. The 2014 All-Star Game will be played at Target Field on Tuesday, July 15.
Fans may submit up to 25 online ballots, but they can also earn a one-time bonus of 10 additional online ballots. To access these additional online ballots, you must be logged into your MLB.com account when you submit any online ballot. If you do not have an MLB.com account, register on the site in accordance with the enrollment instructions for a free MLB.com account.
Fans this year once again can participate in the Home Run Derby Fan Poll. Fans will have the opportunity to select three players in each league who they would most like to see participate in the Home Run Derby. The 2014 Home Run Derby will be broadcast live on ESPN, ESPN HD, ESPN Deportes and ESPN Radio in the United States beginning at 5 p.m. PT on Monday, July 14.
The 2014 AL and National League All-Star teams will be unveiled on the 2014 MLB All-Star Game Selection Show on July 6, with further details to follow on MLB.com. Immediately following the announcement of the AL and NL All-Star rosters, fans can begin voting to select the final player for each league's 34-man roster via the 2014 All-Star Game MLB.com Final Vote Sponsored by Experian. Fans will cast their votes from a list of five players from each league over the balloting period.
And the voting doesn't end there. The final phase of All-Star Game voting will again have fans participating in the voting for the Ted Williams All-Star Game Most Valuable Player Award presented by Chevrolet. During the Midsummer Classic, fans will vote exclusively online at MLB.com via the 2014 All-Star Game MLB.com MVP Vote Sponsored by Pepsi, and their voice will represent 20 percent of the overall vote that determines the recipient of the Arch Ward Trophy.
MLB.com will provide extensive online coverage of the All-Star Week festivities.
The 85th All-Star Game will be televised nationally by FOX, in Canada by Rogers Sportsnet and RDS, and worldwide by partners in more than 200 countries via MLB International's independent feed. ESPN Radio and ESPN Radio Deportes will provide national radio coverage of the All-Star Game. MLB Network and SiriusXM will also provide comprehensive All-Star Week coverage. For more information, please visit allstargame.com.
Alden Gonzalez is a reporter for MLB.com. Read his blog, Gonzo and "The Show", and follow him on Twitter @Alden_Gonzalez.Matthew DeFranks is an associate reporter for MLB.com. Follow him on Twitter @MDeFranks. This story was not subject to the approval of Major League Baseball or its clubs.