Angels facing potential roster move to solidify bullpen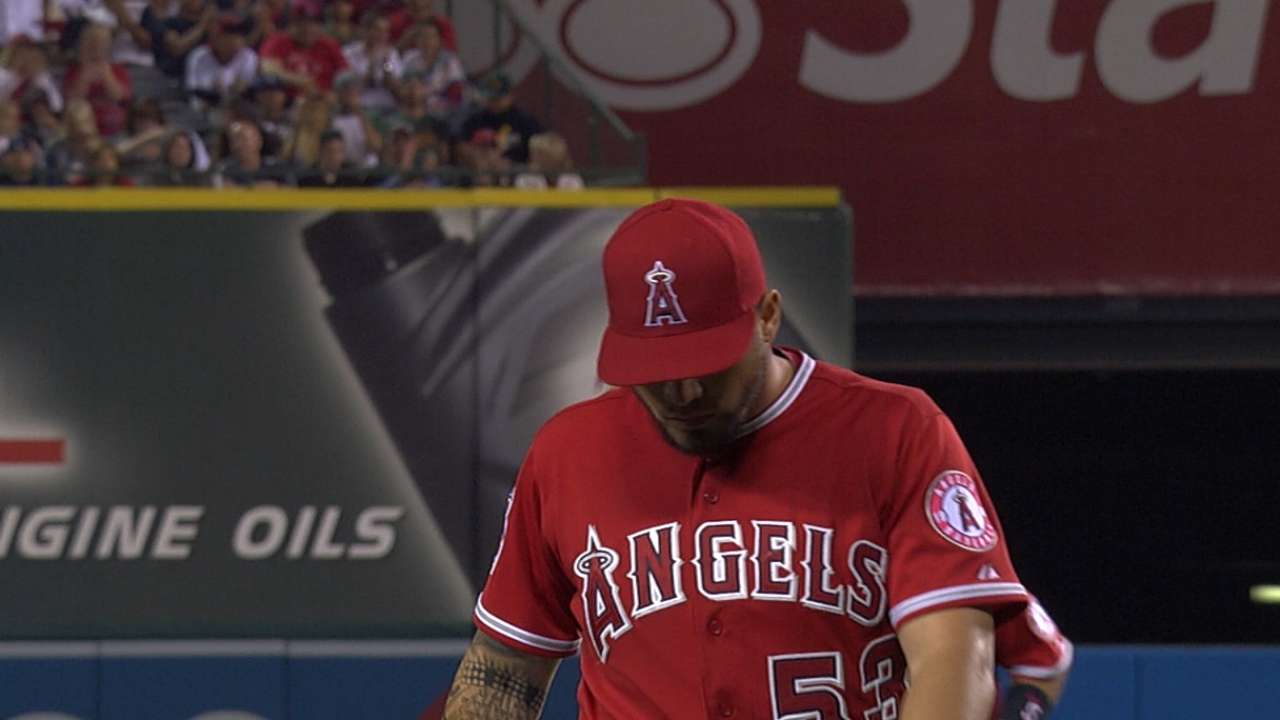 ANAHEIM -- With Tyler Skaggs' return to the rotation pushed back until at least next week, the Angels were forced to push Hector Santiago back into a starting role on Saturday against the Royals.
But with Santiago's return to the rotation, Los Angeles is back down to a six-man bullpen. He had been serving as the emergency lefty reliever the Angels no longer have.
The team may have to make a roster move in the sudden future to add more depth to the bullpen.
"I think at some point, we're going to have to, especially with Hector back in the rotation for this weekend, we'll have to make a move," manager Mike Scioscia said. "I don't know if it's necessarily today. I think we'll monitor it on a daily basis to get back to a seven-man 'pen."
The Angels signed left-hander Wade LeBlanc to a Minor League contract on June 17, just two weeks after the Yankees claimed him off waivers, then designated him for assignment. LeBlanc pitched in one game for the Angels this season in long relief, pitching 6 1/3 innings on May 30.
Right-handers Jarrett Grube and Michael Kohn are also with Triple-A Salt Lake. Grube has pitched in one game for the Angels, while Kohn has appeared in 25, posting a 3.04 ERA.
"He's still smoothing things out," Scioscia said of Kohn. "Mike has got really good stuff, and once he harnesses it, he's got the potential to be one of those guys that you're going to put in the back end to hold leads."
In the past week, the Angels have optioned relievers Dane De La Rosa (June 20) and Cam Bedrosian (June 21) to the Minors. Players must stay at least 10 days in the Minors before being recalled to the Majors.
Matthew DeFranks is an associate reporter for MLB.com. Follow him on Twitter @MDeFranks. This story was not subject to the approval of Major League Baseball or its clubs.