Angels land Grilli for Frieri in deal with Pirates
Former All-Star heads to Halos as struggling closers change scenery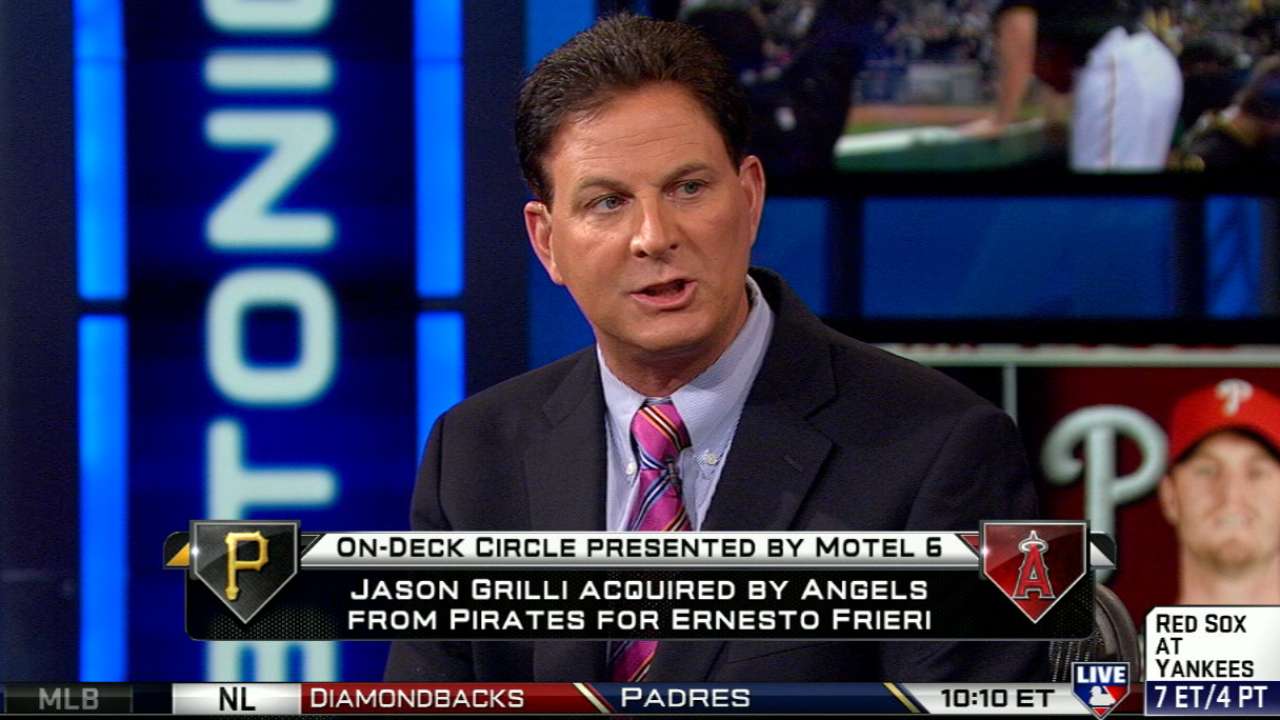 KANSAS CITY -- The Angels took a step -- and it's probably only the first step -- in trying to shore up the back end of their bullpen on Friday. They sent Ernesto Frieri to the Pirates for Jason Grilli -- two struggling closers -- in what general manager Jerry Dipoto called "a classic change of scenery that I think will be good for all parties."
Grilli, 37, posted a 2.74 ERA and saved 36 games for the Pirates from 2011-13, but he has hit a rough patch this year, posting a 4.87 ERA, a 1.62 WHIP and a 1.91 strikeout-to-walk ratio while saving 11 games in 15 opportunities.
Frieri, 28, had a 3.07 ERA and 60 saves from 2012-13, but he has struggled through a 6.39 ERA, a 1.36 WHIP and a 4.22 strikeout-to-walk ratio in 2014, which has seen him blow three of his 14 save chances.
Frieri is owed $3.8 million in 2014 and was arbitration-eligible for two more seasons, while Grilli is owed $4 million and is a free agent at the end of the year.
"At the end of the day, sometimes these types of address changes are just good for everybody," Dipoto said in a phone interview. "Obviously, over the last couple weeks, it's been a mighty struggle for Ernie. And he just needed a chance to clear himself out. This is probably best in that regard.
"We're encouraged to get the opportunity to work with Jason Grilli, and see if we can't get him back to where he needs to be. He still has the velocity, he still has the slider, he still has the ability to be the dominant ninth-inning presence that he was a year ago."
But will Grilli be the closer, like he was during that All-Star season in 2013?
"We'll sort that through as he gets in," Dipoto said of Grilli, who's expected to join the Angels in time for Saturday's game against the Royals.
"We'll see where he fits in," Angels manager Mike Scioscia added. "He's pitched in the back end of games and has done a very good job in that role. We're going to get his feet on the ground here, and then we'll see where he fits."
The Angels entered a weekend series at Kauffman Stadium on a six-game winning streak that put them a season-best 11 games over .500. But they've suffered through 12 blown saves, tied with the Astros for the American League lead, and entered Friday ranked 26th in the Majors in ERA (4.46) and tied for 23rd in WHIP (1.38) from their bullpen.
Dipoto would still like to add a situational left-hander and perhaps another option for the ninth inning, which would free Scioscia up to use current closer Joe Smith in a more versatile role.
"We're still open to improving and adding to our team in any way that will help us win," Dipoto said. "We understand that the bullpen is something that needs to be addressed. I think this is a step in trying to address some of our needs down there, but I'd be surprised if it's the only step."
Grilli -- a product of Tommy John surgery in 2002 -- was originally taken with the fourth overall pick in the 1997 First-Year Player Draft by the Giants. But he didn't come into his own until spending the entire 2010 season recovering from a torn quadriceps muscle, when he joined the Pirates as a 34-year-old who had already spent time in seven different organizations.
Grilli broke out in 2013, posting a 2.70 ERA and 33 saves while converting each of his first 25 opportunities.
Grilli's fastball velocity is basically the same this year -- in the 92- to 93-mph range -- but he missed 27 games because of an oblique strain earlier this season and has yet to see consistent results.
"He's ready for a new challenge," Pirates GM Neal Huntington said. "Jason has responded very well to a number of challenges in his life. He had a good run here, loves the city and the team, but he's ready for a new challenge."
The Angels believe the same can be said for Frieri, the affable right-hander, who shined upon being acquired from the Padres in May 2012. But he had been demoted twice from his role as Angels closer this season.
"Ernie's a tremendous young man," Scioscia said. "He became part of our family. It's tough to let go of a piece like that. Hopefully in the long run it'll be better for Ernie to go there and get a fresh start."
Alden Gonzalez is a reporter for MLB.com. Read his blog, Gonzo and "The Show", and follow him on Twitter @Alden_Gonzalez. This story was not subject to the approval of Major League Baseball or its clubs.