Grilli's role still being defined in Halos' bullpen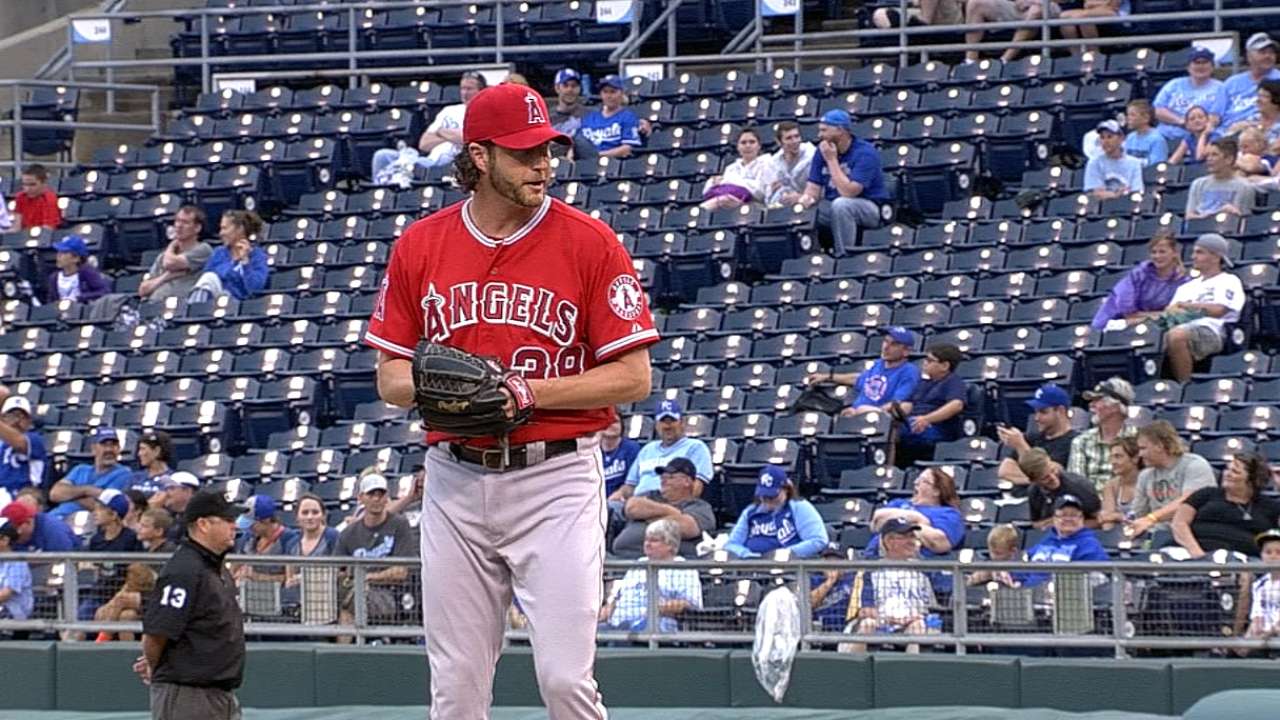 KANSAS CITY -- Jason Grilli's Angels debut occurred in what would've been a setup role had it not been for a four-run cushion. The former Pirates closer pitched after Kevin Jepsen and just before Joe Smith, notching a 1-2-3 eighth inning with a lineout, strikeout and groundout in Saturday's 6-2 win over the Royals.
The bullpen roles, however, remain fluid.
And ideally, the Angels would love nothing more than for Grilli to find his All-Star ways of 2013 and take over the ninth, a turn of events that would allow manager Mike Scioscia to use the sidearm-throwing Smith more freely.
"They know I'm capable of doing that," said Grilli, who gave up a walk-off single to Omar Infante in the ninth inning of Sunday's 5-4 loss after second baseman Howie Kendrick booted an inning-ending double-play ball. "If that's the desire, I'm sure it'll all be worked out. But just to be able to contribute to this group of guys, I'm really excited."
The Angels aren't done trying to acquire arms for a bullpen that entered Sunday with 12 blown saves -- tied for second-most in the American League -- and a 1.35 WHIP that ranked 22nd in the Majors. They still covet a situational lefty, and they'll continue to keep their ears open for any closers who can be had before July's non-waiver Trade Deadline.
As general manager Jerry Dipoto said upon swapping Ernesto Frieri for Grilli on Friday, "We're not even to the end of June."
The calendar gives the Angels some time to evaluate what Grilli may provide, to get an indication of how stable their ninth inning can be and a sense for how aggressively they have to go after the likes of Huston Street and Jonathan Papelbon.
"We're trying to get everything settled in our bullpen," Scioscia said after Saturday's contest, which provided a rough blueprint for what he'd like to see out of his ever-evolving relief corps.
"This was kind of a unique game because you needed five innings from your 'pen to hold a lead, which you don't anticipate most nights. But the fact that you saw Jason back there and you saw Joe Smith, having them strong in the back end, let you bring Kevin Jepsen in earlier, let you bring Mike Morin to stretch it two innings. The back end is critical for us, and having Jason in there is going to be big."
The 37-year-old Grilli joined the Angels with a 4.87 ERA, a 1.62 WHIP and a 2.00 strikeout-to-walk ratio, after posting a 2.70 ERA, a 1.06 WHIP and a 5.69 strikeout-to-walk ratio in his first full season as a closer in 2013.
"I cut myself and I bled a little bit," Grilli said, adding that he's recently made some adjustments to get himself back on track.
What kind of adjustments?
"I hate to talk mechanics, but it's a minor adjustment," Grilli said. "How minor it was is if your radio station is 95.7, I was on 95.9. So, just a little off base."
Alden Gonzalez is a reporter for MLB.com. Read his blog, Gonzo and "The Show", and follow him on Twitter @Alden_Gonzalez. This story was not subject to the approval of Major League Baseball or its clubs.