MLB.com Columnist
Matt Yallof
A View From Studio 3: First-half MLB awards
Season sees plenty of noteworthy performances at halfway point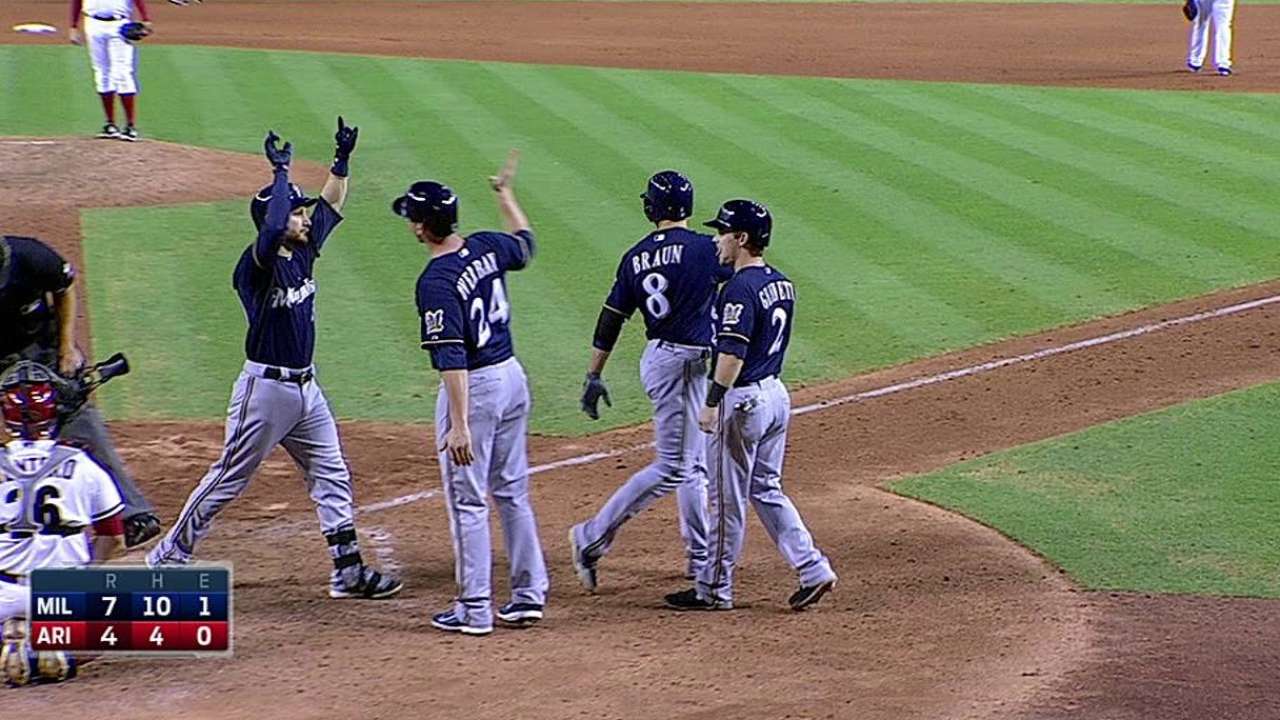 "The season starts too early and finishes too late and there are too many games in between." -- Bill Veeck
In between is exactly where we are right now. It is the midway point of the regular season, and 12 of the 30 teams are either in first place or within five games of first place. And when you take the Wild Card spots into consideration, nearly the entire league may have a shot at October glory. That's crazy.
While forecasting postseason teams is fruitless at this point, it may be worthwhile to hand out some awards for the first half in each league.
National League Most Valuable Player Award -- Jonathan Lucroy, Brewers
He's the best hitter, team leader and everyday catcher on the best club in the NL. Lucroy is, to put it bluntly, a stud. His .334 average, .403 on base percentage and .913 OPS is the highest of any catcher in baseball.
The 28-year-old Louisiana native navigates a pitching staff at an elite level while playing half his games in a launching pad known as Miller Park. Lucroy is a steady calm, a voice of reason and a complete beast every day behind and at the plate.
Going back almost two decades, only four catchers have hit .320 or better, .400 OBP or higher, .500 SLG or better and .900 OPS or higher for a full season -- Buster Posey, Joe Mauer, Jorge Posada and Mike Piazza. Posey and Mauer won MVP Awards. Lucroy has a shot to join them.
American League Most Valuable Player Award -- Mike Trout, Angels
Finally, Trout will get what he deserves. Hands down the best all-around player in the game, and in some areas, he's getting better. On track in 2014 for career highs in homers, RBIs, slugging percentage and OPS, Trout is leading a team that should reach the postseason for the first time since 2009. While other may have more gaudy numbers in certain categories, no player is as balanced and dominant across the board. In a few months, fans may get to see this once-in-a-generation talent perform on the big postseason stage.
National League Cy Young Award -- Johnny Cueto, Reds
There is absolutely no letting up for the Reds' ace. There should be no real conversation about this decision. Cueto has been the best for three months. He's tops in the league in the major categories such as innings, ERA, WHIP, WAR and H/9. Cueto is allowing 5.4 hits per nine innings, and the last time a qualified starter gave up fewer hits per was Pedro Martinez in 2000. Martinez won the Cy Young Award that year. Since 1901, only five pitchers have given fewer hits per nine innings than Cueto has so far in 2014.
American League Cy Young Award -- Felix Hernandez, Mariners and Masahiro Tanaka, Yankees
I'm going to be "that" guy. This race is too close to call. Both Hernandez and Tanaka are enjoying seasons worthy of decoration, and making a choice between the two seems unfair and impossible.
They're both in the top five in virtually all categories, so dissecting advanced numbers would be just as accurate as flipping a coin. Hernandez continues to dominate and will likely lock up a spot in Cooperstown by the time he turns 30. Tanaka has taken the league by storm as a rookie playing in the U.S. for the first time. Good thing we have three months to go to determine which man takes home the ultimate pitching prize.
National League Rookie of the Year Award -- Billy Hamilton, Reds
The Reds outfielder is as exciting as any player we've seen in a while. Hamilton's rawness combined with pure speed makes him a guy you must stop and watch. He leads all NL rookies in hits, runs and stolen bases. Hamilton is on pace for 66 steals this year. That would tie him for fifth-most steals by a rookie in the modern era.
American League Rookie of the Year Award -- Jose Abreu, White Sox
New league, new life, new country, new culture. No problem for the White Sox slugger, even though his family and entire support system remains in his homeland of Cuba. Before you go nuts and yell, "How could you not pick Tanaka?" I'll explain myself. Abreu is facing the best pitchers in the world on an everyday basis and making history in the process. Abreu may very well wind up leading the AL in two Triple Crown categories. He reached 25 career home runs in 67 games played. That's the fewest games needed to get to 25 in the history of baseball.
Matt Yallof is the co-host of The Rundown on MLB Network from 2 p.m. to 4 p.m. ET. This story was not subject to the approval of Major League Baseball or its clubs.