Trout has 'mixed feelings' on Home Run Derby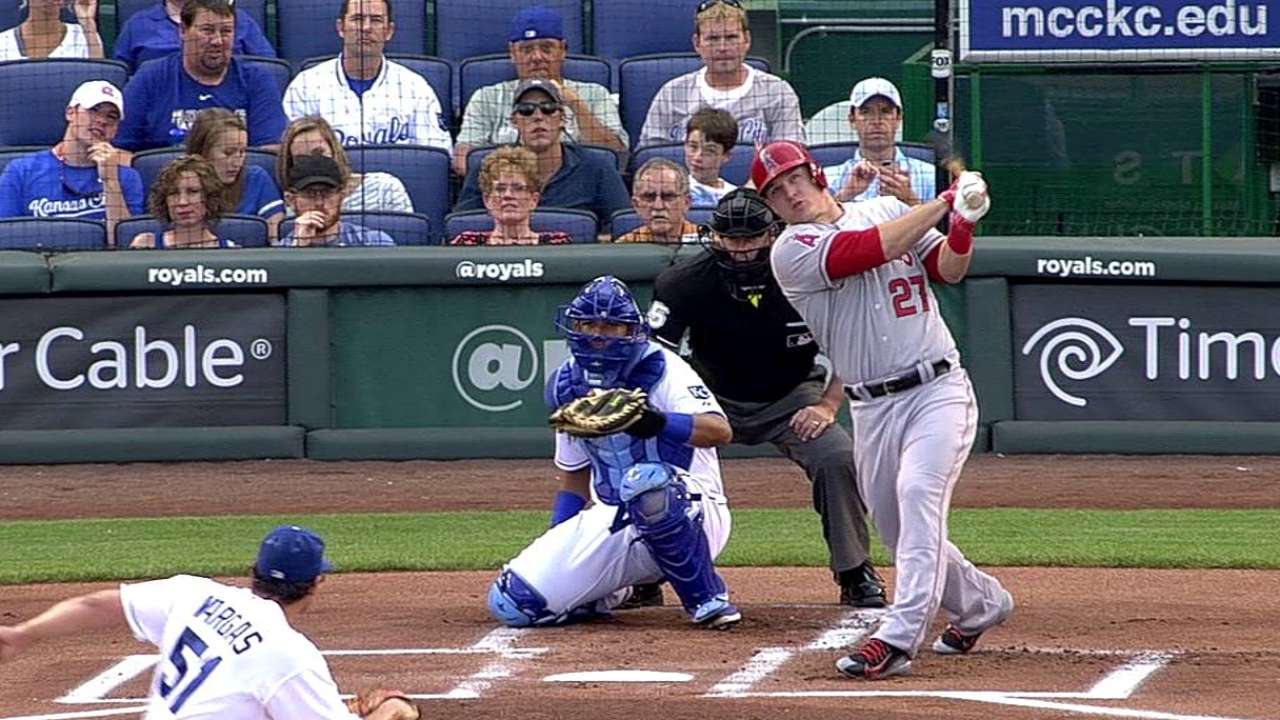 CHICAGO -- Mike Trout still hasn't been asked, and he still doesn't know if he would do it.
"It's kind of a weird topic for me right now," Trout said of participating in the Gillette Home Run Derby. "I have mixed feelings. I want to do it, and I don't want to do it."
Trout, who's primed to make his second straight All-Star Game start, acknowledged the Derby is "something I definitely want to do later in my career" and said, "I don't think it would mess up my swing or anything." But the event requires lots of max-effort swings, which tends to tire participants and is the main reason manager Mike Scioscia prefers that his players not partake.
"Not only that," Trout said. "All-Star break is time to relax, come take BP and enjoy the Derby. I enjoy watching it."
Trout has hit 75 home runs since his first full season in 2012, tied for ninth in the Majors. On Friday, the Angels' center fielder hit a ball that was estimated by ESPN's Home Run Tracker to have traveled 489 feet based on true distance, which measures how far it would've traveled if unimpeded and makes it the longest ball hit since 2012.
So, Trout has Derby power, even if his compact swing isn't necessarily that of a true home run hitter. And he's arguably Major League Baseball's most popular player, as evidenced by the 4 million-plus votes he's received to start the All-Star Game.
Blue Jays right fielder Jose Bautista was named the American League captain for the Derby, which will take place July 14 in Minnesota. Bautista must pick four AL teammates -- Rockies shortstop Troy Tulowitzki will do the same for the National League -- and the tournament will have a new, bracket-style format that may lessen the amount of swings necessary.
Five players from each league will bat in the opening round, with seven outs instead of the usual 10. The player who hits the most homers in each league will automatically receive a bye to the third round (semifinals).
The next two players with the most homers from each league will square off against one another in a head-to-head matchup in the second round. The winners of those matchups will then advance to the third round to compete against the league's top seed. The final round will feature the winners of the AL and NL semifinals going head-to-head to decide a winner.
Scioscia hasn't necessarily talked to Trout about the Derby this year. The Angels' manager reiterated Monday that participating in the event is the players' decision, but continued to hold firm on his stance against it -- not because of how it can affect his players' swings, but because of how the heavy workload can affect their bodies.
"As a fan, you're interested in it, it's a fun part of the All-Star experience," Scioscia said. "But I know the grind it takes to go through that, and it's affected more players' second halves than helped players."
Alden Gonzalez is a reporter for MLB.com. Read his blog, Gonzo and "The Show", and follow him on Twitter @Alden_Gonzalez. This story was not subject to the approval of Major League Baseball or its clubs.