MLB.com Columnist
Lyle Spencer
MVP Award elusive for some all-time greats
Jeter likely to join solid list of Hall of Famers who were never MVP's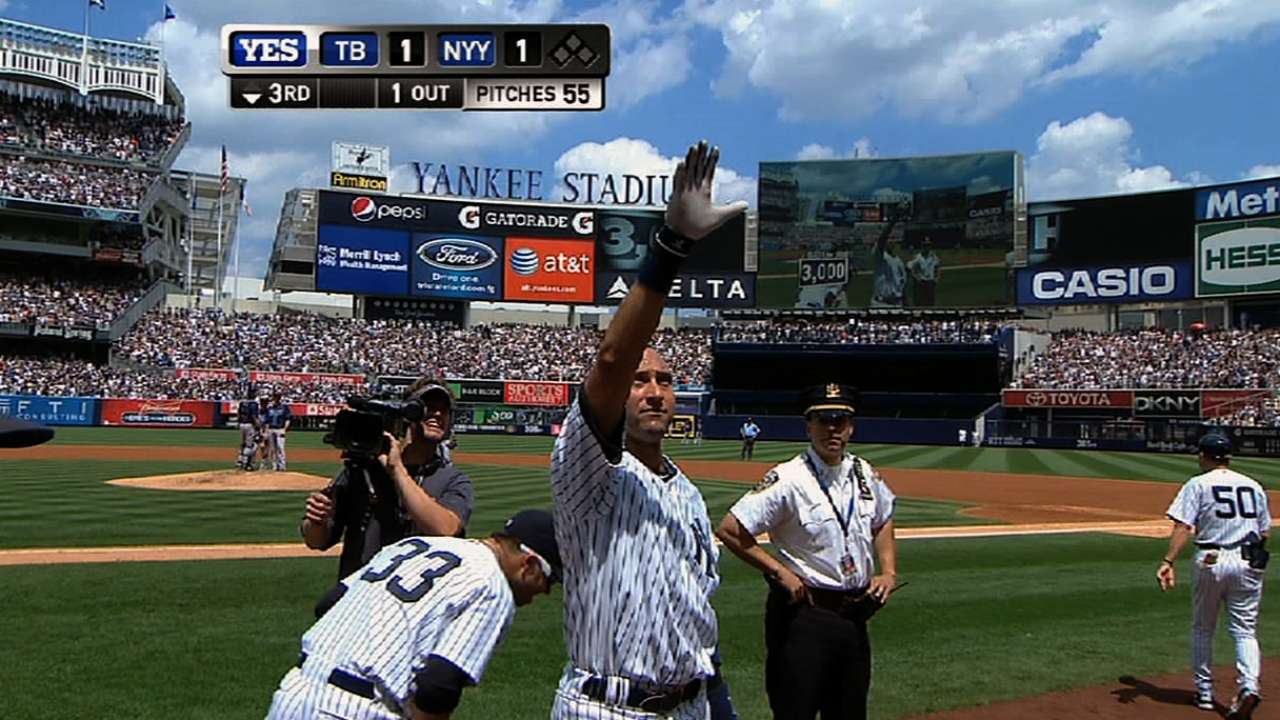 The notorious East Coast media bias, it turns out, just might be overrated. It was nowhere to be found when Derek Jeter needed it in the American League Most Valuable Player Award voting in 1999.
In his prime at 25, coming off a World Series sweep of the Braves as leader of a Yankees team that the year before was hailed as one of the best in history, Jeter put together a .349/.438/.552 slash line. He led the AL with 219 hits while producing 24 homers, 102 RBIs and 134 runs scored.
Ranking first in the Majors among position players in WAR (Wins Above Replacement) at 8.0, according to Baseball-Reference.com, Jeter ran sixth in the AL MVP race. The award went to Rangers catcher Ivan Rodriguez, with a 6.4 WAR.
The closest Jeter came to an MVP trophy was 2006, when he was edged by the Twins' Justin Morneau. Jeter had the superior WAR -- 5.5 to Morneau's 4.3 -- but the Minnesota slugger and his power numbers prevailed.
Jeter belongs to an impressive club of legends without MVP trophies. Here's a look at prominent BBWAA-elected Hall of Fame position players who fell short of the prized hardware:
Roberto Alomar
A 12-time All-Star with 10 Gold Gloves and four Silver Slugger awards, Alomar came closest to an MVP in 1999, when he finished third behind Ivan Rodriguez and Pedro Martinez in the AL voting. Alomar was in the top six in the balloting five times.
Luke Appling
A White Sox shortstop with elite skills, Appling was second to Lou Gehrig in the AL MVP race in 1935 and second again in 1943 to another Yankee, pitcher Spud Chandler. Twice an AL batting champ, Appling led the league in defensive WAR in 1937 and offensive WAR in '43.
Wade Boggs
Boggs' highest MVP finish was fourth in 1985, when the AL award was won by Don Mattingly. The longtime Red Sox third baseman, a five-time AL batting champion with a .328 career average, finished first twice (1986 and '88) and second twice ('85 and '87) among all MLB position players in WAR.
Lou Brock
The all-time stolen base king before he was eclipsed by Rickey Henderson, Brock had power to go with his blazing speed and was at his best in October, batting .391 with 16 runs scored and 13 RBIs in 21 World Series games for the Cardinals in the 1960's. His best MVP finish was in '74, when he finished second to Steve Garvey. Brock drew MVP votes in nine other seasons.
Gary Carter
A driving force with the bat and calming presence behind the plate, Carter was a leader of great Expos and Mets teams in the 1980's. His best MVP finish was second for Montreal in 1980 to Mike Schmidt, who also prevailed in '86 when Carter (third) and Keith Hernandez (fourth) shared votes for the World Series champion Mets.
Joe Cronin
A superb shortstop who did it all in his prime years in Boston and Washington, Cronin was in the top seven in the MVP voting five times, placing runner-up in 1933 to Jimmie Foxx and his booming bat.
Bill Dickey
Dickey anchored the dynastic Yankees of the 1930's and early 40's with his brilliant work behind the plate and clutch hitting. His best MVP finish was second in 1938 to Foxx.
Larry Doby
The man who integrated the AL in Cleveland in 1947 while Jackie Robinson was handling that responsibility in the NL, Doby was a complete center fielder. The league leader in WAR for position players in 1952 and second in '50 and '51, Doby was edged by Yogi Berra in a close '54 MVP race. Teammates Bobby Avila and Bob Lemon evenly shared 15 first-place votes with Doby.
Carlton Fisk
A rock behind home plate for the Red Sox and White Sox with thunder in his bat, Fisk was named on MVP ballots seven times. His best finish was third in 1983 behind Orioles teammates Cal Ripken Jr. and Eddie Murray.
Tony Gwynn
Eight times a National League batting champion, Gwynn led all MLB position players in WAR at 8.5 in 1987. Yet San Diego's superlative right fielder finished eighth in the MVP balloting, despite batting .370 with a .958 OPS, racking up 218 hits and scoring 119 runs. The trophy went to the Cubs' Andre Dawson, who led the NL with 49 homers and 137 RBIs. Gwynn collected MVP votes 12 times, finishing in the top 10 on seven occasions. Mr. Padre was Mr. Consistency.
Al Kaline
The Tigers' distinguished right fielder was the AL's answer to Hank Aaron, a smooth operator who delivered year after year. Third or better seven times in WAR in the AL, Kaline finished second in MVP races to Berra in 1955 and to another Yankees receiver, Elston Howard, in 1963. Kaline received votes in 14 elections.
Ralph Kiner
The NL home run champion his first seven seasons in Pittsburgh, Kiner received MVP votes seven straight years, starting in 1949. His best finish was fourth in '49, when Robinson won his MVP trophy.
Eddie Mathews
Mathews, one of the all-time great third basemen, joined Aaron to give the Braves a lethal tandem, finishing with 512 homers and 1,453 RBIs. He was second in the NL MVP balloting in 1953 to Roy Campanella and in '59 to Ernie Banks.
Johnny Mize
The "Big Cat" at first base had a .959 OPS across 15 seasons for the Giants, Cardinals and Yankees. Mize led NL position players in WAR in 1939 and '49, finishing second in the MVP race to 27-game winner Bucky Walters in '39 and to the Reds' Frank McCormick one year later, in one of the strangest finishes.
Paul Molitor
Similar in style and versatility to Pete Rose, Molitor enriched the Brewers for 15 years and the Twins and Blue Jays for three seasons each, racking up 3,319 hits. Molitor batted .368 with a 1.050 OPS in 29 postseason games and was the 1993 World Series MVP for Toronto. Receiving MVP votes in nine seasons, his best finish was second to Frank Thomas in 1993.
Eddie Murray
Known as "Steady Eddie" in his Orioles prime, Murray finished in the top six in the AL MVP balloting six straight seasons (1980-85). He was runner up in '82 to Robin Yount and in '83 to teammate Ripken. Steady Eddie collected 3,255 hits, 504 homers and 1,917 RBIs. Pete Rose gathered more hits, but only Mickey Mantle was a more formidable switch-hitter than the quiet man with the loud bat.
Mel Ott
Third in Giants history behind Willie Mays and Barry Bonds in lifetime WAR (107.3), the 5-foot-9 slugger led the NL six times in homers, finishing with 511, and had a .947 career OPS. Ott drew MVP votes in 13 seasons. His best finish was third in 1942, when the award went to Mort Cooper, the Cardinals' 22-game winner.
Tony Perez
Overshadowed in his prime by Hall of Famers Johnny Bench and Joe Morgan and hit king Rose, Perez was widely regarded as the most dangerous member of Cincinnati's Big Red Machine in clutch situations. His best MVP showing was 1970, when he placed third, with Bench claiming the award.
Kirby Puckett
Beloved in Minnesota by fans and teammates, Puckett was a hit machine and six-time AL Gold Glove Award winner in center field who drove the Twins to World Series crowns in 1987 and '91. Puckett's Game 6-saving performance in the 1991 World Series, when he robbed Ron Gant with a spectacular catch before launching a walk-off homer in the 11th inning, stands with the most memorable in history. Puckett had seven top-seven MVP finishes and was second in 1992 to Dennis Eckersley, placing third in '87 and '88.
Ozzie Smith
The "Wizard of Oz" was arguably the greatest defensive player in history, notching 13 consecutive NL Gold Glove Awards at shortstop. A dynamic leader who turned himself into a productive offensive player, Smith ran second to Dawson in the 1987 MVP race. Many believe the man who stole so many hits was robbed.
Duke Snider
The "Duke of Flatbush" led NL position players in WAR in 1953 and '56 and was second to Mays in '54 and '55. A graceful center fielder with tremendous power from the left side, Snider was third behind teammate Campanella in the '53 MVP race, fourth in '54 and second to Campanella in '55. In '56, Snider was 10th even though his 7.6 WAR was higher than all nine men ahead of him.
Billy Williams
Teammate Banks was Mr. Cub, but Williams, the left fielder with the classic stroke, was the coolest Cub. A run producer with power, he was runner-up to Bench twice in MVP balloting, in 1970 and '72.
Dave Winfield
Productive for 22 seasons with 3,110 hits and 465 home runs, Winfield, a gifted athlete at 6-foot-6, is best remembered for his turbulent Yankees days. A World Series champion with the 1992 Blue Jays, he led the NL with his 8.3 WAR for the Padres in '79 and had his highest MVP finish, third behind co-winners Willie Stargell and Hernandez. A brilliant defender in right, Winfield was in the top 12 in the voting nine times.
Lyle Spencer is a columnist for MLB.com. This story was not subject to the approval of Major League Baseball or its clubs.