Calhoun excelling as platoon player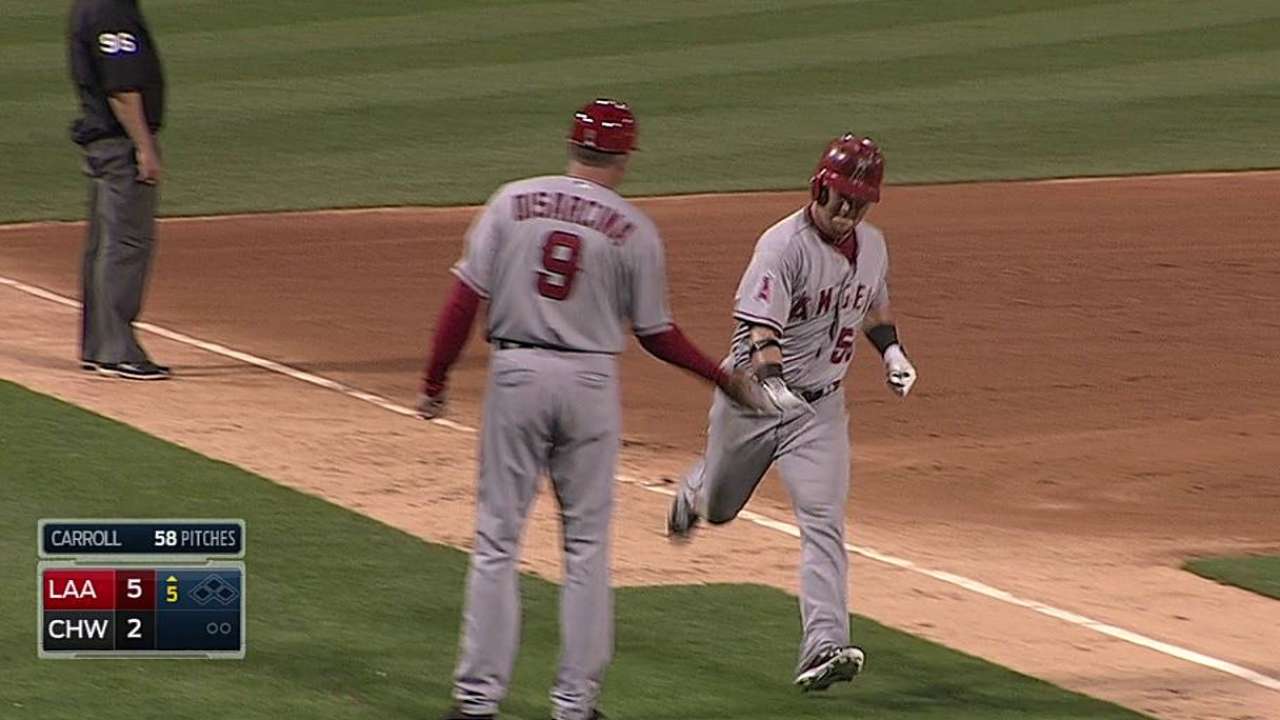 ANAHEIM -- The only thing stopping Kole Calhoun recently has been the lineup card.
Calhoun, despite platooning with Collin Cowgill in right field, has been on a tear recently, hitting .364/.436/.697 with nine RBIs in his last 10 games. But manager Mike Scioscia has only been starting Calhoun against right-handed starters while Cowgill gets the nod against left-handers.
Cowgill, a right-handed hitter, got the start on both Wednesday and Thursday against left-handers and figures to start Friday with Houston lefty Dallas Keuchel on the mound. But the lefty Calhoun has actually hit southpaws (.287) better than right-handers (.273) in his career. Cowgill has hit left-handers at a .288 clip in his career.
Calhoun has thrived in the leadoff spot as well, going 5-for-6 with two walks in his last at-bats to lead off the game. In 2014, he is hitting .480/.581/.800 in 31 leadoff at-bats. Calhoun said hitting in front of superstar Mike Trout helps him see better pitches.
"They want to pitch to you more than they want to pitch to him so you get some good pitches to hit, try not to do too much, things start falling, you get a little groove," Calhoun said. "It definitely helps having him behind you in that leadoff spot is a huge help."
Trout has been great at picking guys up, as well, hitting .323 with men on base.
"If I can get on base in front of those three, we're going to have a good chance to score so I get to see a few more pitches," Calhoun said. "You know that they'd rather face you than face Trout. You gotta be a little bit more selective and pick your pitches to swing at, and you do that and it's a pretty fun spot to hit in."
Calhoun has made it fun by hitting .314 with 34 runs scored in 35 games as the No. 1 hitter. In any other spot in the order, he is hitting just .179.
Since June 17, Calhoun leads the Majors with 16 runs scored.
Alden Gonzalez is a reporter for MLB.com. Read his blog, Gonzo and "The Show", and follow him on Twitter @Alden_Gonzalez.Matthew DeFranks is an associate reporter for MLB.com. Follow him on Twitter @MDeFranks. This story was not subject to the approval of Major League Baseball or its clubs.