Richards disappointed he's not an All-Star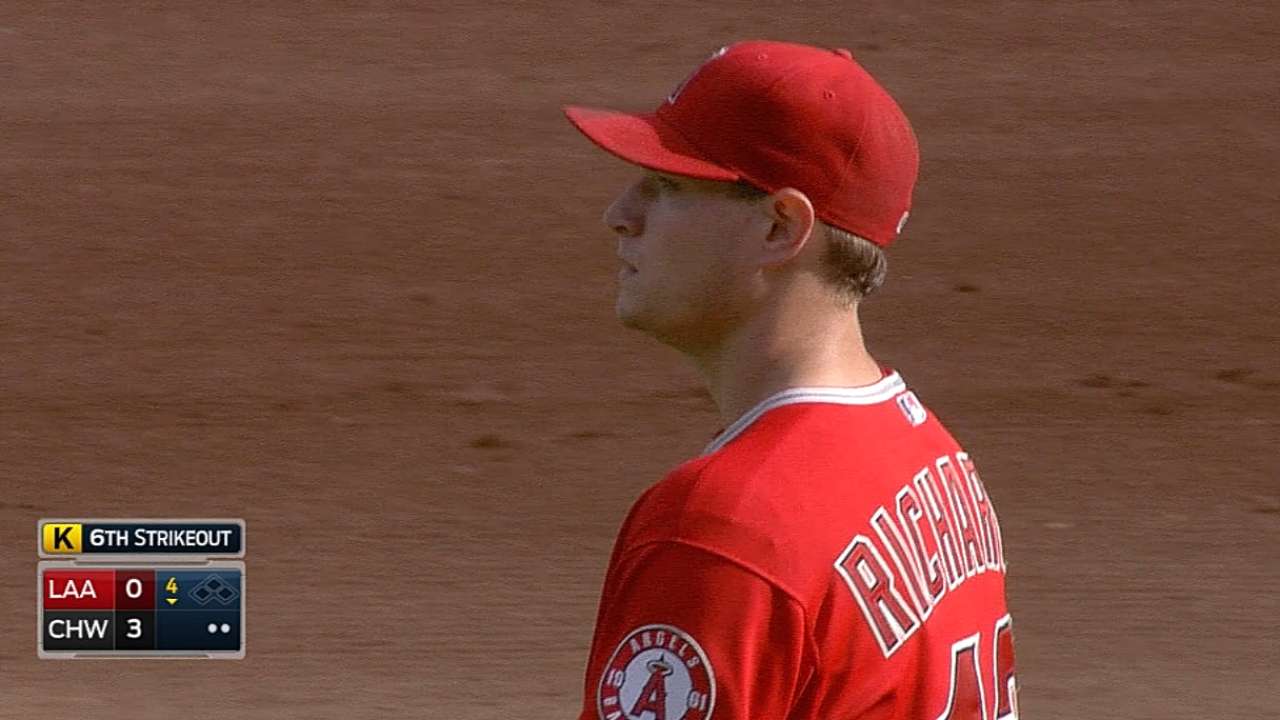 ARLINGTON -- In the midst of a remarkable breakout season, Angels starter Garrett Richards expressed disappointment in not making the American League All-Star team in the Final Vote won by White Sox lefty Chris Sale, another pitcher having a great season.
Sale edged Richards in the 13th annual All-Star Game MLB.com Final Vote Sponsored by Experian after 92 hours of relentless fan balloting. Sale racked up 6.7 million votes, edging Richards, the AL runner-up. Cubs first baseman Anthony Rizzo made it a Windy City sweep, winning the nod in the National League.
"It was fun to be part of," Richards, 26, said. "It's awesome to see my teammates come together and the fans, how they supported me. Thank you to everyone who voted for me and supported me. I'll just have to do better next year."
Richards is 10-2 with a 2.71 ERA in 18 starts in his first full season in the Angels' rotation. He has 119 strikeouts in 116 1/3 innings and has held hitters to a .196 batting average -- second in the league to Sale's .190.
"I was really pulling for Garrett -- he deserved to be on the team," said Mike Trout, the superstar center fielder who will be joined by teammate Erick Aybar in Minnesota. "I'm disappointed for Garrett. He's an All-Star in my book."
Sale, the winning pitcher of last year's All-Star Game with two innings of scoreless relief, is 8-1, 2.08 with a 0.84 WHIP. Sale is the fourth White Sox player to win the Final Vote, the most of any team.
Richards stands ready to hop a flight to Minnesota if a call to action comes before game time Tuesday at 5 p.m. PT at Target Field.
"If a spot were to open up," he said, "I'd be happy to take it."
Angels manager Mike Scioscia expressed the team-wide disappointment in Richards not making a staff loaded with household names.
"Were disappointed," Scioscia said. "In our mind, Garrett is an All-Star. He's had an incredible season. We know the selection process isn't perfect. It's a tribute for him to be selected into the five for the vote, but naturally were disappointed."
Lyle Spencer is a columnist for MLB.com. This story was not subject to the approval of Major League Baseball or its clubs.