Rucinski 'thrilled' to reach The Show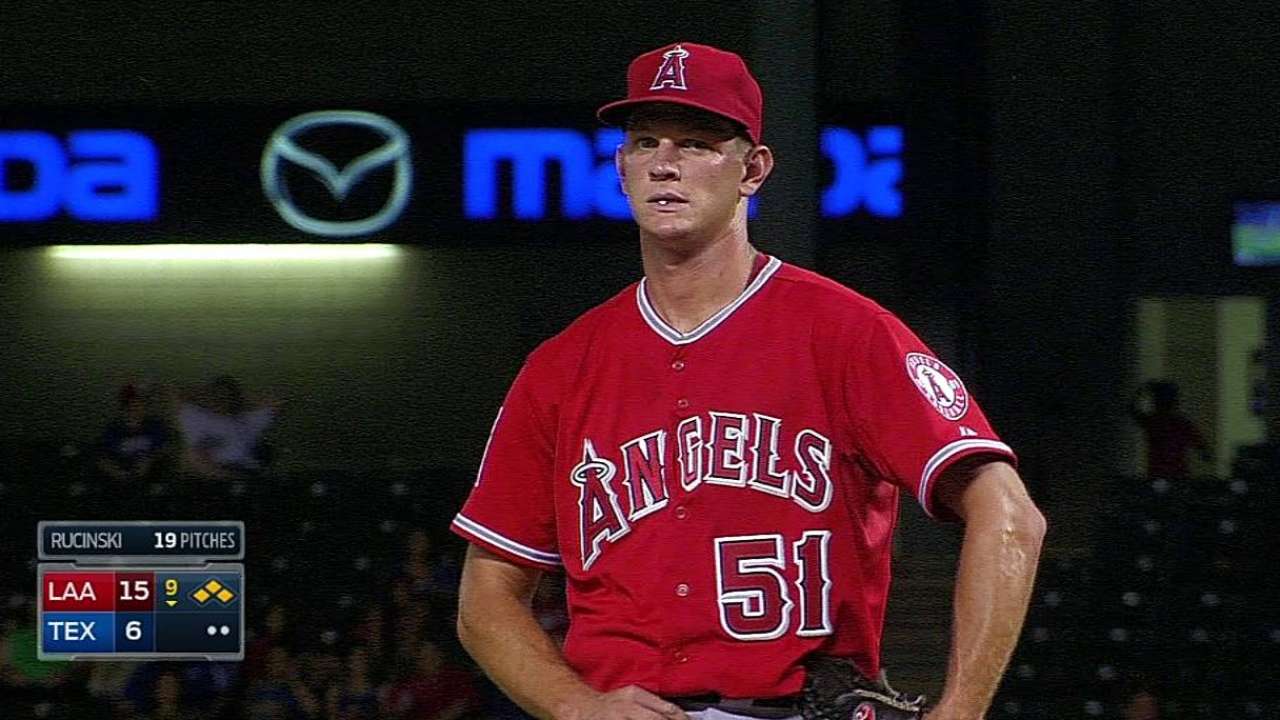 ARLINGTON -- Just a year and a half removed from pitching in independent ball, Drew Rucinski found himself in the Major Leagues on Thursday, beaming over the improbable nature of his promotion to a role with the Angels.
"It's awesome," said Rucinski, a 25-year-old right-hander who calls Oklahoma home and attended Ohio State University. "I'm excited -- and grateful for the opportunity."
Rucinski has been having a terrific season at Double-A Arkansas, where he's 7-4 with a 2.35 ERA in 17 starts. He had 85 strikeouts against only 28 walks, with a 1.14 WHIP, in 95 2/3 innings.
"I found out [Wednesday] night in Tulsa," Rucinski said, the Travelers involved in a series with their Texas League rivals. "They told me to pack up and come here. Baseball's crazy. You never know what's going to happen."
His repertoire includes a four-seam fastball in the 90-94 mph range, slider, changeup and split.
"The reports on him are good," Angels manager Mike Scisocia said.
Rucinski, who made his Major League debut in Friday's 15-6 win, said he's eager to do whatever the skipper has in mind. In one inning, he allowed two runs on four hits and struck out one.
"I'm just thrilled to be here," said the man who was released by Cleveland before catching on with Rockford in the Independent League.
Signed last summer by the Angels, he was 2-2 with a 1.86 ERA in five starts for Class A Inland Empire last season.
Rucinski takes Nick Maronde's place on the 40-man roster. Maronde, who was designated for assignment Thursday, was impressive in a late-season 2012 callup, but has struggled with his control. After making the Opening Day roster, he appeared in 11 games for the Angels this season with a 12.79 ERA in 6 1/3 innings. Dividing time between Salt Lake and Arkansas, he walked 30 hitters in a total of 16 innings.
Lyle Spencer is a columnist for MLB.com. This story was not subject to the approval of Major League Baseball or its clubs.