Engaging Grilli fitting in with relief corps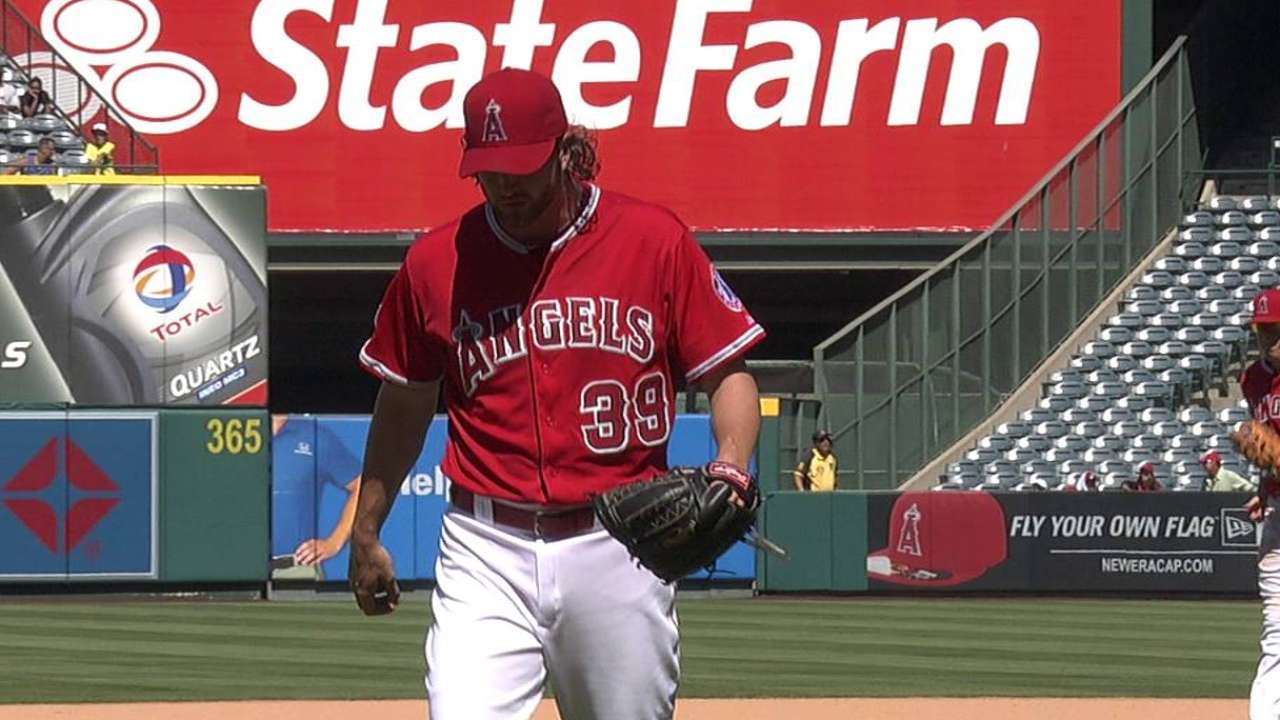 ARLINGTON -- Jason Grilli is by no means an introvert. The Angels' new reliever isn't shy about expressing himself.
"I'm a vocal person," said Grilli, a 37-year-old right-hander working for his seventh club in 12 Major League seasons. "I try to add some flavor -- without being annoying."
A setup man and middle reliever before emerging as the Pirates' closer with 33 saves last year, Grilli came to the Angels in exchange for Ernesto Frieri on June 27. He has yielded one unearned run in six innings, allowing five hits and two walks while striking out six.
"My whole thing is getting to know the guys as quick as possible," Grilli said. "They've made me feel like I belong. Guys are flipping up good stuff, pulling on the rope in a good direction. The second half is always what it's about. If there's any time to gain momentum, this is it."
Grilli, 1-3 with 11 saves and a 3.76 ERA overall this season, looks around a clubhouse featuring superstars, stars and quality role players and clearly embraces its immediate possibilities.
"I see this team's built for a championship run -- and the belief here has been nothing but that," Grilli said. "To be able to see the guys hanging out, enjoying each other's company, that's always a good thing."
Grilli, with 413 career appearances, knows that every out is important when you work out of the bullpen -- especially as the long grind of a season heads down the stretch.
"Guys here want to do whatever it takes," he said. "Every role is important. The eighth inning can be more important than the ninth, the way the lineup turns up."
Kevin Jepsen, who turns 30 on July 26, is the senior member of the bullpen in service time. He became a full-time reliever in 2009 Angels in a dynamic bullpen featuring Scot Shields, Francisco Rodriguez and Darren Oliver.
"Jason's a really good guy," Jepsen said. "He's fit in very well, very quickly. You always want good chemistry in your bullpen, and that's what we're building here."
Lyle Spencer is a reporter for MLB.com. This story was not subject to the approval of Major League Baseball or its clubs.