Shoemaker's patience pays off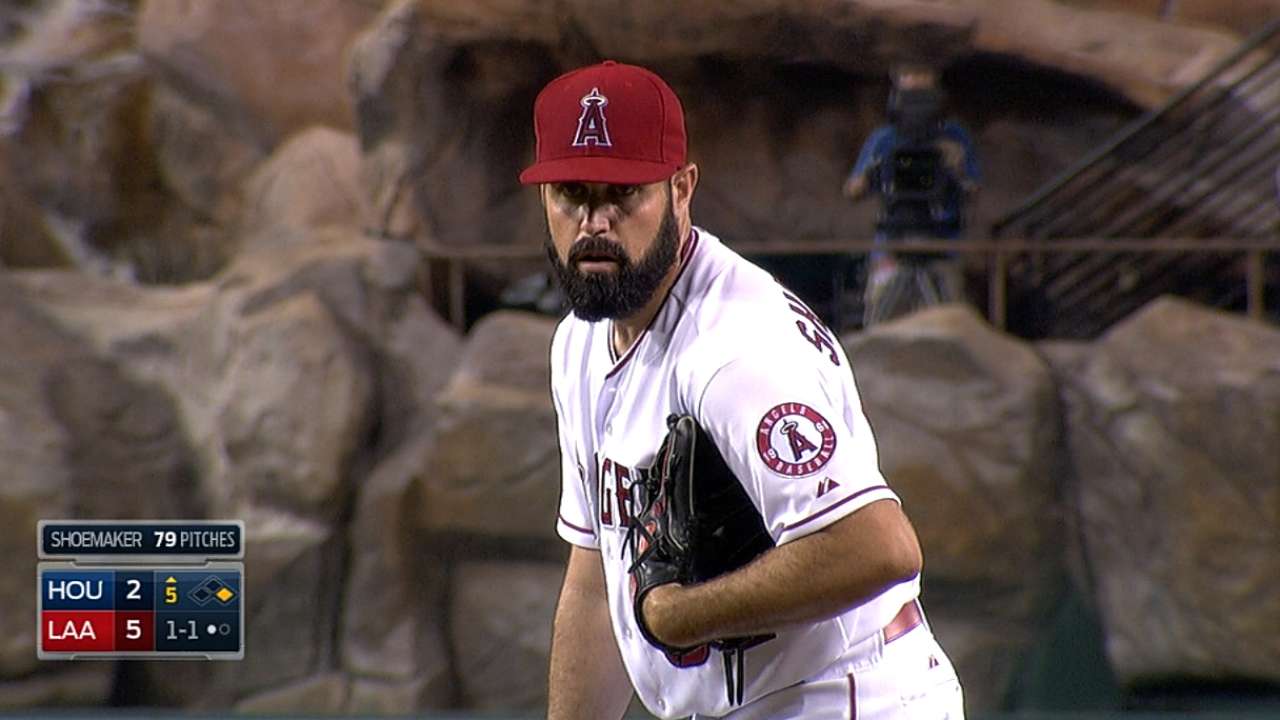 ARLINGTON -- As he reflects on a breakthrough first half at 27, after grinding his way through six Minor League seasons, Matt Shoemaker will take to the All-Star break a strong sense that he has shown he belongs in The Show.
Carrying a 7-2 record and 4.38 after 15 appearances -- nine as a starter -- and 63 2/3 innings, the man from Michigan believes he has earned a spot in manager Mike Scioscia's rotation. But he emphasizes that his goals are team-related and he'll relish any role that keeps him in an Angels uniform.
"If that's where I am, great, awesome," he said when asked about taking a regular turn in the rotation. "I'm here to do whatever I need to do, whatever gets us to the World Series and helps us win the World Series.
"This completely justifies all the things you go through -- and, at the same time, you know you have to keep up the hard work to stay here."
It hasn't been a relatively quick ride to the chartered flights and finest hotels, along the lines of teammates such as Garrett Richards and Tyler Skaggs. Shoemaker has paid heavy dues along the way, hitting every stop in the farm system. He pitched in 134 Minor League games before this season, 115 as a starter.
"There are years, times when you go through struggles," Shoemaker said. "It's like anybody in life. It makes you a stronger player and person.
"I've never lost faith or focus. In my mind I always wanted to pitch; that was my love, from the time I started pitching at 8 or 9 years old. I played some third base and first base up through my first year of college [at Eastern Michigan University], but this is what I've always wanted to do, pitch in the Major Leagues. So it's literally a dream come true for me and my family."
Shoemaker and lefty Hector Santiago give Scioscia options at the back of the rotation in support of Jered Weaver, C.J. Wilson, Garrett Richards and Tyler Skaggs. Scioscia likes to keep a depth chart eight or nine deep for starting pitchers, and Shoemaker is delighted to be part of it, wearing No. 52 for a team with a chance to do great things.
"I've always had this love of baseball," Shoemaker said. "I was never a guy who threw 98 [mph], but I was going to compete my butt off no matter what. Getting here and being with this team, it's obviously an exciting time in my life."
Lyle Spencer is a reporter for MLB.com. This story was not subject to the approval of Major League Baseball or its clubs.