Street thrilled to be with playoff contender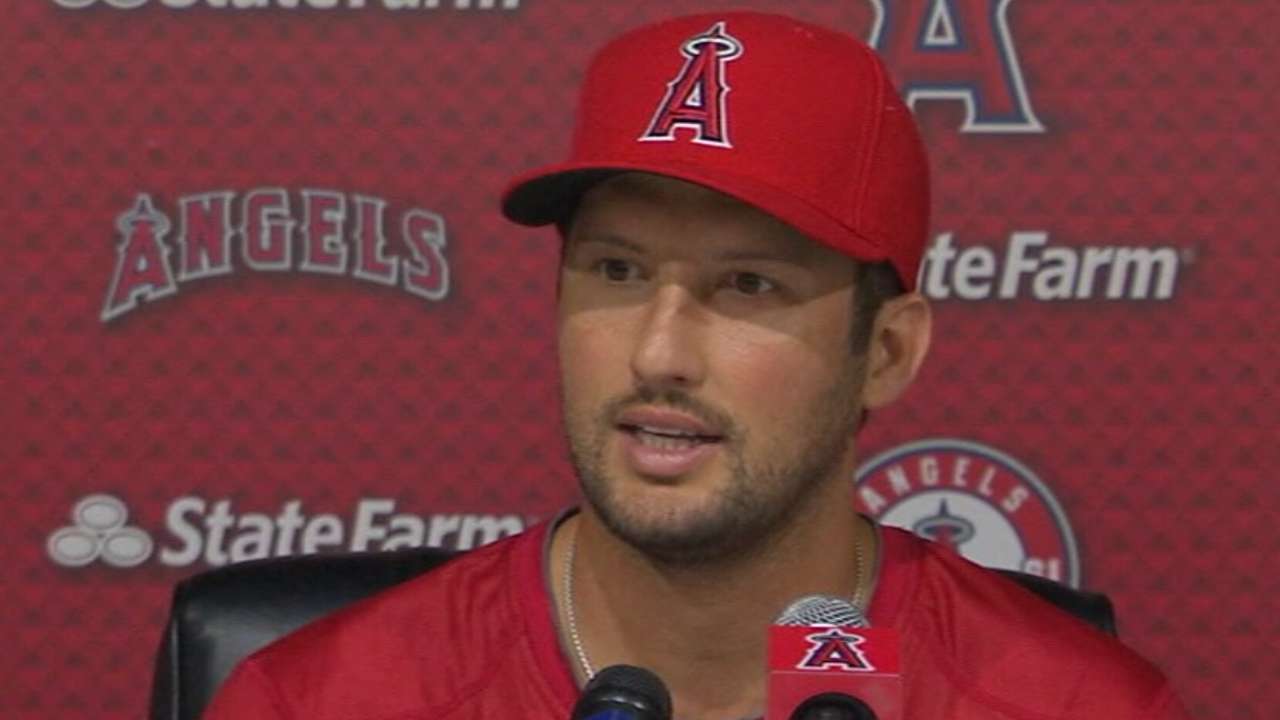 ANAHEIM -- Angel Stadium is just 93 miles from Petco Park, but for Huston Street, the distance between his old team and his new one may seem like more.
Street, acquired from San Diego by the Angels on Friday night in a six-player trade, has not played on a winning team since 2010 with the Rockies, but assumes the closer's role on the second-best team in baseball. This season, Street has 24 saves and a 1.09 ERA.
As trade rumors flew, Street, 30, said he expressed to the Padres a desire to become an Angel if he were dealt.
"It's nice to go someplace you wanted to go and someplace where you really do have a good chance to win a world championship with a bunch of guys that have played really well," Street said.
The Angels entered play Saturday 1 1/2 games behind the American League West-leading Athletics. Street said he was excited to join a team that is expected to win and compete for a World Series championship.
"I haven't done a lot of that in my career," Street said. "The two teams, 2006 and 2009, where I've made the playoffs, were two of my favorite teams I've ever been a part of. Not necessarily my best seasons."
Street made the playoffs in 2006 with Oakland and 2009 in Colorado but has not reached the postseason since.
Angels manager Mike Scioscia said Street would supplant reliever Joe Smith as the closer despite Smith's strong performance recently. In July, Smith is 1-0 with eight saves and has allowed just two baserunners.
In his career, Street has appeared in the ninth inning or later 488 times and just 129 times in every other inning combined. Street said he hasn't explicitly talked with Smith about the closer's job but doesn't foresee any friction.
"He's my teammate," Street said. "I'm going to pull for him and I expect him to pull for me whether I'm pitching the ninth or someone else."
Scioscia did not pencil Smith into the eighth inning but it's expected that Smith moves into a setup role in front of Street.
"There's a lot of guys you could mix and match to get from the seventh to the closing spot and I think that's going to be the depth we're looking for," Scioscia said.
The change of scenery will also be a reunion for Street and Angels catcher Chris Iannetta. The pair played together from 2009 to 2011 in Colorado, with Iannetta catching Street in 92 games. Only one other catcher (Jason Kendall) has caught Street more times.
"He's the type of guy who'll pitch to the glove and use all three pitches to get guys out," Iannetta said. "I remember his competitiveness and his command were exceptional."
In 92 1/3 innings, Street posted a 3.02 ERA and a .240 batting average against with Iannetta catching.
Iannetta said Street adds another veteran presence to a bullpen that had struggled the last few seasons.
"There's no question that our bullpen was one of the weakest points over the last couple of years," Iannetta said. "This year has been so much better and when you can add a guy like Grilli and add Huston Street to it, it's just going to get better."
Unlike most midseason acquisitions, Street may not be just a short-term rental for the Angels. He has a club option ($7 million) for next season and said he could "absolutely" see himself staying with Los Angeles long-term.
"You gotta be successful first," Street said. "I gotta come here and do my job. You have to earn that."
Matthew DeFranks is an associate reporter for MLB.com. Follow him on Twitter @MDeFranks. This story was not subject to the approval of Major League Baseball or its clubs.