Trout waiting for right time to unleash speed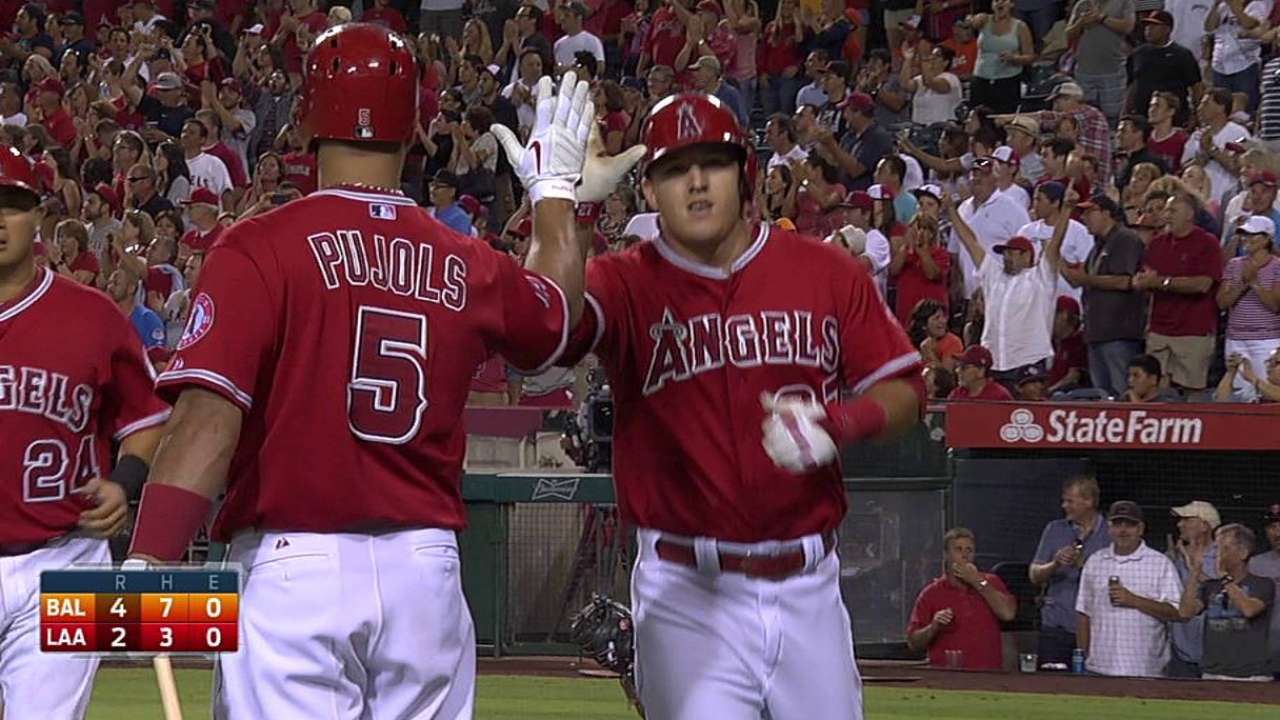 ANAHEIM -- One tool seems buried in Mike Trout's deep toolbox -- his top-flight speed.
Although Trout's power numbers have been way up this season (24 home runs, 76 RBIs), he has just 10 stolen bases after swiping 82 in the previous two seasons. The two-time MVP runner-up has one steal in his last 30 games (June 24).
Manager Mike Scioscia and Trout both said the 22-year-old was seeing a lot of slide steps from opposing pitchers to quicken their delivery to the plate.
"I took a lot more chances last year, and they started picking up on things," Trout said. "The pitchers have been doing a good job of keeping me honest. I'm going to try to be more aggressive. I've been trying to do it lately. You just have to pick the right time to do it."
Scioscia said that Trout has been in motion a decent amount but that balls have either been put in play or fouled off. Scioscia also said that Trout's lack of steals is not due to Albert Pujols and Josh Hamilton hitting behind him in the order.
"We certainly want Mike to run as much as he possibly can," Scioscia said. "I think that, at times, teams are going to extraordinary levels to control the running game, which would give the batter's box offense an advantage, but we're certainly not trying to stifle what Mike can do because of anything in the order behind him."
Both in his customary No. 2 spot and in his career, Trout falls somewhere between table-setter and slugger, and this season he's looked more like a ball basher than a base bandit.
Trout hit his 24th home run of the season on Tuesday night, and his 76 RBIs trail just Miguel Cabrera for the Major League lead. Last season, Trout didn't hit his 24th homer until Sept. 16, and he finished with 27.
"I'm not trying to hit home runs," he said. "They just kind of happen. I'm going to try to drive in runs, for sure. I'm a guy that just tries to go gap to gap, and if I square up some balls and they go out, they go out."
Trout is on pace to hit 40 home runs, drive in 129 runs and steal 17 bases. He would become the first player in franchise history with at least 120 RBIs and 40-plus home runs.
Alden Gonzalez is a reporter for MLB.com. Read his blog, Gonzo and "The Show", and follow him on Twitter @Alden_Gonzalez. Matthew DeFranks is an associate reporter for MLB.com. This story was not subject to the approval of Major League Baseball or its clubs.