Variety of looks emerge from revamped bullpen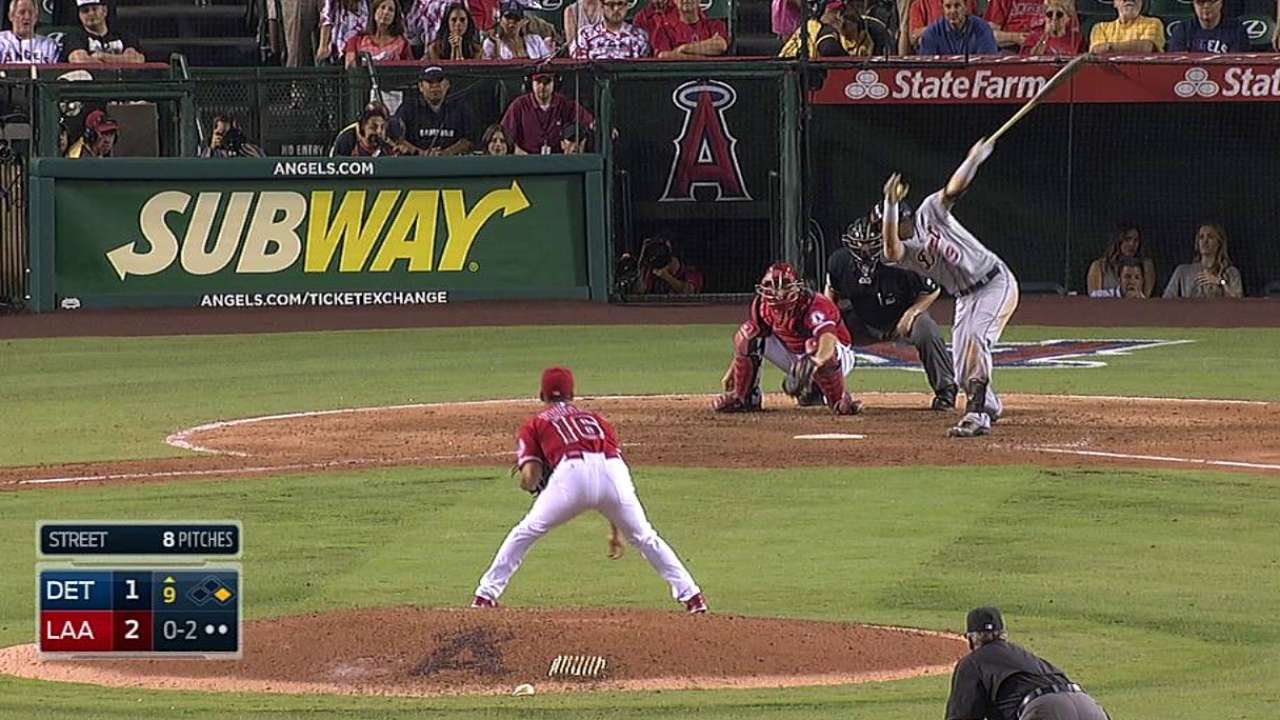 ANAHEIM -- The Angels' bullpen isn't like many in the Majors.
Among the eight relievers beyond Angel Stadium's left-field fence, there sits a 6-foot closer who throws out of the windup, a sidewinding setup man and a herky-jerky lefty specialist. They join lifelong Angels, journeymen and offseason acquisitions to form one of the deepest bullpens in the American League.
The uncommon cast of characters is exactly what general manager Jerry Dipoto has been building toward since joining the organization in 2011.
"This is probably as close as we've come to having a variety of different looks," Dipoto said. "It's just a really good and unique and diverse group of guys. There's always something different."
While Joe Smith's submarine-like delivery and left-hander Joe Thatcher's unusual motion certainly qualify as different, closer Huston Street's windup may be the most unique.
Street steps back with his left foot, taps the rubber with his right one before a high leg kick leads to a low three-quarter release. He is the only Angels reliever that throws out of the windup -- with the bases empty -- and is one of the only closers who does so.
"From what it looks like on the mound to what it feels like in my head, two totally different things," Street said.
Street has had the same delivery since his college days at Texas, when he switched from a high three-quarter release to a low one, paving the way for his side-to-side, rocking motion. The 30-year-old still goes into the stretch with men on base, which gives hitters a different look than before.
"If they face me with nobody on base today, and tomorrow they face me with somebody on base, two different looks," Street said.
Dipoto has revamped a once-maligned Angels bullpen with three trades in the last month that have netted Street, Thatcher and former Pirates closer Jason Grilli. Dipoto said the Opening Day bullpen was built on velocity while the current one is more unique and versatile.
"Outs come in all forms," manager Mike Scioscia said. "Pitchers, how their stuff plays out, it comes in a lot of different packages, and we have some guys with unique deliveries. When you put it all together, you're looking for [eight] guys down there that are going to hold down the fort and get the outs you need."
Street picked up his first save for the Angels on Wednesday after taking over the ninth inning from Smith. Smith has not given up a run in over a month while notching 10 saves and giving up four hits in 14 1/3 innings.
Scioscia said Smith throws a "bowling ball" from his sidearm position.
"He's throwing 88-91 mph heavy sinker from down there with a nasty slider to complement it," Scioscia said. "There's a release point issue in trying to pick it up and certainly what the ball is doing on the way to the plate is probably a bigger part of the story. It's moving everywhere."
Since June 16, Angels relievers have posted a 2.66 ERA in 32 games while locking down 11 of 14 save opportunities.
Matthew DeFranks is an associate reporter for MLB.com. This story was not subject to the approval of Major League Baseball or its clubs.