Pipeline Preview: SS prospects Lindor, Marrero clash
Two of the game's best young defenders square off in Pawtucket on Saturday night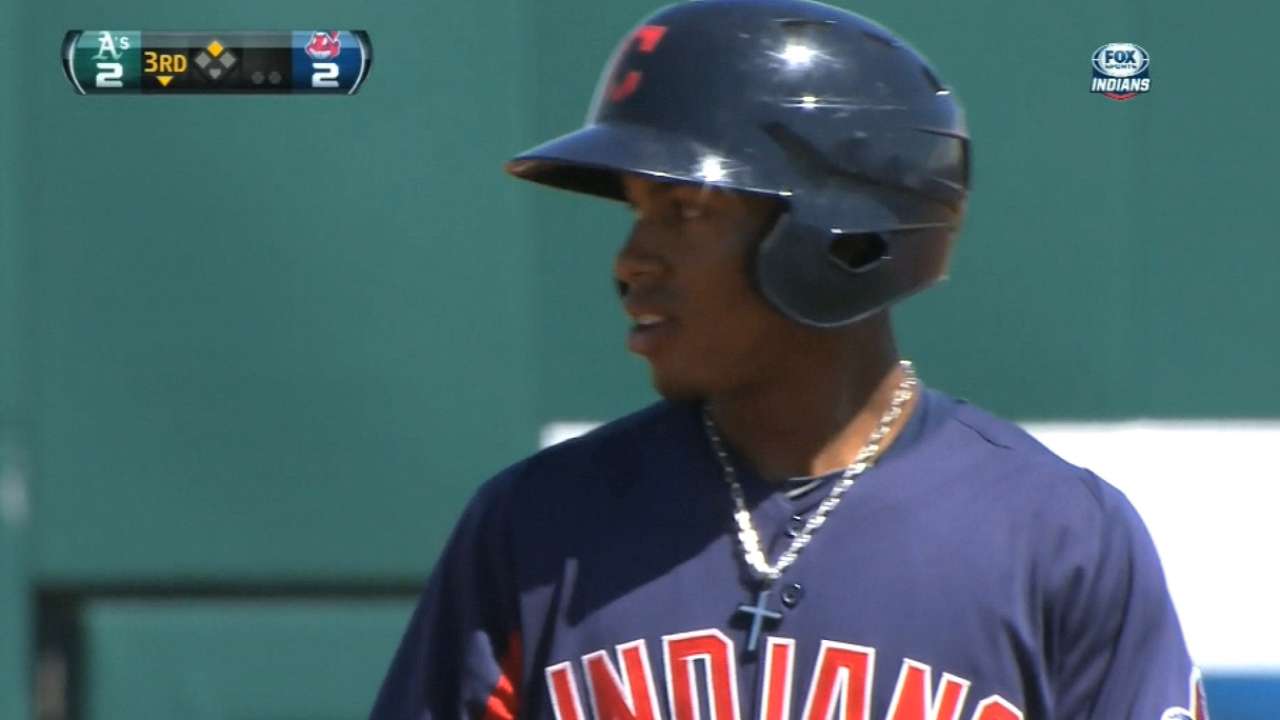 Indians' No. 1 prospect Francisco Lindor is widely considered to be the best defensive shortstop in the Minor Leagues. His glove work has helped him land a spot in the last three Futures Games, it helped earn a promotion to Triple-A Columbus last month.
Saturday, Lindor and Columbus will begin a four-game series at Pawtucket, where they will find another defensive-minded shortstop. Deven Marrero, the Red Sox No. 13 prospect, doesn't have the same flashy defensive skills as Lindor, but his glove has earned him praise since his days at Arizona State, and it helped make him the 23rd overall pick in the 2012 First-Year Player Draft. A steady presence at the position, he has made just 22 errors in 224 games in the Minor Leagues.
Fans can watch the two defensive artists work on MiLB.TV at 6:05 p.m. ET. Kyle Davis is slated to start for the Clippers, facing Matt Barnes, the Red Sox No. 14 prospect.
Lindor, ranked No. 5 on MLBPipeline.com's Top 100 Prospects list, has played 10 games since he was promoted from Double-A Akron. He is hitting .275/.341/.450 with two home runs and one stolen base with Columbus.
The Clippers added two players Friday, when outfielder James Ramsey and infielder Zach Walters, who were both acquired by the Indians in deals at the Trade Deadline, joined the club. Ramsey, the Indians' No. 5 prospect, started in center field, while Walters jumped in as second baseman and Lindor's double-play partner.
Like Lindor, Marrero began his season in the Eastern League. He earned a promotion after hitting .291/.371/.433 with 12 stolen bases in 68 games at Double-A Portland. In 25 games with Pawtucket, he is hitting .275/.316/.341 with two stolen bases.
Marrero is joined on the left side of Pawtucket's infield by Garin Cecchini, the Red Sox No. 4 prospect and No. 62 in baseball. He is hitting .241/.318/.330 with five home runs and 10 stolen bases in 89 games this season.
Also highlighting the day's action are a few pitchers ranked on the Top 100 who are scheduled to start, including Jon Gray (No. 15), Julio Urias (No. 18) and Sean Manaea (No. 74).
Fans can watch Gray take on third baseman Hunter Dozier, No. 93 on the Top 100, in a showdown of players drafted in the top 10 picks last year, as Double-A Tulsa hosts Northwest Arkansas at 8:05 p.m. ET on MiLB.TV. Gray, the Rockies' No. 1 prospect, was selected third overall last year, five picks ahead of Dozier, the Royals' No. 4 prospect. Gray enters the game at 9-5 with a 3.94 ERA and 96 strikeouts in 105 innings, while Dozier is hitting .220/.286/.333 in 37 games since he was promoted from Class A Advanced Wilmington in June.
Top prospect probables:
Barnes (Red Sox No. 14), Pawtucket vs. Columbus
Ian Clarkin (Yankees' No. 4), Charleston vs. Hagerstown
Anthony DeSclafani (Marlins' No. 3), New Orleans vs. Nashville
Marco Gonzales (Cardinals' No. 4), Memphis at Round Rock
Severino Gonzalez (Phillies' No. 7), Reading at New Hampshire
Gray (Rockies' No. 1), Tulsa vs. Northwest Arkansas
Foster Griffin (Royals' No. 9), Burlington at Princeton
Josh Hader (Astros' No. 10), Lancaster vs. Lake Elsinore
David Holmberg (Reds' No. 11), Louisville vs. Rochester
Matt Imhof (Phillies' No. 10), Lakewood at Delmarva
Jake Johansen (Nationals' No. 16), Hagerstown at Charleston
Rob Kaminsky (Cardinals' No. 3), Peoria at Wisconsin
Manaea (Royals' No. 3), Wilmington vs. Frederick
Jon Moscot (Reds' No. 16), Pensacola at Tennessee
Aaron Northcraft (Braves' No. 14), Gwinnett vs. Charlotte
Nick Petree (Cardinals' No. 19), Palm Beach at Dunedin
Sal Romano (Reds' No. 17), Dayton vs. South Bend
Adrian Sampson (Pirates' No. 19), Altoona vs. Richmond
Blake Snell (Rays' No. 13), Charlotte vs. Tampa
Blake Taylor (Mets' No. 17), Kingsport vs. Elizabethton
Nick Tropeano (Astros' No. 13), Oklahoma City vs. Colorado Springs
Urias (Dodgers' No. 2), Rancho Cucamonga vs. Bakersfield
Tyler Wagner (Brewers' No. 15), Brevard County at Bradenton
Teddy Cahill is a reporter for MLB.com. Follow him on Twitter at @tedcahill. This story was not subject to the approval of Major League Baseball or its clubs.