Hamilton plays despite bruised finger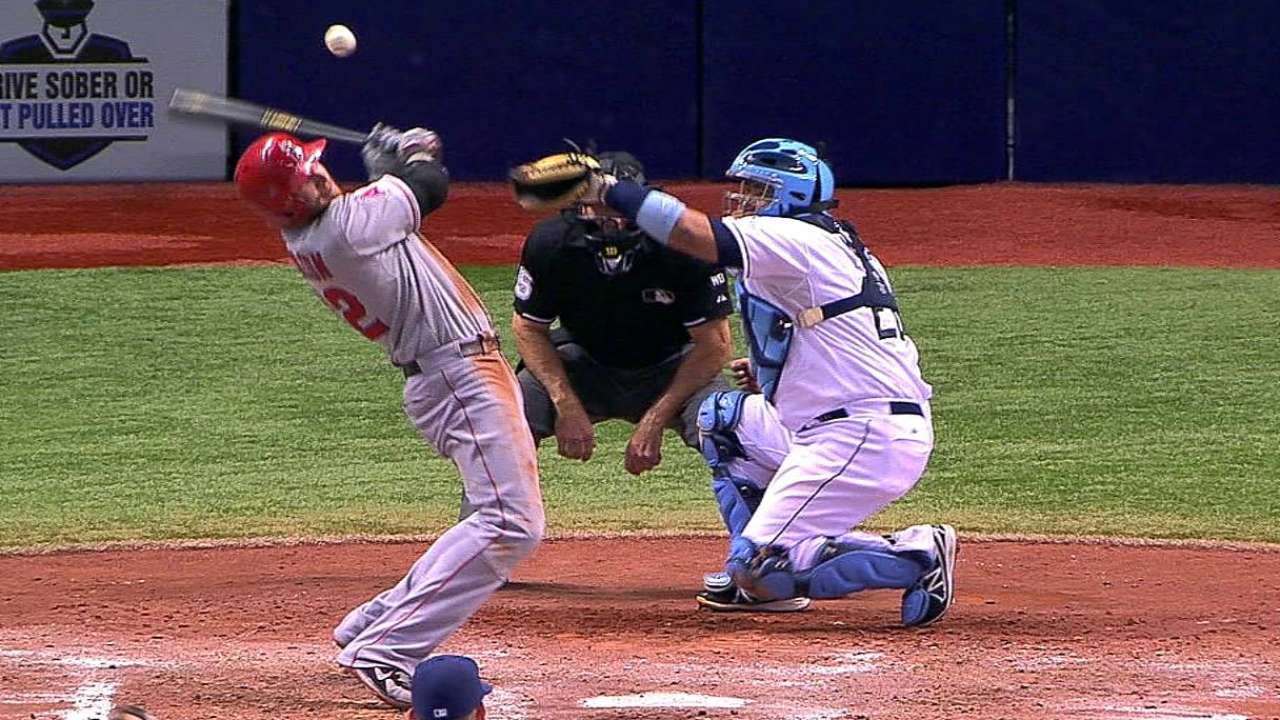 ST. PETERSBURG -- Josh Hamilton, who sustained a contusion on his left middle finger when he was hit by a pitch in Friday night's series opener against the Rays, tested the finger early Saturday and felt well enough to play.
"We had a lot of things we had to try to measure this morning and this afternoon, and Josh feels really good," manager Mike Scioscia said.
Hamilton was slotted into the cleanup spot Saturday, as he was on Friday, and started in left field. He was healthy enough to allow the Angels to option J.B. Shuck, who played left field on Friday, to Triple-A Salt Lake to make room for Saturday's starter, C.J. Wilson, who was activated from the disabled list.
"When you get hurt, you're a little unsure until you wake up the next morning," Hamilton said. "Not a big difference, but it is what it is. I can grip the bat and throw the ball and do what I need to do."
Hamilton threw and took swings, saying afterwards that the finger "felt good enough." He said that although his finger did still hurt, it was manageable and he did not have to hold anything back while throwing or swinging.
"I'm letting it go," he said.
Hamilton took batting practice as normal before Saturday's game and appeared to be fine, hitting a few moonshots deep into the right-center-field seats at Tropicana Field.
X-rays taken on Hamilton's finger Friday night had shown a fracture, but the doctors were not sure if it was new or old, and Hamilton said Saturday that it didn't matter either way -- he would still be playing. He added that if it was an old break, it might have helped absorb the impact of the pitch better.
Hamilton also said that this injury was easier to deal with than, for example, a hamstring injury, because it doesn't limit his ability to play the game.
"The hurting part of it, it's just a little swinging, OK, take a break, swing again, or throw," Hamilton said.
David Adler is an associate reporter for MLB.com. This story was not subject to the approval of Major League Baseball or its clubs.