Angels expect pitching depth to be tested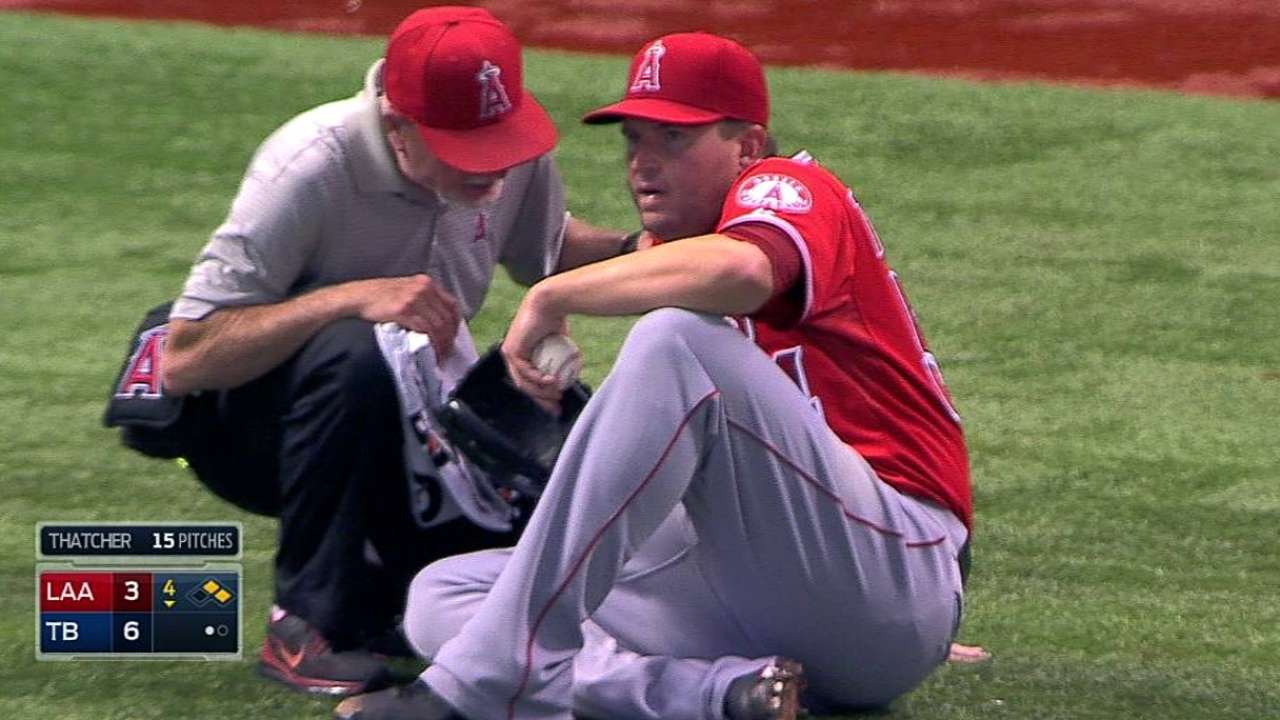 LOS ANGELES -- The Angels didn't make a move in the days leading up to the non-waiver Trade Deadline, partly because they didn't have the prospects to acquire a front-of-the-rotation starter but mostly because they had already beefed up the bullpen to give themselves legitimate pitching depth.
Ever since Thursday's Deadline came and went, though, the injury bug has struck.
And now, with division races heating up, their pitching depth will really be tested.
"It's obvious that we're stretched," Angels manager Mike Scioscia said. "But I think we're still going to be very effective right now if we can hold all these guys where they need to be, and we have the pitching that can get us to our goal. But if you're talking about the depth, sure, it's been stretched. No doubt."
Tyler Skaggs suffered a strain in the flexor tendon of his left forearm during his start at Oriole Park at Camden Yards on Thursday night, and though the 23-year-old left-hander said Monday that he's confident he'll return before the end of the season, there's still no telling when that will be.
That puts the Angels at five starters, with next to nothing readily available in their Minor League system and one of their key cogs, C.J. Wilson, continuing to work through one of the roughest stretches of his career.
Then there's the bullpen, which won't have Mike Morin for the next couple of weeks because he lacerated his foot on Saturday night, and it may not have a lefty specialist for all of August because Joe Thatcher suffered a sprained left ankle earlier that day.
The Angels are better equipped to go without a lefty specialist, thanks to the added depth provided by Huston Street and Jason Grilli, but "the inherent strategy of having a lefty to do some things won't be there," Scioscia said.
The biggest concern is the starting rotation, particularly Wilson, who has a 12.50 ERA in his last five starts and lasted only 1 1/3 innings in his return from the DL on Saturday.
"The biggest thing," pitching coach Mike Butcher said of Wilson's struggles, "is he's been working himself into some deep counts, and when you're doing that sometimes you're showing all your pitches early in the game to hitters. It works as a disadvantage because now they've seen every pitch."
The Angels still sport a respectable 3.73 ERA, and they have the sixth-best ERA in the American League (3.37) since the start of July. But the schedule is getting tougher, the games are ever crucial, and both the A's (Jon Lester) and Tigers (David Price) made significant moves to bolster their rotation, putting added pressure on the Angels' staff down the stretch.
Butcher prefers they not look at it that way.
"The thing we don't want them to do is put all the pressure on their shoulders, to go out there and think they have to be the saving grace for our club," Butcher said. "We have tremendous defensive abilities, we have a team that can put runs on the board. If we go out there and just give our team a chance to win, we feel really good."
Alden Gonzalez is a reporter for MLB.com. Read his blog, Gonzo and "The Show", and follow him on Twitter @Alden_Gonzalez. This story was not subject to the approval of Major League Baseball or its clubs.