Hamilton finds power in his toe (tap)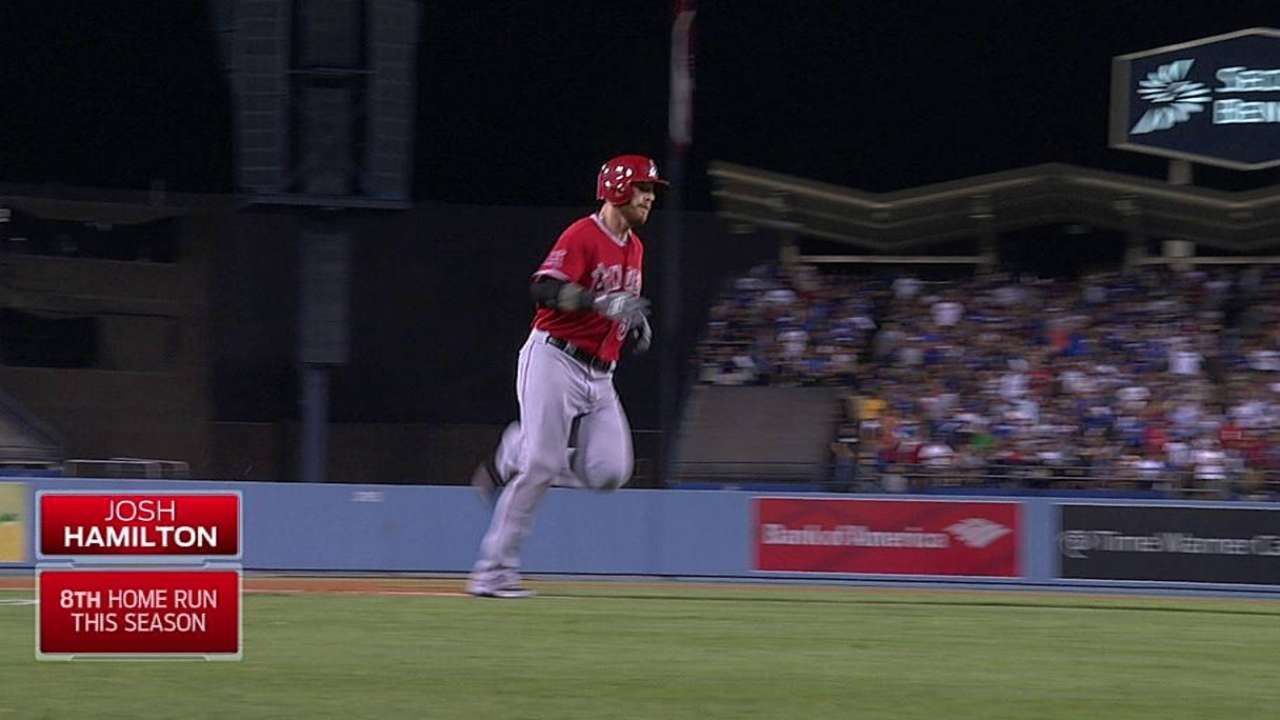 LOS ANGELES -- Josh Hamilton finally got tired of hearing it from his teammates, particularly fellow outfielder Kole Calhoun.
"Bone!" Calhoun would tell Hamilton, a.k.a. Hambone. "I wanna see the toe tap!"
So, the Angels' cleanup hitter finally gave in.
"The toe tap" occurs just before Hamilton kicks his right leg up and gets ready to uncork his swing, an additional component to a complex timing mechanism that often requires maintenance.
Hamilton said he abandoned the toe tap in May 2010, but he reintroduced it during batting practice a couple of weeks ago, incorporated it into games this past weekend in St. Petersburg and -- coincidentally or not -- finally started hitting for power.
During batting practice prior to Monday's Freeway Series opener, the 33-year-old blasted a ball out of Dodger Stadium. Then, in that night's sixth inning, he hit a towering home run off Zack Greinke, giving him three long balls in seven games after managing only two in his previous 46.
"Coming in, working on the same thing every time, you get a little stagnant, you know what I mean?" Hamilton said before going 0-for-3 with a couple of strikeouts against Clayton Kershaw, the ace left-hander who's a really tough matchup for him. "And I've always had the power with the toe tap. I felt like I was in a good, strong, powerful hitting position. It just gives me something to be excited about. Something new, but that I've used in the past and I've been successful at."
The toe tap is partly supposed to slow Hamilton's load and allow him to stay back, which is crucial when you consider the fact he's seen only 37.2 percent fastballs this year -- easily a career low and easily the lowest in the Majors if Hamilton had enough at-bats to qualify.
Ironically, though, Hamilton's toe tap went on a four-year hiatus because he wasn't staying back.
"That's why baseball's a weird game, man," said Hamilton, who entered Tuesday's matchup against Clayton Kershaw with a .288/.358/.450 slash line, eight homers and 35 RBIs in 62 games.
"It's probably the best we've seen him swing the bat in batting practice since he's been here," Angels manager Mike Scioscia said. "He's been working with it, he's taking it into the game, and I think you're seeing that bat speed that we're accustomed to seeing. Hopefully it's going to translate into a terrific finish for Josh this season, because he's important to us."
Alden Gonzalez is a reporter for MLB.com. Read his blog, Gonzo and "The Show", and follow him on Twitter @Alden_Gonzalez. This story was not subject to the approval of Major League Baseball or its clubs.