Electric Richards takes wild pitches in stride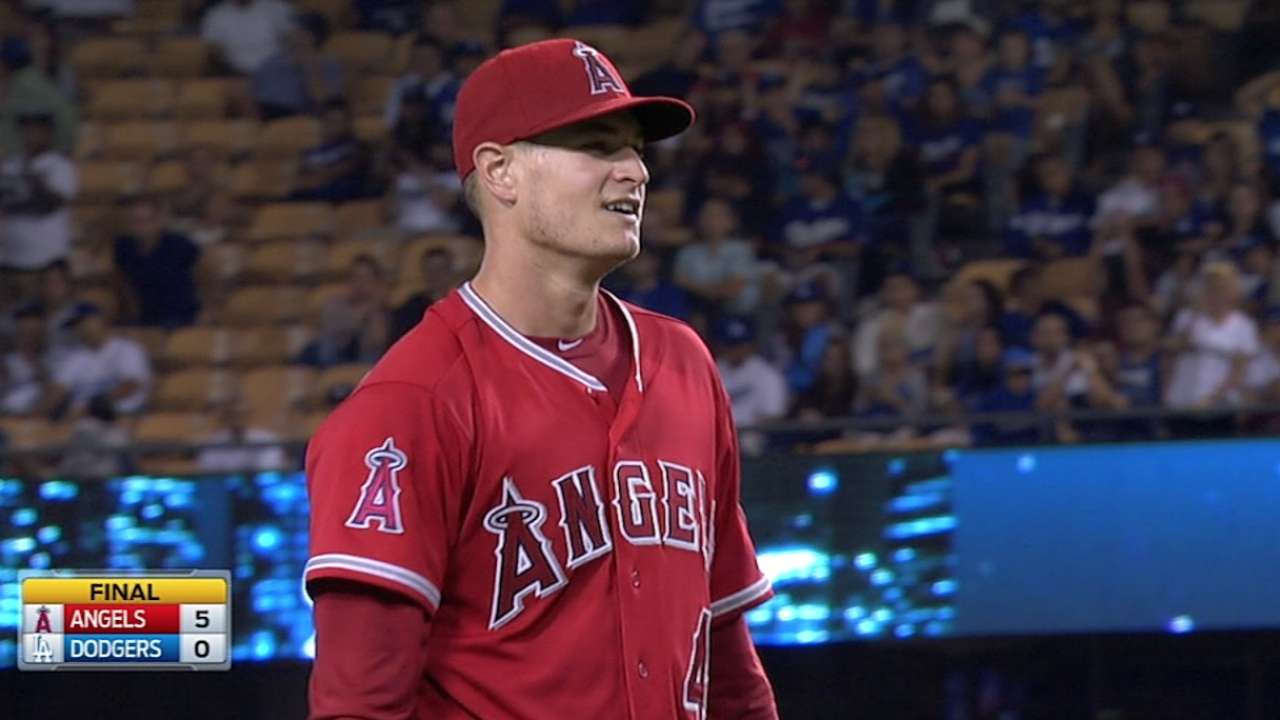 LOS ANGELES -- Garrett Richards has been great at everything this season -- including throwing wild pitches.
It's a give and take, basically.
Richards' stuff is electric, which baffles hitters but also makes him difficult to catch. He's got a couple of fastballs -- one that tails away from right-handed hitters and one that breaks inside -- that are frequently thrown at 98 or 99 mph. He's got a devastating slider that averages 86.8 mph. And he's got a curveball that drops like an anvil.
"There's not many guys who have 90-mph sliders," catcher Hank Conger said. "So, as far as stuff, I mean, that's just going to come with the territory."
With his shutout of the Dodgers on Monday, Richards moved to 12-4 with a 2.58 ERA in 23 starts of a breakout 2014 season. He also threw two more wild pitches, giving him a Major League-leading 21 on the year. Second place is a three-way tie between Yu Darvish, Felix Hernandez and Edinson Volquez -- each with 13.
Richards isn't concerned with them; he's approaching a record.
The most wild pitches thrown in a single season since 1900 were thrown by Red Ames, who had 30 with the New York Giants in 1905. Richards is on pace for exactly that figure, assuming he starts every fifth game moving forward.
Wild pitches tend to indicate a command issue, but that hasn't necessarily been the case for Richards. He's striking out a career-best 8.9 batters per nine innings, while sporting a walk rate of 2.8, just a tick higher than last year's career low (2.7).
"I think the biggest thing for him is he throws so hard, so that reduces your reaction time as a catcher," catcher Chris Iannetta said. "You have to be on point. And plus he has so much movement. And a lot of times the fastball -- sometimes it cuts, sometimes it sinks. As catchers, we know which one we're going to get, but sometimes he'll throw a pitch at 98 that we expect to cut and it'll sink. It makes it tough."
Alden Gonzalez is a reporter for MLB.com. Read his blog, Gonzo and "The Show", and follow him on Twitter @Alden_Gonzalez. This story was not subject to the approval of Major League Baseball or its clubs.