Angels' first-inning production tops in Majors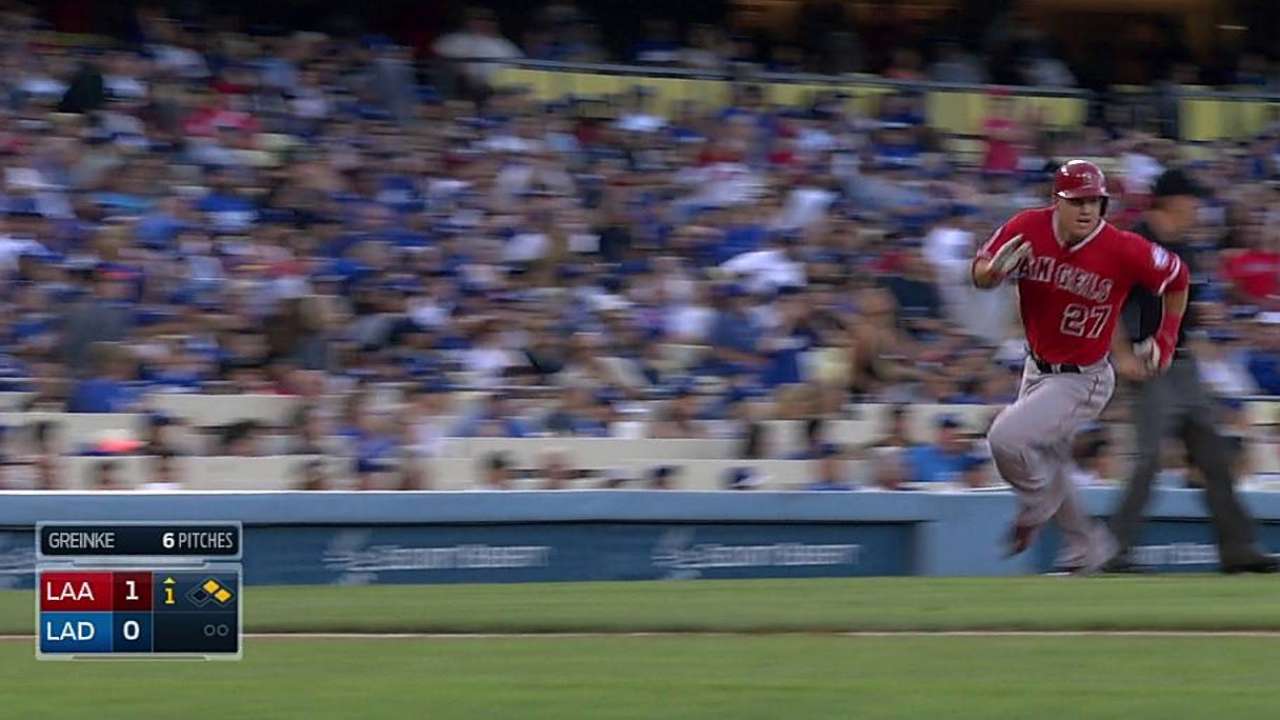 ANAHEIM -- The Angels have notched a Major League-high 33 comeback wins this season, but it has been their early offense driving the machinery recently.
The Angels average 0.66 runs per game in the first inning this season -- tops in baseball -- one season after leading the Majors in the same category. In their last five games, the Angels have scored in the first inning three times, winning all three games. They lost the other two times.
What's behind the early firepower and sudden leads? Not much, according to leadoff man Kole Calhoun.
"I don't think it's a product of anything," Calhoun said. "We're trying to score every inning, get some guys on, have some good at-bats early on and getting some runs across."
But Calhoun, himself, may be the answer. The stocky right fielder catalyst is hitting .396/.491/.604 in the first at-bat of a game and has scored 19 first-inning runs.
The Angels have scored four-plus runs in the first inning a Major League-high six times, including twice in the last three games. Most recently, they tagged Dodgers starter Zack Greinke for four first-inning runs on Monday.
"There's no strategy that we've implemented to say, 'We're going to do this to make us score early,'" Angels manager Mike Scioscia said. "We have a good offensive team, and if it meets a pitcher that's not quite locked in for his first 25-30 pitches of a game, we have a chance to score some runs early and we did off of Zack and off of Clayton [Kershaw]."
While the Angels failed to notch a first-inning run off Kershaw, they did plate two in the second and one in the third.
As a team, the Angels are hitting .288 in the first inning (.260 in every other inning) and are 41-20 when scoring first.
"We try to score runs with nobody out in the first inning if we can," Scioscia said.
Matthew DeFranks is an associate reporter for MLB.com. This story was not subject to the approval of Major League Baseball or its clubs.