Scioscia: No plans to reshuffle Halos' lineup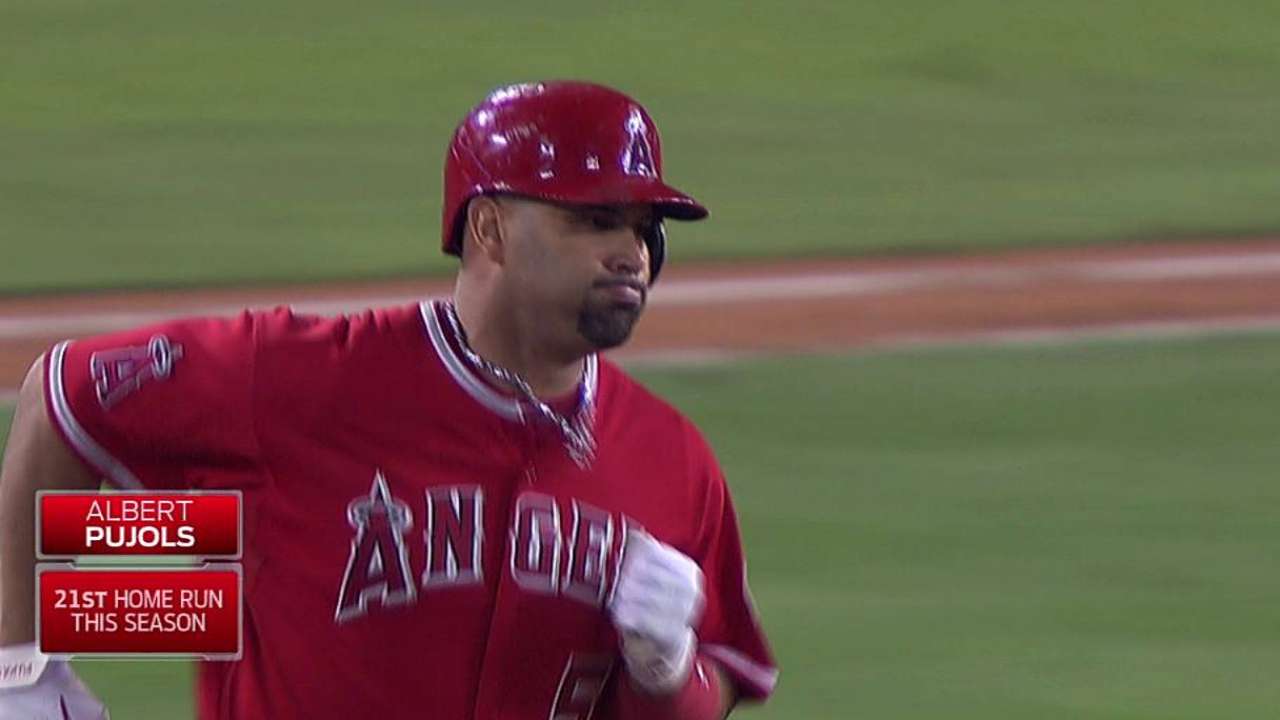 ANAHEIM -- Despite the offense's recent struggles, manager Mike Scioscia said there were likely no lineup shakeups coming in the near future.
"I think you would look at juggling the lineup if it was going to shock some guys and get them in a different neighborhood," Scioscia said. "To maybe get them to see different pitches or put them in some different situations that might come up.
"When you have a lot of guys, and we've had a lot of guys that have struggled for going on the better part of three weeks, I don't think any of us see any lineup shakeup that's going to move us forward and be positive."
The Angels entered play Saturday hitting just .225 and scoring only 3.2 runs per game since the All-Star break. In the first half, they averaged 5.1 runs and hit .269.
The Angels didn't take batting practice Saturday afternoon, an opportunity to "exhale," Scioscia said, but still trotted out a familiar lineup that featured Mike Trout batting second, Albert Pujols third and Josh Hamilton fourth.
"In the long term, the lineup that we have now makes the most sense," Scioscia said. "I think the things we've talked about all season are still in place, with letting Mike get up there with guys in scoring position and set the table for the power behind him, which Albert and Josh are hopefully going to provide."
The only meaningful change (other than the rotating door at designated hitter) recently has been shifting Erick Aybar to the leadoff spot when Kole Calhoun doesn't start. Scioscia said Aybar was in the No. 1 hole, in part, because Collin Cowgill wasn't ready to lead off after his recent DL stint.
The Angels still ranked second in the Majors in runs scored and were hitting. 261, good for fifth in baseball, entering play Saturday.
"With the way the guys are lined up now, we were as good of an offense as there was in baseball," Scioscia said. "I think you try to shock some guys, give them a new neighborhood on a short-term basis, but in the big picture, the way our guys are lined up makes a lot of sense for what we're trying to accomplish.
Matthew DeFranks is an associate reporter for MLB.com. This story was not subject to the approval of Major League Baseball or its clubs.