Boesch joins mix as Hamilton and Co. seek spark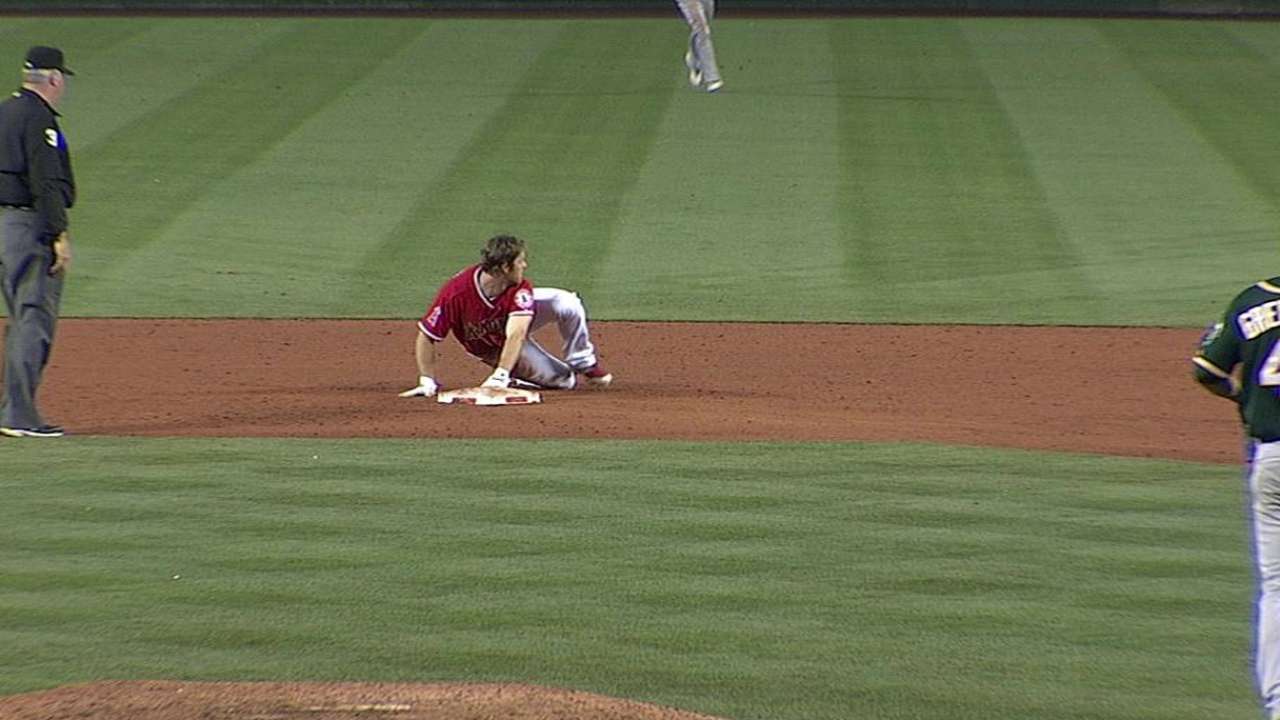 ANAHEIM -- The 2014 season was in its embryonic stage, and Josh Hamilton could do little wrong. He was getting hits half the time, taking pitches when he needed to, putting together quality at-bats against opposing lefties and driving the ball the way he always has. He looked very much like the slugger of his Texas days and very little like the one who struggled through his first season in Southern California last year.
It was during that time when Hamilton got a text message from Angels hitting coach Don Baylor, who at that point was recovering from a fractured femur, that read: "You're about ready to carry this team."
Not long after that, the Angels' cleanup hitter broke his left thumb on a headfirst slide into first base, an ailment that would put him on the disabled list for 10 weeks. And now, four months removed from that blistering start, Baylor looks up and wonders what happened to the Hamilton who scorched through the season's first couple of weeks.
"I haven't been disappointed," Baylor said, "it's just taken a lot longer for him to find that stroke again."
For a while, the Angels' high-powered offense marched on despite lacking that prototypical production from the cleanup spot. But not lately. They entered Tuesday's game against the Phillies ranked 28th in the Majors in OPS and tied for 28th in runs per game since the All-Star break, averaging 3.17 each contest after averaging more than five in the first half.
In hopes of a spark, they called up left-handed-hitting outfielder Brennan Boesch, who sported a .326/.380/.625 slash line with 22 homers and 75 RBIs for Triple-A Salt Lake, and batted him seventh as the designated hitter on Tuesday night against righty Jerome Williams in the club's Interleague series opener against the Phillies.
Boesch, who reached base in 11 consecutive plate appearances for the Bees until Monday's fourth inning, will be in the mix with Collin Cowgill and Efren Navarro for at-bats.
"My attitude is I'm here to contribute," said Boesch, who was added to the roster when reliever Caleb Clay was sent back to Triple-A. "Obviously the talent here speaks for itself. If there's been a struggle -- I haven't followed the team too much -- it probably won't last long. There are too many good players in this locker room."
With the exception of Boesch, and Chris Iannetta behind the plate in what has long been a platoon at catcher, Angels manager Mike Scioscia didn't make any drastic changes coming out of Monday's off-day. Kole Calhoun, Mike Trout, Albert Pujols, Hamilton, Erick Aybar and Howie Kendrick made up the first six spots of the lineup, respectively, just like it's been for most of the season.
Scioscia isn't opposed to temporarily moving someone in the order to get him going, but doesn't think "a long-range lineup change makes any sense."
That includes Hamilton, who's sporting a .265/.334/.417 slash line, has homered eight times in 68 games and snapped an 0-for-23 skid on Saturday night.
"This isn't about one guy getting moved to all of a sudden make our offense go," Scioscia said. "There's a solid nine guys from top to bottom who have had trouble getting into their game after the All-Star break. It's in there; we just need to exercise some patience."
Baylor doesn't believe Hamilton's struggles have anything to do with lineup positioning or even hitting mechanics.
"It's more confidence than his swing at this point," Baylor said, while admitting that the state of his numbers is probably affecting Hamilton mentally.
"They talk about seeing all these breaking balls, changeups. But he's been a hitter all his life. I remember Gene Mauch used to say "hitters will hit." It might take him a little longer, but hitters will hit. I believe that."
Alden Gonzalez is a reporter for MLB.com. Read his blog, Gonzo and "The Show", and follow him on Twitter @Alden_Gonzalez. This story was not subject to the approval of Major League Baseball or its clubs.