Hamilton asks for day off 'to take a step back'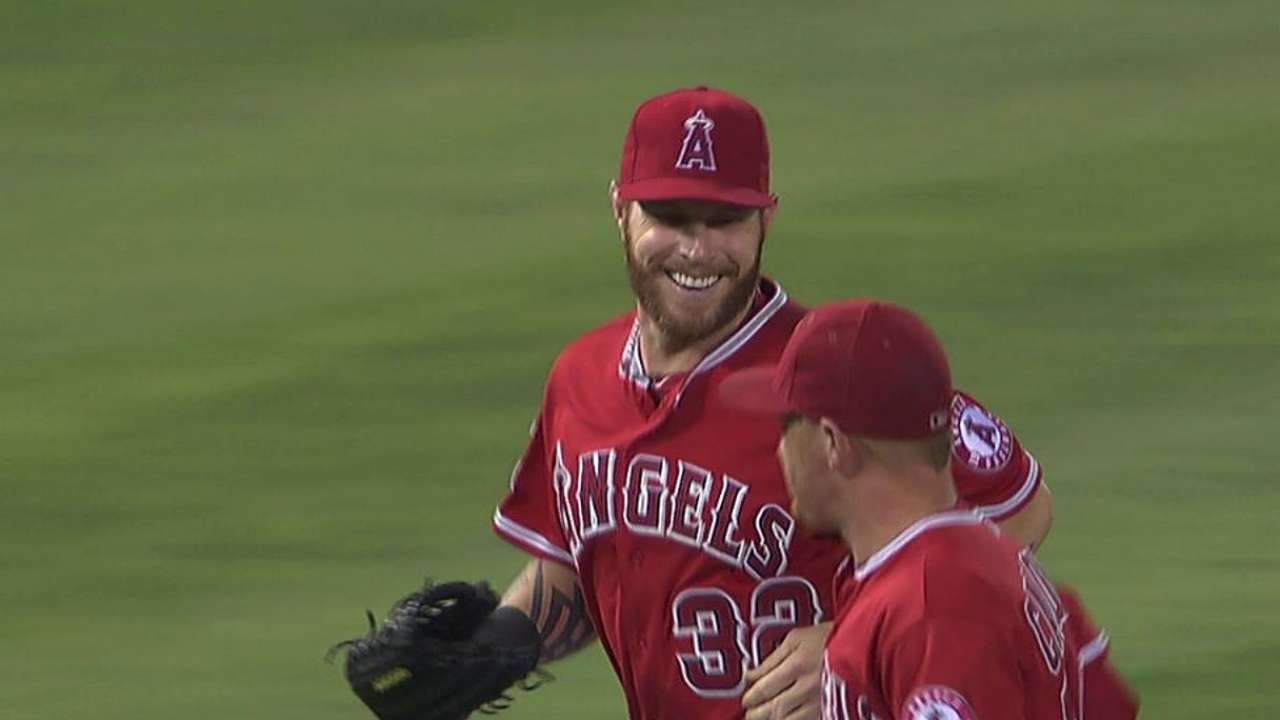 ARLINGTON -- Josh Hamilton went into manager Mike Scioscia's office on Sunday morning and asked for the day off because "I felt like I was spinning my wheels and not really getting anywhere," the Angels' cleanup hitter said.
Hamilton was coming off three strikeouts on Saturday and four on Friday. He now has five hits, and 18 strikeouts, in his last 38 at-bats. His batting average is down to .266, while he's stuck on eight home runs in 72 games.
And lately -- "probably about three weeks ago," he said -- Hamilton feels like he's been thinking too much about the slump, which is causing things to spiral even further.
"It weighs on you," Hamilton said, "because you know what you've done in the past, you know you've been successful and done certain things. And all of it is still there. But getting out of your own way, and allowing yourself to just let your talent play is where I'm trying to get to."
Scioscia has said the Angels haven't been seeing the trademark aggressive swings from their high-priced slugger, and that "he's not playing with the same confidence that he's had." Hamilton attributed that to "thinking about things too much," adding: "When I get to the point where I'm doing that consistently, and I'm taking it to the field with me, I need to take a step back."
Sunday marked Hamilton's second day off in a week, after also sitting last Sunday against the Red Sox, and the fourth time in seven days that Hamilton hasn't played in a game if you count the two off-days.
Asked if Hamilton will return to the cleanup spot when he returns to the lineup Monday, Scioscia said: "We're going to let him exhale a day and see where we are, but our lineup long range has him in the middle of it."
Hamilton, in the second of a five-year, $125 million contract, has displayed flashes of the player he was in Texas. He batted .444/.545/.741 in his first eight games, showing signs of bouncing back from a down 2013 season in which he batted .250 with 21 homers and 79 RBIs.
But then he broke his left thumb, missed nearly two months and went on a 23-game homerless drought shortly after returning. He maintained a .288 batting average by Aug. 3, then re-introduced the toe-tap in his load and started displaying some of his trademark power, hitting a ball out of Dodger Stadium in batting practice on Aug. 4 and then homering in the game later that afternoon.
Ever since then, things have gone south.
And now, Hamilton's focus is day by day.
"It's understanding that I'm not going to be where I normally am at the end of the year [numbers-wise], but it doesn't mean I can't have a good week, a good two weeks, and it turns into a month, and just like last year, finish the season strong and help the team in certain situations," Hamilton said. "That's what I'm looking for right now. We've got a great team, guys are getting the job done, but if I can step up and add a little to that, that's probably the best thing."
Alden Gonzalez is a reporter for MLB.com. Read his blog, Gonzo and "The Show", and follow him on Twitter @Alden_Gonzalez. This story was not subject to the approval of Major League Baseball or its clubs.