Angels: Support system not an issue for Hamilton
Club feels slumping slugger must look inward to turn his season around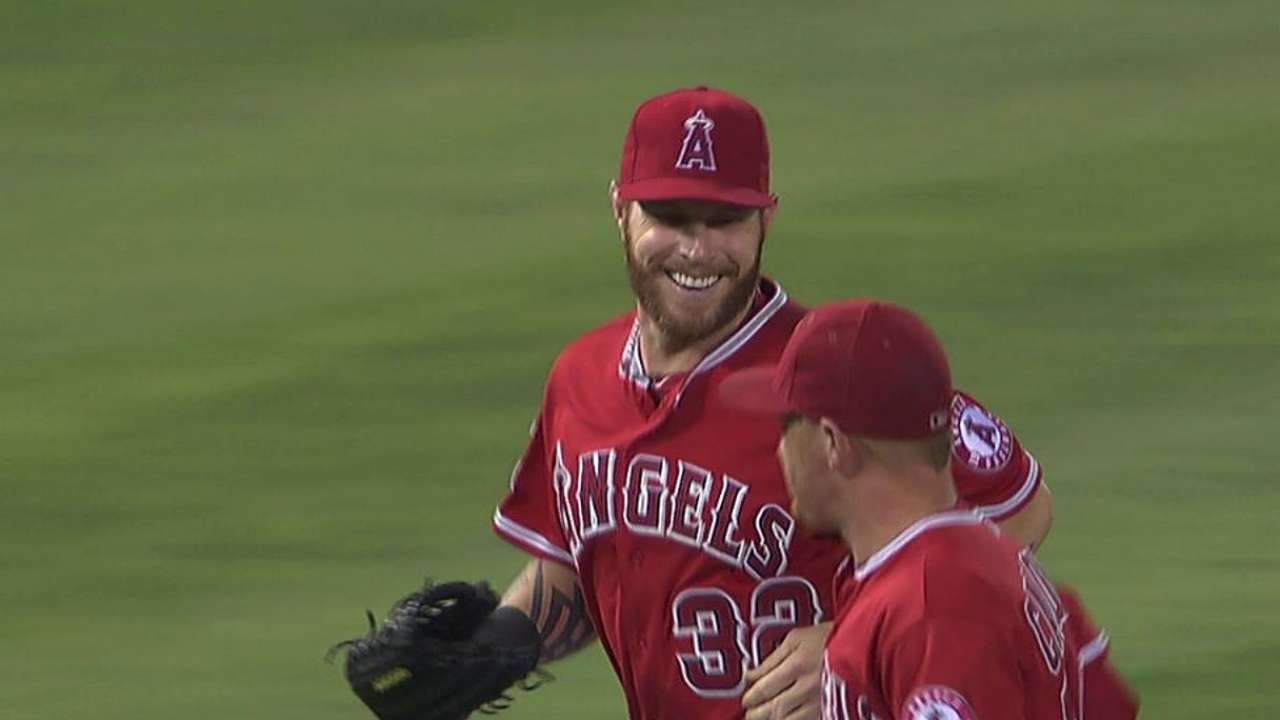 BOSTON -- Josh Hamilton isn't old and he isn't hurt, but for some reason, he also isn't right. The Angels left fielder wasn't last year, when he finished with a .250 batting average, 21 homers and 79 RBIs despite getting hot over the final six weeks. He isn't this year, heading into Wednesday's game against the Red Sox on a 5-for-41 slump that dropped his batting average to .263.
And amid the search for answers comes the following theory, a popular one for outsiders of late: Hamilton had a certain support system in place with the Rangers that cannot be duplicated with the Angels, which is why he hasn't had the same success since signing a five-year, $125 million contract.
C.J. Wilson -- Hamilton's teammate with the Rangers from 2008-11, and with the Halos since last season -- disagrees.
"It's the same thing here," Wilson said. "They live in a nice house, the kids are there; he's got all the same things going on. It's the same stuff. I think last year he got off to a bad start, and that carried some residual effects. Josh really cares; he really wants to do well. And he gets upset at himself. But when you've been through the ringer in real life -- off the field, like he has -- it kind of keeps baseball struggles in perspective."
Wilson, of course, is referring to the drug addiction that kept Hamilton out of baseball for three full years and often put his life in jeopardy. Hamilton overcame that, in a matter that befits a Hollywood script. But the 33-year-old still requires constant maintenance, and the mental aspect plays a big part in his success and failures.
In a way, the Angels are still feeling their way through that.
"Right now, he's searching," Angels general manager Jerry Dipoto said. "We've had Josh now for two years, and we now have a better feel for his rhythm, his own needs, as you would with any of the other players. And right now, it looks like he needs to search for answers. When you do that, you generally just look in the glass at yourself."
In times like these, the Angels feel it's best to give Hamilton his space, which is why manager Mike Scioscia thought it'd be a good idea to keep him out of the lineup for two straight days -- Sunday in Arlington, Monday in Boston -- and have him come in for an early session Tuesday.
Hamilton walked onto the Fenway Park field at 1:45 p.m. ET for 20 minutes of pregame work, which preceded being placed back at his customary cleanup spot for Tuesday's game. Assistant hitting coach Dave Hansen put baseballs on a tee and then threw from behind an L screen, and hitting coach Don Baylor preached rhythm and timing.
"He's not 50 feet off the tracks; he's about halfway off the tracks," Baylor said. "It's all rhythm, rhythm, rhythm. It's almost like a dance step for him. When he doesn't have it, he doesn't feel it. Most hitters feel the same way; it's either the hands or the foot. That's why guys with toe-taps are very difficult."
Hamilton's swing requires constant maintenance because it has so many moving parts -- from the hands that swing upwards to the toe-tap he reintroduced to the way it all comes together when a pitch is delivered.
As Hansen put it, "You don't always know quite what's making it not run right, so you have to troubleshoot a few more things."
Hamilton made a couple of drastic adjustments this offseason. He worked with a functional movement coach to help his hips drive through the ball, added 28 pounds to get back to his normal weight of 240 and ditched the concept of having an accountability partner with him at all times.
This year, he only has one partner on the road, and never in the clubhouse. Hamilton called the decision "a responsible, growing-up lesson," and something that would allow him to get to know his teammates better so he can "really become a part of the team." Hamilton has always identified his support system as his wife and four daughters; not a certain clubhouse environment.
To get out of this slump, he has to look internally.
"There will be times when your confidence isn't there," Scioscia said, "and that's where Josh is right now."
Alden Gonzalez is a reporter for MLB.com. Read his blog, Gonzo and "The Show", and follow him on Twitter @Alden_Gonzalez. This story was not subject to the approval of Major League Baseball or its clubs.