Freese seeing similarities to 2011 champions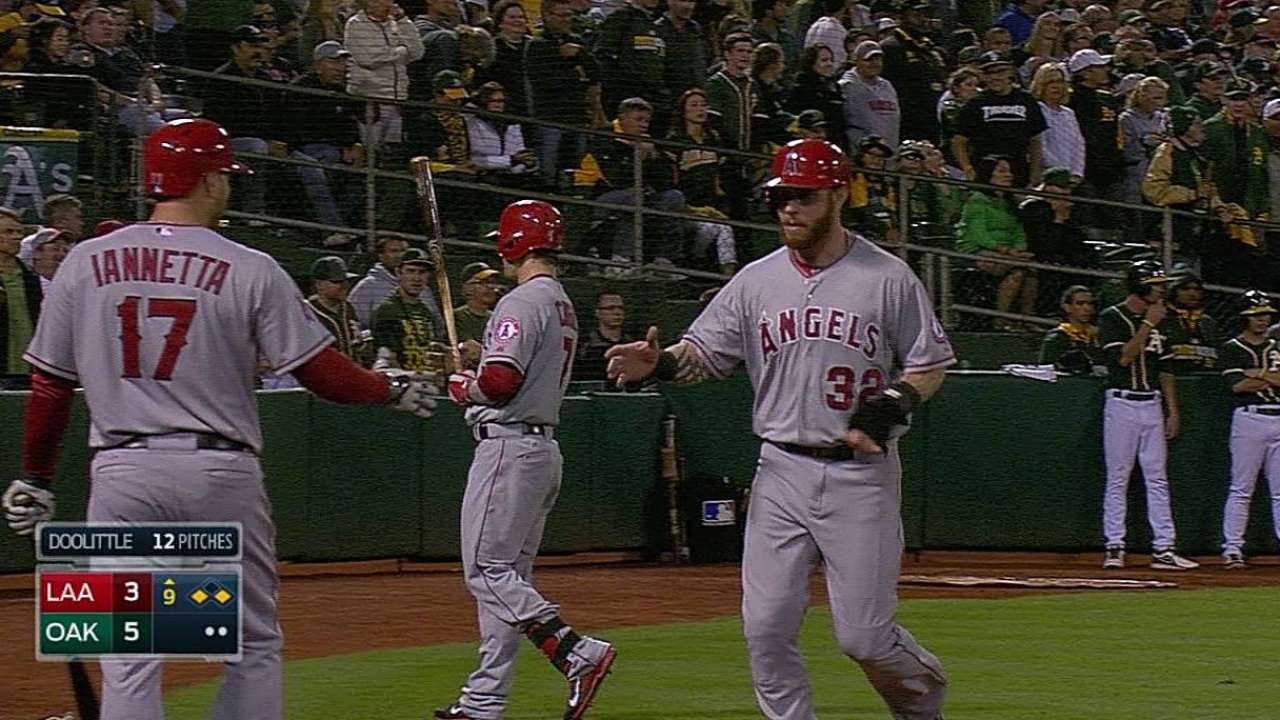 OAKLAND -- Angels third baseman David Freese has played out a similar script before. It was 2011. The Cardinals announced during Spring Training that one of their rotation anchors, Adam Wainwright, would miss the upcoming season due to Tommy John surgery. And all the naysayers piled on, saying the Cardinals could never overcome the loss -- right up until they won the World Series.
Freese thought about that when Garrett Richards suffered the torn left patella tendon that ended his season on Wednesday -- though, Freese admits, it's a little tougher to recover from a loss like that with 5 1/2 weeks left in the regular season.
"I'll be honest," Freese said, "I'm sure it's tougher. You get in the groove, and you're a few months in, and you get a huge blow like this. But with that said, I'm sure there are plenty of times where this has happened, and teams have still gone on and accomplished what they wanted to do, which is to make an October run."
Freese's Cardinals didn't just overcome the loss of Wainwright; they came back from being 10 1/2 games back of a playoff spot as late as Aug. 25 to finish on top.
Shortly after Wainwright went down, the Cardinals held a meeting with the general message of not putting too much individual pressure on themselves and that it takes an entire team to play deep into October. The Angels held no such meeting. Nothing really needed to be said.
"We're professional enough to just go out and play," Freese said. "As important as Garrett has been, he's only on the mound once or twice a week. You understand that he's a big piece of your team, but there's guys who can step in and help us."
Wade LeBlanc, called up from Triple-A Salt Lake on Thursday, will be the first candidate. And over the next nine days, general manager Jerry Dipoto will do his best to acquire additional starting pitching help via the waiver wire, with the understanding that top-of-the-rotation arms are seldom traded this time of year.
Freese believes they can overcome Richards' loss internally, much like his Cardinals of three years ago, because of the fabric of the team as a whole.
"There's a reason why certain teams play as far as they do," Freese said. "Obviously, you have to have talent. But the few years that I was with the Cardinals, the guys you have in the clubhouse is a huge part of why we had success. It's a fault to look past that. You have to have talent, but that's not enough, especially at the Major League level. Teams that win understand that."
Alden Gonzalez is a reporter for MLB.com. Read his blog, Gonzo and "The Show", and follow him on Twitter @Alden_Gonzalez. This story was not subject to the approval of Major League Baseball or its clubs.