LeBlanc happy he chose to stick with Angels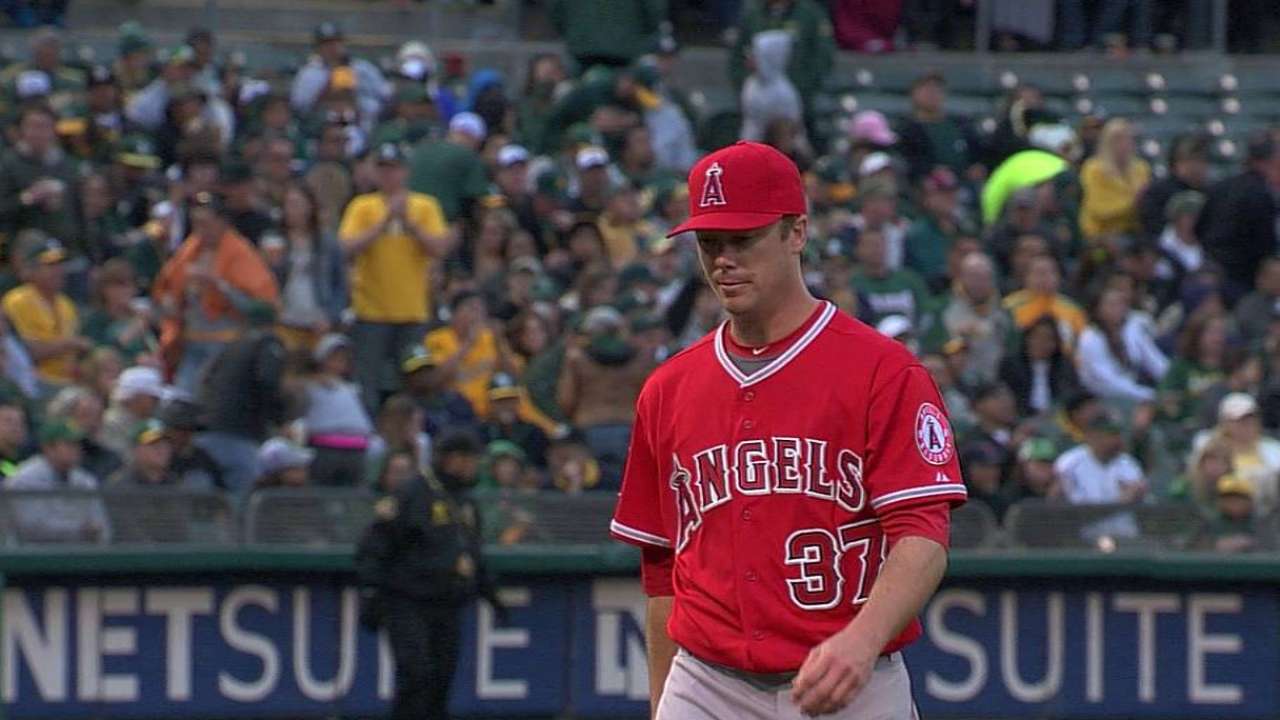 OAKLAND -- Journeyman starter Wade LeBlanc went from the Angels to the Yankees to the Angels again, all in a matter of two weeks.
The 30-year-old left-hander was designated for assignment after one appearance for the Angels, who needed to make room on the roster for some additional bullpen arms, then was claimed by the Yankees on June 3. After one appearance in the Bronx, LeBlanc was placed on waivers again, but this time he cleared.
At that point, LeBlanc had a choice: accept an outright assignment to the Yankees' Minor League system or become a free agent.
He chose the latter, so he could return to the Angels.
"I made it clear to my agent that if the situation would arise, this was the place I'd like to try to come back to," LeBlanc said. "The opportunity is there, I know the staff, the staff knows me here. And I think I can help them at some point."
The Angels need LeBlanc to help them now. He was called up from Triple-A Salt Lake on Thursday, one day after Garrett Richards suffered a season-ending left knee injury, and now he's slated to take Richards' spot in the rotation on Monday -- if he isn't needed in emergency relief before then.
When the Angels designated LeBlanc for assignment on May 31, they made it clear that they'd like him to return to the organization if he clears waivers.
Now, both parties are fortunate LeBlanc chose to come back.
"I figured there was a good possibility when we looked at the situation here," LeBlanc said. "They hadn't really signed anybody else or made any trades to kind of replace me in Triple-A. When I saw that, I figured that there would be a good chance that this would work out."
LeBlanc has racked up 424 1/3 innings in the big leagues from 2008-14, posting a 4.56 ERA, a 1.44 WHIP and a 1.84 strikeout-to-walk ratio. In the hitter-friendly Pacific Coast League this year, he went 10-3 with a 4.00 ERA, a 1.38 WHIP and a 3.14 strikeout-to-walk ratio.
Asked what appealed to him so much about the Angels' organization, LeBlanc said: "From day one, they were very upfront."
"A guy in my situation, all you want is honesty," he added. "There's teams that will tell you, 'We love you, think you fit in our big league pitching staff,' and then you never sniff it. They were very honest, very upfront with where they saw me fitting, and they never steered me wrong."
Alden Gonzalez is a reporter for MLB.com. Read his blog, Gonzo and "The Show", and follow him on Twitter @Alden_Gonzalez. This story was not subject to the approval of Major League Baseball or its clubs.