Beckham excited for 'clean slate' with Angels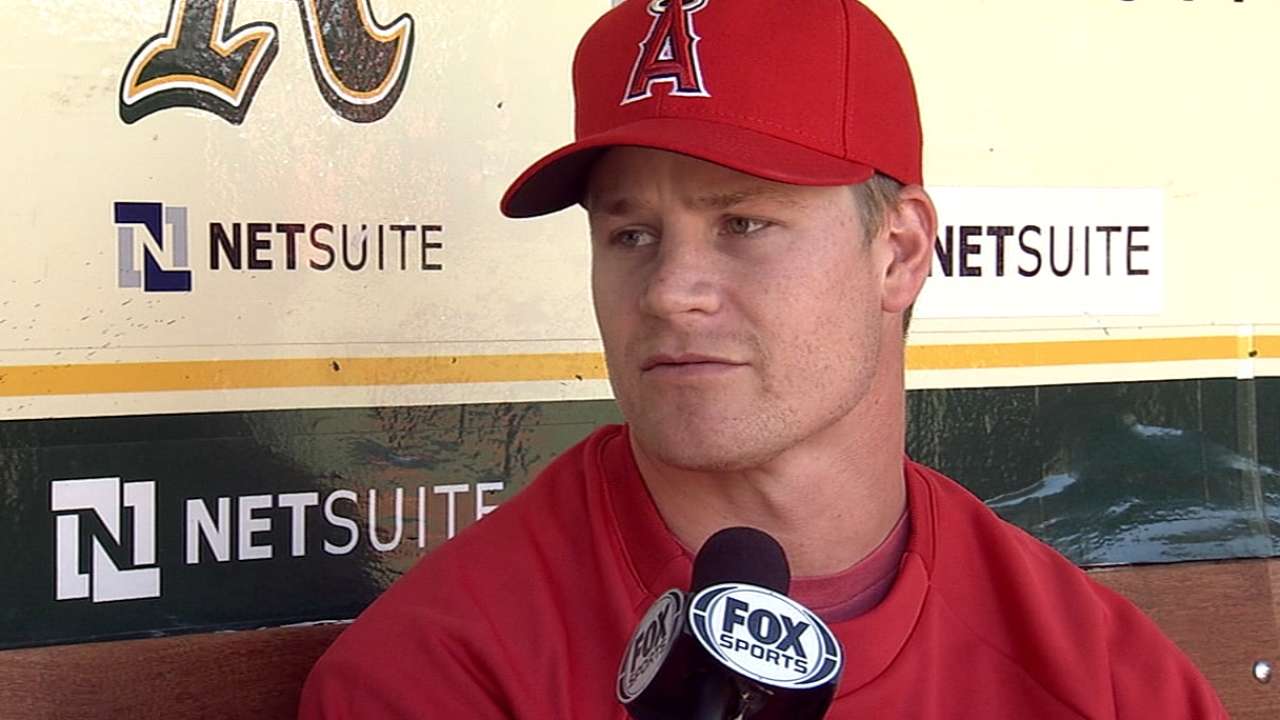 OAKLAND -- Gordon Beckham was supposed to be a star by now.
He was the No. 8 overall pick in the 2008 First-Year Player Draft, skyrocketed to the Majors after 59 Minor League games and immediately succeeded with the White Sox in '09, batting .270 with 14 homers and 63 RBIs to finish fifth in American League Rookie of the Year voting.
But ever since, his bat has gone stale, and many have frequently wondered if he could ever get right again, and display the abilities he showed as a fresh-faced 22-year-old.
Beckham was asked that on Saturday, his first official day with the Angels.
"This," Beckham said, before clarifying. "What just happened, meaning the trade, has gotten me back there. I feel kind of like a weight has been lifted off my shoulders. For better or worse, there was a lot of scrutiny on me in Chicago. It's just a lot. I'm excited to kind of have a clean slate. I've got no agenda. I just want to go play, and enjoy playing, which I will."
How much Beckham plays is still in question, though.
The 27-year-old right-handed hitter was acquired on Thursday -- for a player to be named or cash considerations -- and was immediately inserted into the lineup at O.co Coliseum on Saturday, starting at third base and batting ninth against lefty Jon Lester so that David Freese can serve as the designated hitter.
For some reason -- Beckham himself can't explain it -- he has drastic splits this season, batting .309/.349/.454 against lefties and .191/.233/.297 against righties. Beckham's starts will probably come solely against southpaws the rest of the way, platooning at DH while spelling guys at third base, second base and shortstop.
One of the best defensive second basemen in the AL, Beckham hadn't played third base since his rookie season and hasn't seen much action at shortstop since his early days in the Minors. He took ground balls on the left side of the infield during off-days, simply to "keep it fresh."
"This is about their team," Beckham said. "I'm just here to help, honestly. I don't have any expectation of where I play, when I play, how much I play. I have no expectations."
White Sox fans had plenty of expectations for Beckham, who has batted .240/.299/.359 while averaging nine homers and 43 RBIs from 2010-14, never quite living up to the hype and perpetually finding his name in the rumor mill.
Beckham had to learn to fail in the Major Leagues, while playing for a team that was counting on him to be its next franchise guy and living under the microscope of a major market.
"I feel like in Chicago they had so much pressure on him to be the guy," said Angels starter Hector Santiago, Beckham's longtime teammate, who believes joining the Angels will "clear his mind" because he "doesn't have to be that guy who carries the team."
"It was tough," Beckham said. "I came up and played well. It was more of a struggle from then on. I felt like that weighed on me a lot, having that kind of baggage, it seemed like, all the time. This is honestly, I think, the best thing that could've happened to me -- get traded and get thrown into the pennant race."
Alden Gonzalez is a reporter for MLB.com. Read his blog, Gonzo and "The Show", and follow him on Twitter @Alden_Gonzalez. This story was not subject to the approval of Major League Baseball or its clubs.