Shoemaker's splitter giving hitters splitting headache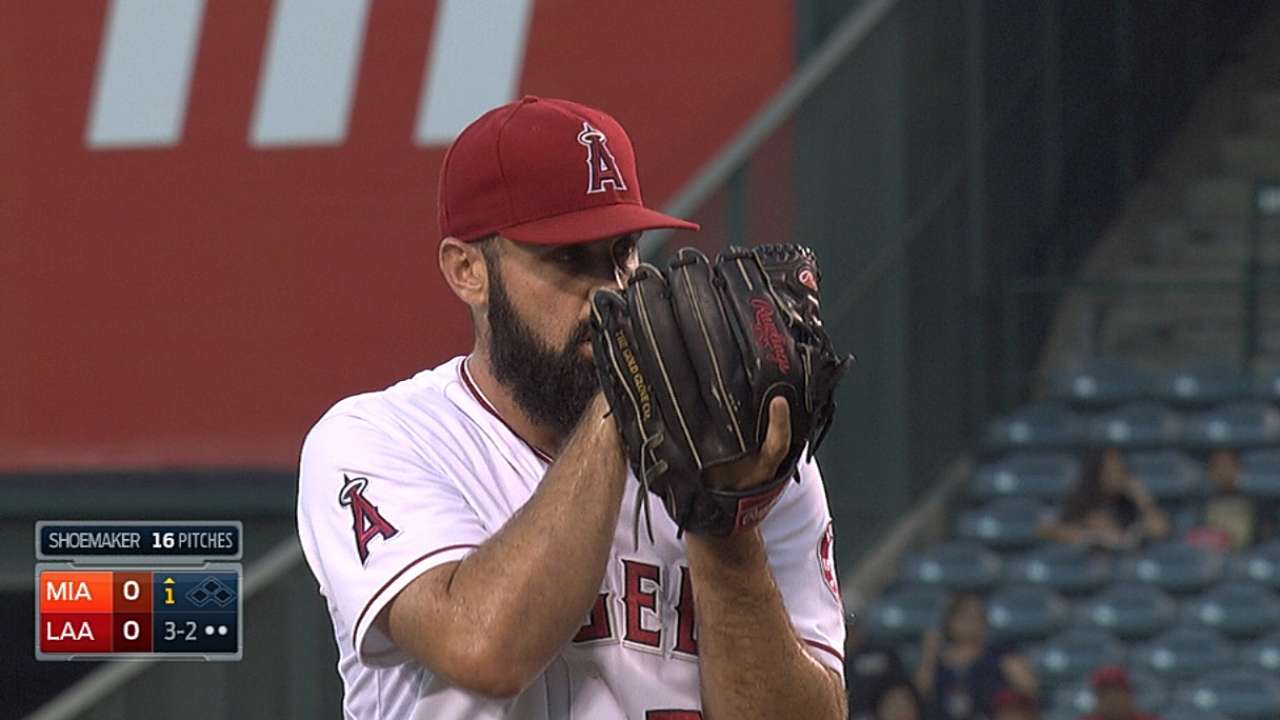 ANAHEIM -- Fourteen-year-old Matt Shoemaker was struggling to find the right changeup.
Shoemaker and his father had toyed around with different grips and ultimately landed on the one that has carried him through his first full season in the Majors -- his splitter.
Shoemaker's disappearing splitter has baffled hitters so far this season and helped him go 13-4 with a 3.33 ERA. The 27-year-old right-hander picked up his 13th win of the season Tuesday night by tossing seven shutout innings against Miami, extending his scoreless streak to 16 2/3 innings.
The splitter has accounted for 62 of his 108 strikeouts (57 percent), according to Brooks Baseball, despite being used only 20 percent of the time.
"I'll use it where a guy would use a changeup and I'll throw that for a strikeout," Shoemaker said.
Hitters have been aggressive against the offspeed offering (swinging 63 percent of the time, by far the highest among Shoemaker's pitches) but have whiffed often (37 percent of swings, also the highest). Shoemaker has turned those misses into strikeouts, in part because he throws it about half the time he has two strikes.
When hitters have managed to make contact, it hasn't been solid. Balls in play are on the ground half the time (52 percent) against the splitter, while hitters have a .156 average against the pitch. The next lowest batting average for a Shoemaker pitch is .247 on his slider.
In his one-hit effort against Boston last Thursday, Shoemaker threw a season-high 30 splitters, helping to coax nine groundouts and nine strikeouts.
Matthew DeFranks is an associate reporter for MLB.com. Follow him on Twitter @MDeFranks. This story was not subject to the approval of Major League Baseball or its clubs.