Richards ready to root for Angels down stretch
Injured starter rejoins teammates for first time since knee surgery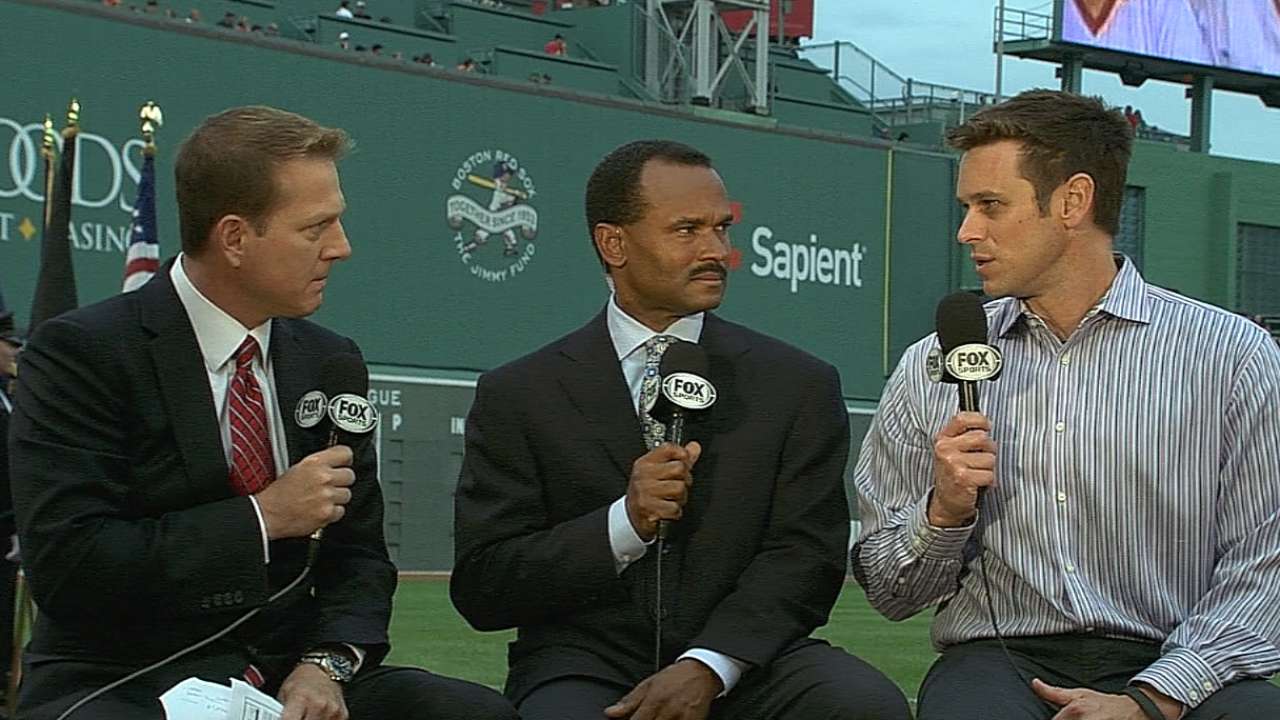 ANAHEIM -- The Angels took their team photo Friday afternoon, a snapshot of who the team is and what they could become in the month leading into the postseason.
But Friday's picture also documented what the club no longer had -- injured starter Garrett Richards, who returned to the team for the first time since tearing his left patellar tendon last week in Boston.
Richards rode a cart to the platform in center field for the photo and leaned on crutches as he spoke to reporters, a far cry from preparing for his turn in the rotation on Saturday.
The 26-year-old flame-throwing right-hander will miss the rest of this season (and potentially part of next year) as knee surgery will sideline him for six to nine months.
"The first couple of days were rough," Richards said. "You go from a routine of coming to the yard every day to being stuck on the couch. I went through the phase of 'Why did this happen to me?' and you kind of get past that, and it's time to move forward, it's time to address this, it's time to get back on the field."
Richards crumbled to the Fenway Park field on Aug. 20 when he was running to first base, trying to finish off a potential double play in the second inning. But his foot got caught in the ground and Richards laid on the infield dirt for nearly 10 minutes before being carted off.
"After I heard the pop and the crunching," Richards said, "I knew something wasn't right. I didn't know what it was. Initially, it felt like I had a bone sticking out of my body.
"It's kind of a freak accident, you can't really explain it. It's just going to be something I have to deal with."
Richards had surgery on Aug. 22 and will try to start his rehab in Newport Beach, Calif., on Tuesday (a day after his stitches are removed). He said there is "less pain every day."
"From what they've told me, this is an injury where you can come back 100 percent of what you were before," Richards said. "With the rehab and stuff, I'm hoping to come back a little bit stronger. ... I'm motivated to get back on the field."
When Richards does return, he'll be coming off a career year, going 13-4 with a 2.61 ERA in his first full season in the rotation. He went from rotation question mark to possible ace and Cy Young challenger in just 26 starts.
"I took a lot of positives from [this season]," Richards said. "Even the games I that didn't particularly pitch well, I still took positives from it. Made some major strides with my mentality and my delivery. It was another year where I felt like I made some major strides."
Richards' major strides have left the Angels with a major hole in their rotation, which they struggled to fill Monday, the first time Richards' spot in the rotation came up. After Saturday's game, that spot is scheduled come up another five times before the end of the regular season.
"Obviously, right now, we're trying to piece that together and that's rough because that's my day," Richards said. "That's usually the day that I go and work. It's a little bit frustrating to see us having to struggle to fill that void. We got great guys on this pitching staff who can piece it together for a day. I think we'll be OK."
Richards said he would try to make it to as many games as possible and has watched recent games on TV.
"It's just different for me to see that game on TV, I turn into a fan," Richards said. "It's a little bit difficult but at the same time, it's what I look forward to at night."
Matthew DeFranks is an associate reporter for MLB.com. This story was not subject to the approval of Major League Baseball or its clubs.