Angels to rely on depth for rotation vacancy
Dipoto counting on internal options to fill hole created by Richards' injury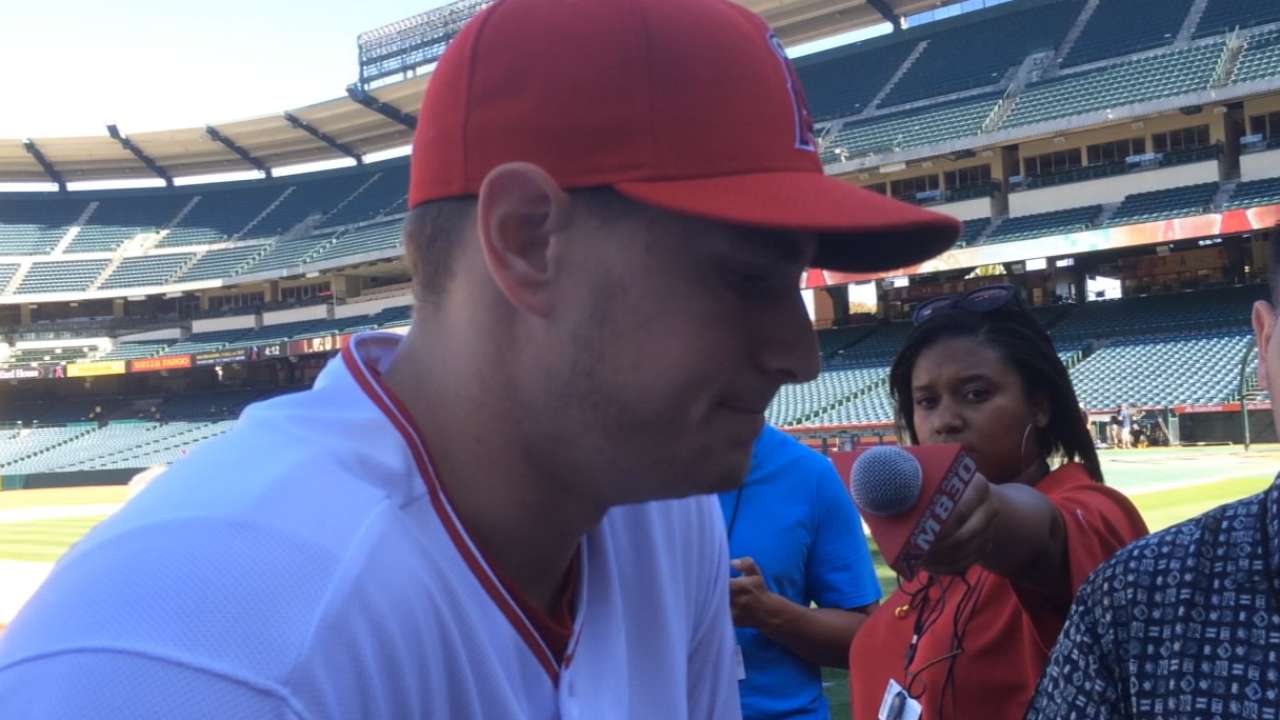 ANAHEIM -- Most teams have their rotation and they have their bullpen.
But for the Angels, the lines between the two will start to blur in an effort to fill their fifth rotation spot, relying on a number of pitchers to get through a game instead of one starter pitching deep.
"You definitely want get somebody that is doing a job that can give you some kind of length as a starter, even if it's only five innings," Angels manager Mike Scioscia said. "If that surfaces, great. If it doesn't, then you mix and match as much as you need to."
The fifth spot, left vacant by Garrett Richards' season-ending injury, will likely have to be filled from within the organization, with general manager Jerry Dipoto saying any expectations of a trade would be "very unrealistic."
Instead, the Angels will rely on a deep bullpen and expanded rosters to piece every fifth game together once the calendar flips to September.
"This would be an extremely difficult thing to do but that fact that we're two days away from spreading out the roster, we can be a little bit more creative with how we deal with it," Dipoto said. "If every fifth day, we manage to cobble a game together with a variety of arms instead of just one guy every fifth day, that's probably the most likely outcome."
On Saturday, the last start for this slot before rosters expand to 40 players in September, the Angels turned to Cory Rasmus. He made his first Major League start five days after throwing a career-high 51 pitches in relief.
Scioscia said there was "no doubt" that the spot could belong to Rasmus if he pitches well enough to deserve it.
"If it becomes more of a staff and more of a start-to-start decision, then so be it," Scioscia said. "If it comes where one guy is more comfortable and he's out there doing what he can do, then that's obviously preferable, but sometimes it doesn't always happen."
In the wake of injuries to Richards and Tyler Skaggs (Tommy John surgery), the Angels were left short-staffed and undermanned in the heat of a pennant race. Would Dipoto try to bolster the rotation with a trade for a veteran starter?
"As you might expect, [it's] not easy and I'm not shocked that it's not easy," Dipoto said. "We like the group we have, I've said it all along. We've felt like we've had depth."
The club could add depth on Monday, when pitchers Vinnie Pestano, Cam Bedrosian, Michael Kohn and Drew Rucinski are eligible to move to the Angels' expanded roster. Left-handed reliever Joe Thatcher is also expected to return soon from an injured ankle.
Matthew DeFranks is an associate reporter for MLB.com. Follow him on Twitter @MDeFranks. This story was not subject to the approval of Major League Baseball or its clubs.