MLB.com Columnist
Lyle Spencer
Shoemaker putting his heart, iron will on display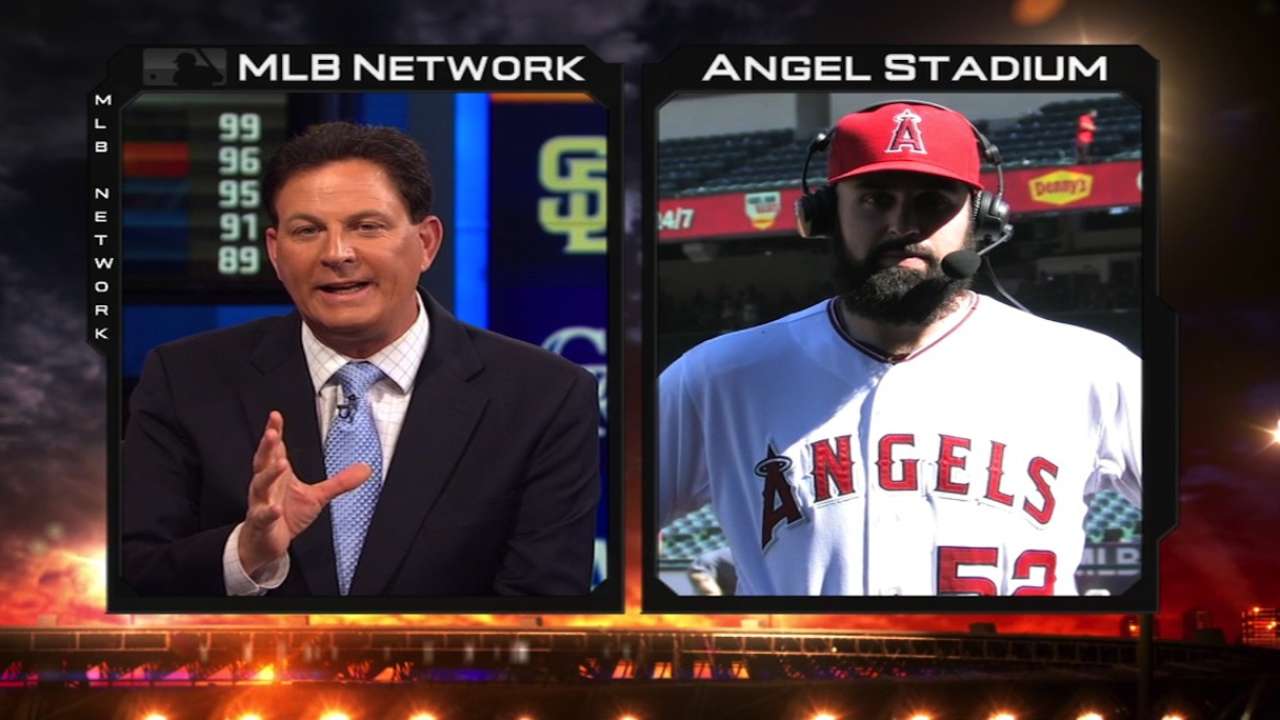 ANAHEIM -- From Cedar Rapids to Rancho Cucamonga to Arkansas to Salt Lake, Matt Shoemaker just wanted to get here -- and stay here. Never in his wildest dreams could he envision being included in the same sentence with Nolan Ryan.
But there it was, on Sunday, Shoemaker and Ryan linked by Angels history -- three consecutive outings of at least seven innings holding the opposition scoreless, the latest by Shoemaker in an 8-1 romp that sent the Athletics home reeling.
"It's an honor to be mentioned with that name," Shoemaker said when asked about the Hall of Famer. "It's pretty special. I'll just try to keep getting better."
With seven scoreless innings finishing the Athletics in a decisive four-game sweep, Shoemaker -- the guy nobody really wanted out of high school or college -- joined the immortal Ryan, the most recent Angels pitcher to turn the trick, in 1976 and 1977. That was a decade before Shoemaker was born.
"When he's on that mound, he thinks he's Nolan Ryan," said manager Mike Scisocia, a Ryan contemporary. "He pitches with confidence."
Not far from the Santa Anita and Hollywood Park tracks where another Shoemaker, Bill, made his legend as arguably the greatest of all jockeys, the Angels are breaking free down the stretch with the confident stride of Secretariat. Just don't mention any five-game American League West leads on Sept. 1 within earshot of Scioscia.
"The standings are a distraction," Scioscia said. "We've got a long way to go."
Imagine how distracting the standings are to the A's. The reigning division champs led by four games before going on a 6-14 run that coincides with the Angels' 15-4 spree.
No individual, not even the peerless Mike Trout, has played a more significant role in the transformation of the Angels than Shoemaker, who has eased the pain of Garrett Richards' loss to knee surgery.
Shoemaker is 14-4 with a 3.14 ERA, and he has done this in just 17 starts and six relief appearances.
"I played in the Minor Leagues behind him," said Trout, who hit a career-best 31st homer and had three RBIs to reach 97, two fewer than AL leader Jose Abreu of the White Sox. "He's tough to hit. It's fun to play behind him. He works fast."
Born, raised and educated in Michigan, this Shoemaker has the tiny one's heart and iron will inside a significantly larger frame.
"Matt's been a keystone to our rotation," Scioscia said. "He's gotten an opportunity, made the most of it. It's good to see a kid work so hard and have success."
Departing Angel Stadium in a deep offensive funk, the A's are hoping the newly acquired Adam Dunn can give them a lift with a few of his awe-inspiring shots.
On paper the A's seemingly had the edge on the mound in each of the four games against the Angels, but down they went in dizzying succession: Sonny Gray, Jon Lester, Jeff Samardzija and Scott Kazmir. The Angels prevailed with C.J. Wilson, Jered Weaver, Cory Rasmus (accompanied by seven fellow relievers) and Shoemaker.
With his buddy, Richards, out until sometime next season, Shoemaker has given the Angels a lights-out starter to go with the ace, Weaver, lefties Wilson and Hector Santiago, and a tag team of relievers rounding out an unorthodox but highly efficient rotation.
"It was a huge series for us in regards to the playoffs and the AL West," Shoemaker said, "but we've got a month to go.
For a guy who wasn't even drafted, signing as a free agent out of Eastern Michigan University in 2008, Shoemaker has come a long way -- and we don't mean from Ypsilanti and Trenton, Mich., to Southern California.
The organization's Minor League Pitcher of the Year in 2011, he didn't make his Major League debut until last season, working five scoreless innings on Sept. 20 in an emergency start against the Mariners.
He was not in the rotation at the season's outset, but the struggles of Santiago opened a door that Shoemaker blasted through.
If the All-Star teams were being selected today, Angels players would be lobbying for Shoemaker with all the passion they devoted on Richards' behalf before he was overlooked in the process despite having some of the game's best numbers. He's on crutches with a 13-4 record, 2.61 ERA and 164 strikeouts in 168 2/3 innings.
Shoemaker has kept the Richards beat going.
Over the past three starts, at Boston and at home against the Marlins and Athletics, Shoemaker has not yielded a run in 21 2/3 innings. The opposition has had eight hits and three walks, striking out 22 times.
His streak of 23 1/3 scoreless innings is the second longest, behind Bob Lee, in franchise history.
Shoemaker has had one bad start in 17. The Royals produced 11 hits and eight runs in Kansas City on June 27. Since then he has a 2.18 ERA across 63 2/3 innings, racking up 62 strikeouts while issuing nine walks.
Those numbers are positively Richards-like.
"It's so much fun," Shoemaker said. "It's a good group of guys. It's a blast. I always try to be aggressive -- attack the hitters. I'd like to do that my whole career. I just want to keep it going."
Although he doesn't have Richards' high-90s heat, Shoemaker has everything else. He gets it up to 94 mph and complements the gas with a variety of breaking balls. He relies on movement and precision, in style more like Weaver than Richards -- with the intensely competitive drive of both teammates.
"Split, fastball, slider, curveball," said catcher Chris Iannetta, identifying Shoemaker's best pitches on Sunday after supporting him with a homer and two singles. "Really good effort."
This Shoe fits, and what a ride it's been.
Lyle Spencer is a reporter for MLB.com. This story was not subject to the approval of Major League Baseball or its clubs.