Large number of callups gives Halos flexibility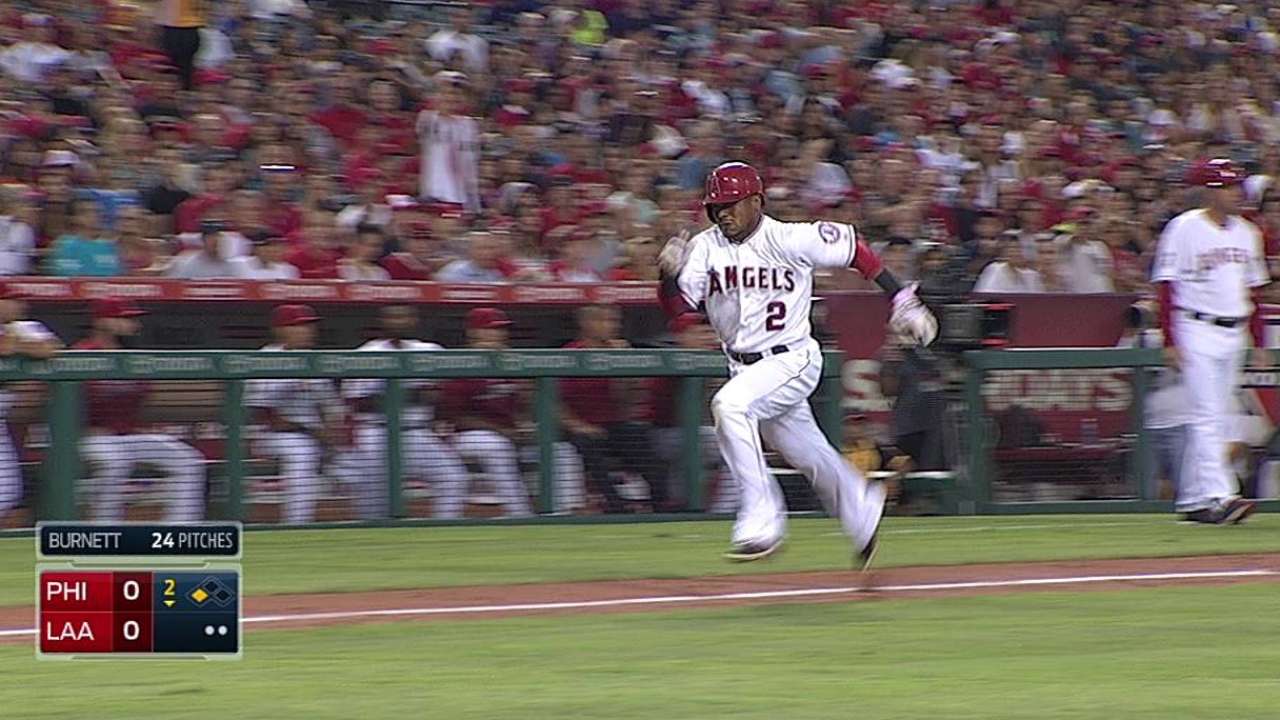 HOUSTON -- Manager Mike Scioscia didn't mince words when talking about the whopping 11 players called up on Tuesday.
"Yes, [it's unusual]," Scioscia said.
The Angels recalled Cam Bedrosian, Brennan Boesch, Tony Campana, C.J. Cron, Luis Jimenez, Shawn O'Malley, Efren Navarro, Vinnie Pestano and Cory Rasmus from Triple-A Salt Lake City and added John Buck and Wade LeBlanc to the 40-man roster, which now stands at 36.
Unusual? Maybe. But the team is angling for pitching depth, especially in the bullpen. Four of the callups (Bedrosian, LeBlanc, Pestano and Rasmus) are pitchers; the Angels will now sport a 12-man bullpen.
And they may not be done.
"Given where we are, given our roster, [analyzing] where our rotation is, there's no doubt we needed to add some arms, and we're going to continue adding some arms here in probably another week or 10 days," Scioscia said.
Eight of the 11 callups have Major League experience with the Angels. Only O'Malley will be making his big league debut, as Buck and Campana spent time with the D-backs and Mariners.
Bedrosian, Pestano and LeBlanc each got work against the Astros on Tuesday. LeBlanc allowed one earned run; two unearned runs were charged to Bedrosian after a throwing error.
"On the offensive side, we now get the ability to insert some speed and experience into a game, the ability to get some guys off their feet," Scioscia said. "Mix and match that eighth bat in the lineup, which is Brennan Boesch today. It's more guys than we've had in a while."
Boesch did indeed get a rare immediate spot in the lineup, batting eighth as designated hitter to spell David Freese, who is getting what Scioscia called a "mental day."
Other than Boesch, who went 0-for-2 with a strikeout in the 8-3 loss, none of the other six position players called up received playing time, despite the game being a blowout by the late innings.
Freese has been about the only concern during the six-game win streak the Angels took into Tuesday, as he did not record a hit in his last 17 at-bats over five games.
"We talked to him earlier, and there was definitely a frustration level creeping in," Scioscia said. "Just wanted to let him exhale a little bit; let some air out."
Scioscia said that Freese's evolving role as a hybrid DH/third baseman has nothing to do with the frustration. Freese served as DH in three of the last five games.
"He says [DH-ing is] absolutely not an issue," Scioscia said. "I think it's from not getting some hits to fall in. But DH-ing instead of third base? Nah."
In the process of calling up so many, the club also somewhat surprisingly designated outfielder J.B. Shuck and reliever Michael Kohn for assignment.
"Only so many roster spots you have," Scioscia said. "I think the guys up here are going to help us move forward. I know [general manager] Jerry [Dipoto] had some tough decisions."
Chris Abshire is a contributor to MLB.com. This story was not subject to the approval of Major League Baseball or its clubs.