Shoemaker AL's top pitcher, rookie for August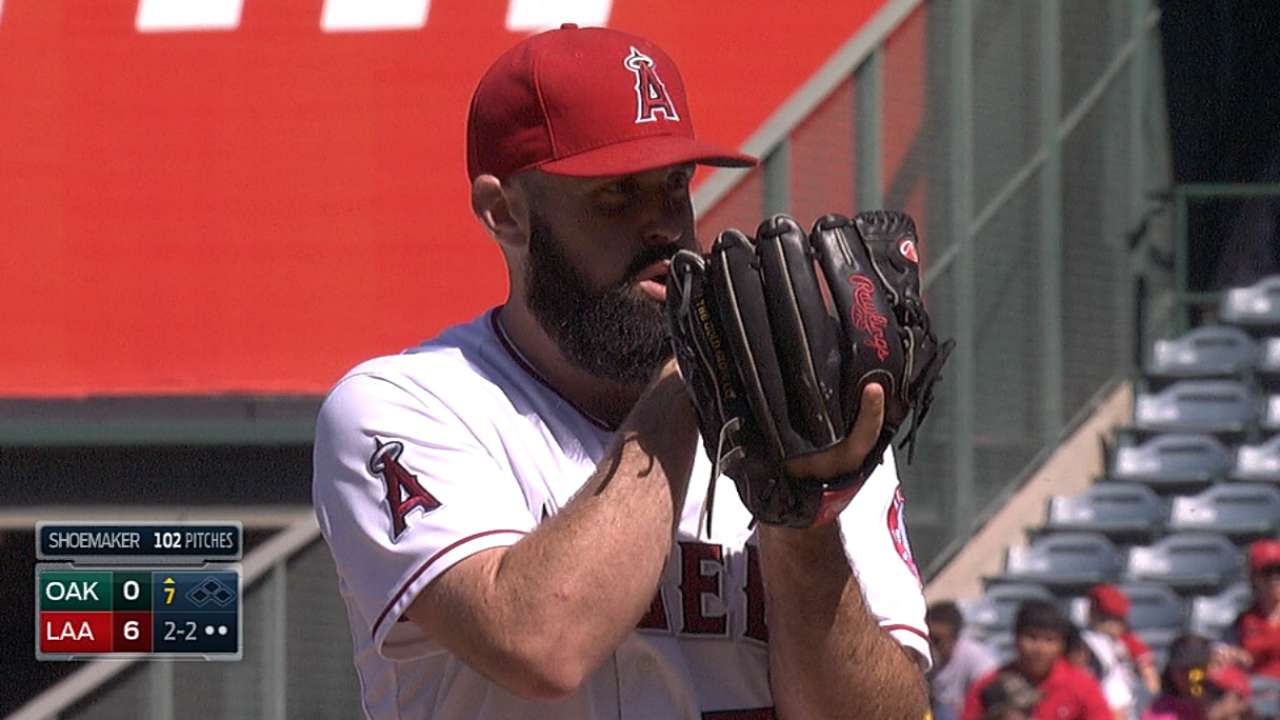 Matt Shoemaker's stellar August earned him two distinctions on Wednesday, when the Angels right-hander was named both the American League Pitcher and Rookie of the Month.
Shoemaker went 6-1 in August, allowing just six earned runs in 41 1/3 innings -- good for a 1.31 ERA. He also had a 0.77 WHIP, allowing 26 hits and issuing only six walks against 38 strikeouts. The 27-year-old, who began the month with just 18 Major League appearances to his credit, led all AL pitchers in ERA (minimum 27 innings), and the .178 batting average to which he limited opponents was the sixth-best mark in the league.
"Going into the season, I just had high expectations, and you just want to keep doing that all the way to the World Series," Shoemaker said. "That's the ultimate goal."
Shoemaker is the ninth player, and just the third pitcher, to be honored as a league's top rookie and pitcher/player in a month. Most recently, it was White Sox slugger Jose Abreu, who accomplished the feat twice this season. The last pitcher was Rays right-hander Chris Archer (June 2013).
"Matt's been really important to us and making the most of his opportunity," said Angels manager Mike Scioscia. "Very happy that he's been rewarded with a cool honor.
"Who knows? Five more wins, maybe it's a Cy Young?"
While helping the Angels separate themselves a bit from the A's in the AL West, Shoemaker had a phenomenal stretch to close out August, as he did not allow a run in any of his final three starts. The native of Wyandotte, Mich., carried a 23 1/3-inning scoreless streak into September.
"It's still an extraordinary story what Matt's done," said Scioscia. "There's always contributions from guys you wouldn't have seen in the crystal ball out of Spring Training, and that's an understatement to say he's been one of those guys. It's been incredible -- just how much we've needed him and he's been strong."
"It's great, but I just want to play," Shoemaker said of the accolades. "Contribute to this team and, hopefully, at the end of the season, get a World Series out of it.
"You use it as a motivation -- if people say you can't do something or they say this or that, you just keep doing the best you can, keep getting better. That's all I can do."
Shoemaker topped the likes of Baltimore's Chris Tillman and Minnesota's Phil Hughes for Pitcher of the Month, and Abreu and Minnesota's Kennys Vargas for the title of AL's top rookie.
Stephen Pianovich is an associate reporter for MLB.com. This story was not subject to the approval of Major League Baseball or its clubs.